As the bitcoin price struggles to remain above $8,000, traders anticipate a drop to the $6,000 region. But, based on historical data, 40% pullbacks are often followed with extended rallies.
Since early August, the bitcoin price has dropped from $12,340 to $7,910 by around 35% against the U.S. dollar, fueled by a noticeable decline in the daily volume of BTC.
If bitcoin falls to $6,000, technical analysts anticipate a strong bounce
According to a cryptocurrency trader and technical analyst who operates with the moniker "Galaxy," the bitcoin price has often rallied by more than 100% after a steep pullback in the range of 40% to 50%.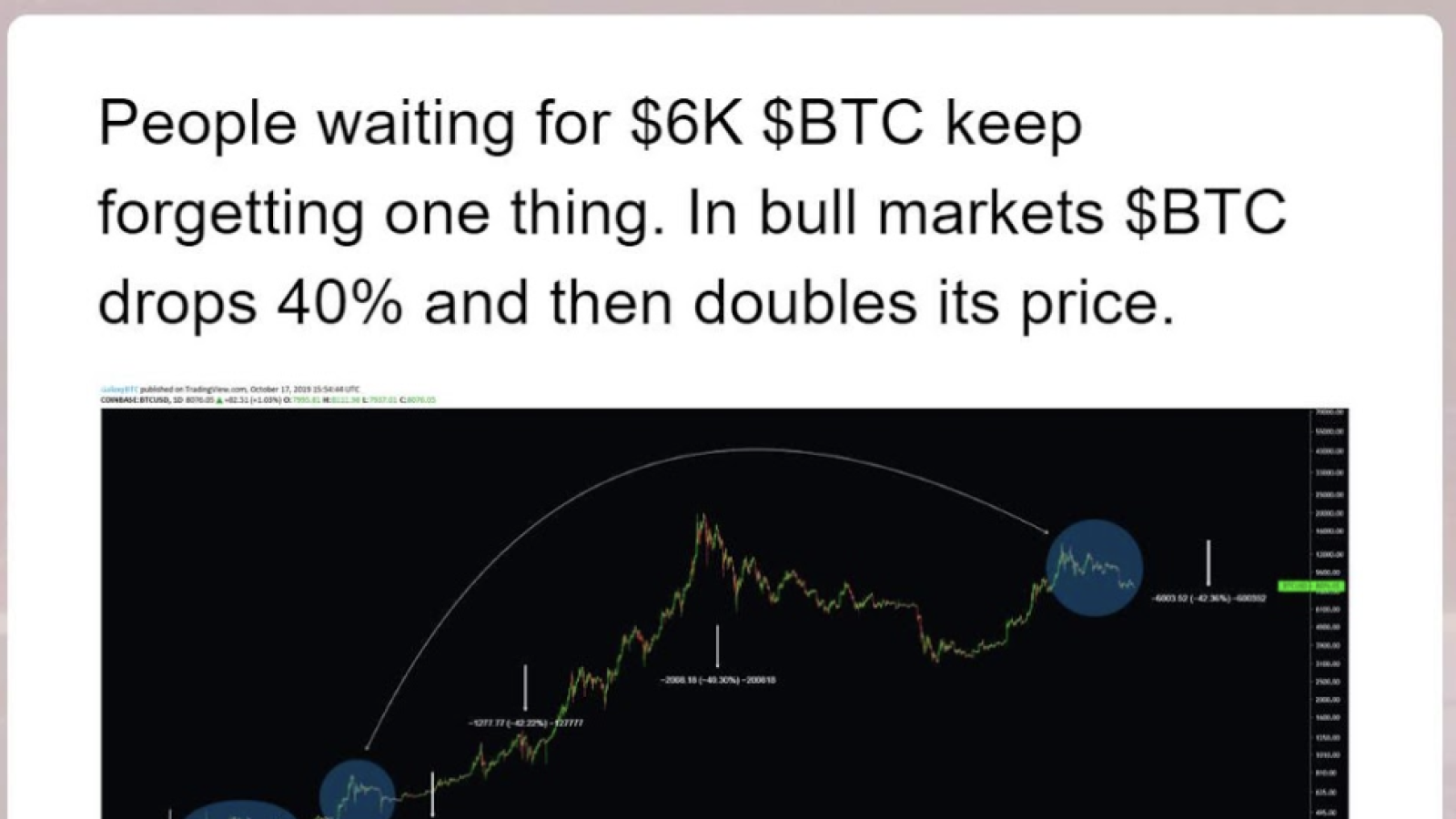 In early 2016 and throughout 2017, amidst one of the most intense bull markets in the 10-year history of bitcoin, the asset more than doubled in value after seeing relative large corrections.
Bitcoin has seen a 43% pullback since achieving its yearly high at $13,920 in July and if bitcoin is in a bull market, an extended rally is likely to occur in the months ahead.
A big variable
The projection of an extended rally in the medium term for bitcoin following a large pullback is based on the assumption that bitcoin currently is in a bull market.
There are many technical analysts who currently perceive the entire upside movement of bitcoin to $13,920 as a potential fakeout rally, anticipating a larger fall and disregarding the possibility of a rally just yet.
However, there exists a strong possibility that bitcoin could begin to demonstrate signs of an extended rally as it tests the low $6,000 region, an area that has significant historical activity and buying demand.
Hence, although bitcoin has tended to see prolonged upside movements in the aftermath of steep short term corrections, given the state of the market, the asset could see further pullback before it begins to recover.
Volume nearing yearly lows
The volume of bitcoin on major spot exchanges such as Coinbase and margin trading platforms like BitMEX are nearing yearly lows, creating a difficult environment for bulls to initiate a speedy rebound.
On Coinbase, for instance, the weekly volume of the BTC-USD pair has dropped to around 50,000 BTC, to levels unseen since March.
Similarly, on BitMEX, the weekly volume of bitcoin has dropped to around $14 billion, down by nearly three-fold within a span of two months.
The declining volume, which indicates less buying demand at the current price range, decreases the probability of a sudden trend reversal to the upside in the short term, until it tests lower support levels with higher demand from the market.
Please comment below if you think the bitcoin price will begin to recover strongly as it bottoms out below $7,000, and if it will go below $7,000.