On major crypto exchanges like BitMEX, the bitcoin price briefly dipped below $7,000 for the first time since November 28.
Right before the daily close on December 14, the bitcoin price hit $6,994 on BitMEX and dropped to as low as $7,009 on Binance.
Prior to the drop, when the bitcoin price was hovering at around $7,200, technical analysts anticipated a rebound to key resistance levels.
Bitcoin at risk of a further drop to the low $6,000s
The drop of the bitcoin price to below the $7,000 mark has put the dominant cryptocurrency vulnerable to a deeper pullback in the short-term.
Earlier this week, cryptocurrency trader Josh Rager said that while bitcoin is likely to stagnate in the imminent future, there are three scenarios in which the downside movement plays out.
Rather than pushing up one last time before moving down to the $6,000s, the bitcoin price essentially dropped straight down to the highly tested support level.
$BTC potential scenarios I'm watching

Price could have a short term bounce, could even make for a nice trade, but I do believe that all roads lead back down at least one more time

HTF frames remain bearish trend and it's looked weak in this range

Will continue to accumulate pic.twitter.com/dhN5ZpPi5r

— Josh Rager ? (@Josh_Rager) December 11, 2019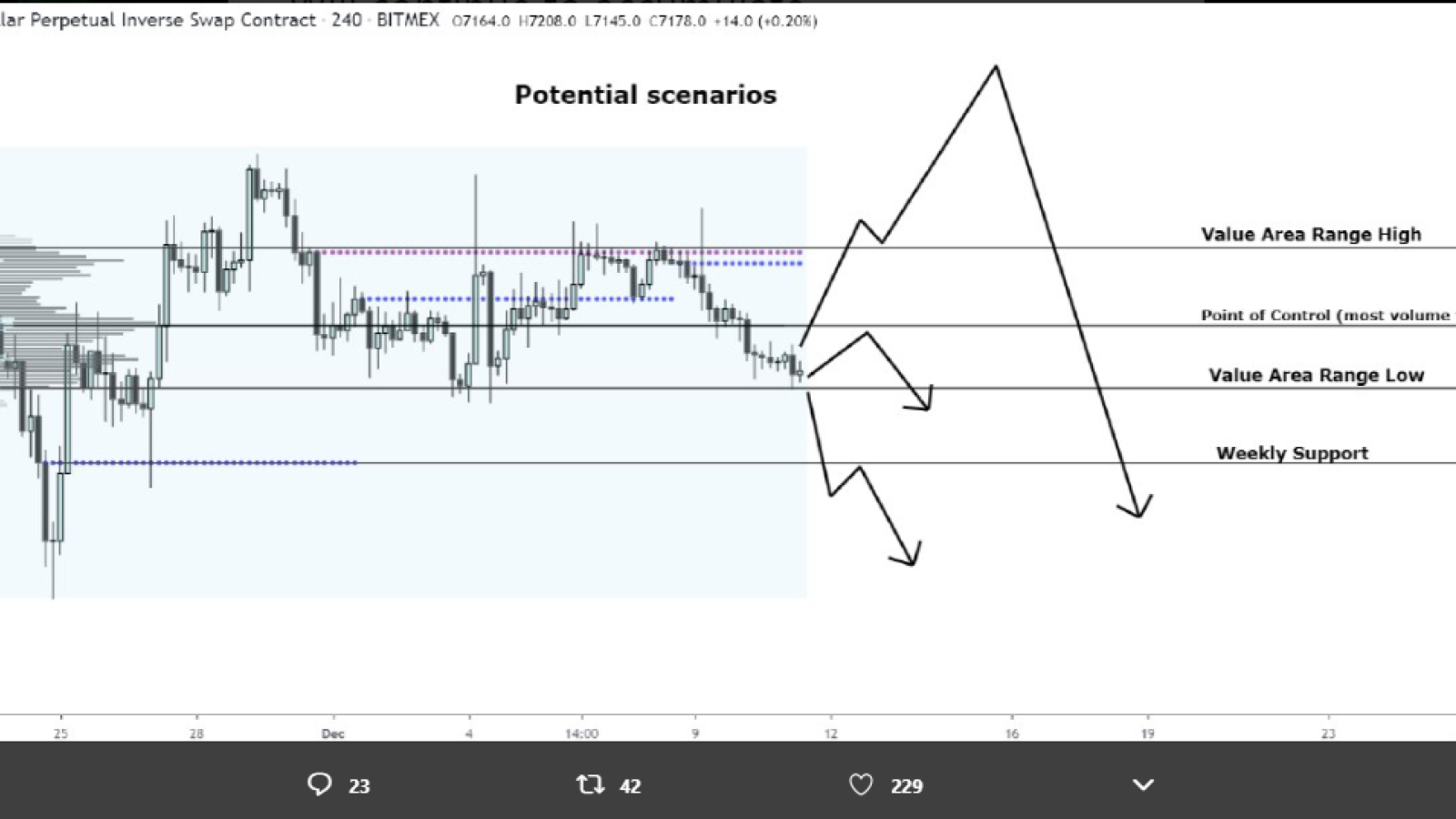 The low volume in the crypto exchange market as well as the double test of the mid-$6,000 support level indicates that a large move down is likely to be imminent.
A big move was expected and that move is down
Throughout the week, John Bollinger, the legendary creator of the Bollinger Bands, said that the technical indicator suggests a big move in the crypto market is coming.
"Most crypto currencies are at or near Bollinger Band Squeeze levels. Time to pay attention," he said.
Whether that move is a relief rally to the upside to test stacked shorts on cryptocurrency exchanges or a continuous move down to lower level supports was uncertain.
If the bitcoin price settles below $7,000, the big move that has been anticipated by many traders and technical indicators is highly likely to be a sharp pullback.
DonAlt, for instance, said that he expects to see bitcoin in the $6,200 to $6,400 range in the short-term, a range that has plenty of trading activity on the larger time frames.