XRP has been holding the third place for several consecutive years now, having briefly pushed Ethereum out of spot two but then gave it back.
The XRP community is one of the most loyal ones and believes in the XRP potential no matter what. A famous venture investor on the crypto Twitter says that that the growth potential of XRP remains stronger than what the majority of crypto on the market has.
'XRP's growth potential still outbeats the majority of coins'
The venture investor (as his Twitter page describes him) @CryptoWelson has posted a flattering tweet about XRP. He compares this coin with its major rivals – Ethereum and Bitcoin – and says that XRP gives people what ETH or BTC cannot do – fast and safe blockchain transactions.
Love or hate #XRP, the growth potential for that coin still out beats the majority of coins on the market.

It's not a coincidence it's been in the top 3 for several years. People want fast, and safe transactions on blockchain, and this offers a lot that ETH/BTC can't.

— Welson ? (@CryptoWelson) December 25, 2019
XRP liquidity keeps growing
The Liquidity Index Bot Twitter page keeps track of the progress that XRP liquidity inside Ripple's ODL corridors. So far it works in two directions – Mexico and the Philippines.
These ODL corridors have been set up thanks to the collaboration of the Ripple giant and local exchanges. Both corridors have been working actively and reached their all-time highs recently.
At the moment the XRP/MXN line has reached an ATH of 10,031,221 and is about to hit a new one, as the tweet says.
Liquidity Index for Bitso XRP/MXN (28-day moving trend)
Day progress: 42%
Today so far: 8,324,170
All Time High: 10,031,221
Data: https://t.co/v07j0Xh3s1 pic.twitter.com/ae87Jd1WSw

— Liquidity Index Bot (@LiquidityB) December 25, 2019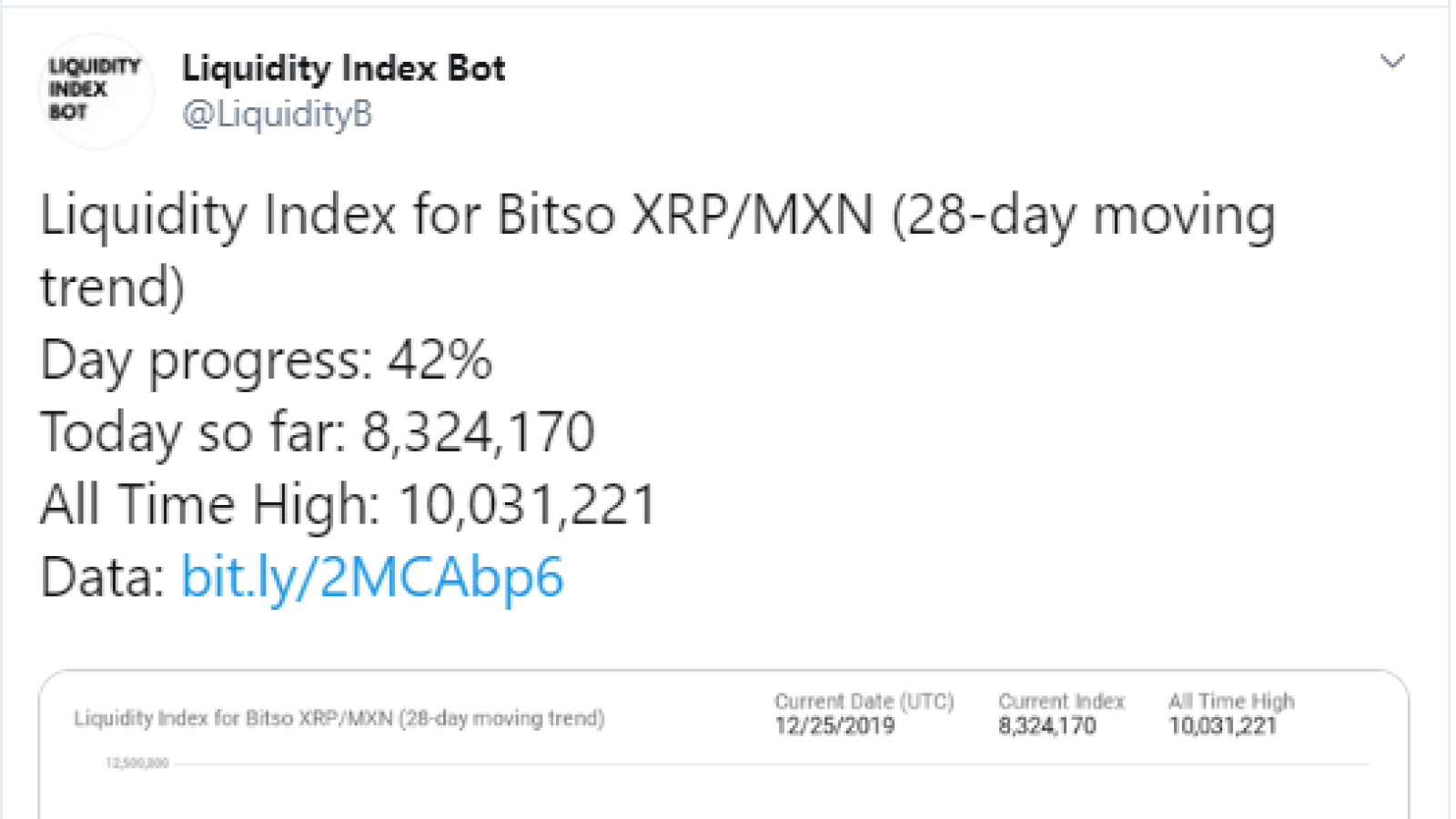 The same situation is with the XRP/PHP corridor, where the recent ATH is 1,382,002.
Liquidity Index for https://t.co/raMbsEkdJD XRP/PHP (28-day moving trend)
Day progress: 42%
Today so far: 520,385
All Time High: 1,382,002
Data: https://t.co/cF3K6P1fg9 pic.twitter.com/9ybHlqCvD6

— Liquidity Index Bot (@LiquidityB) December 25, 2019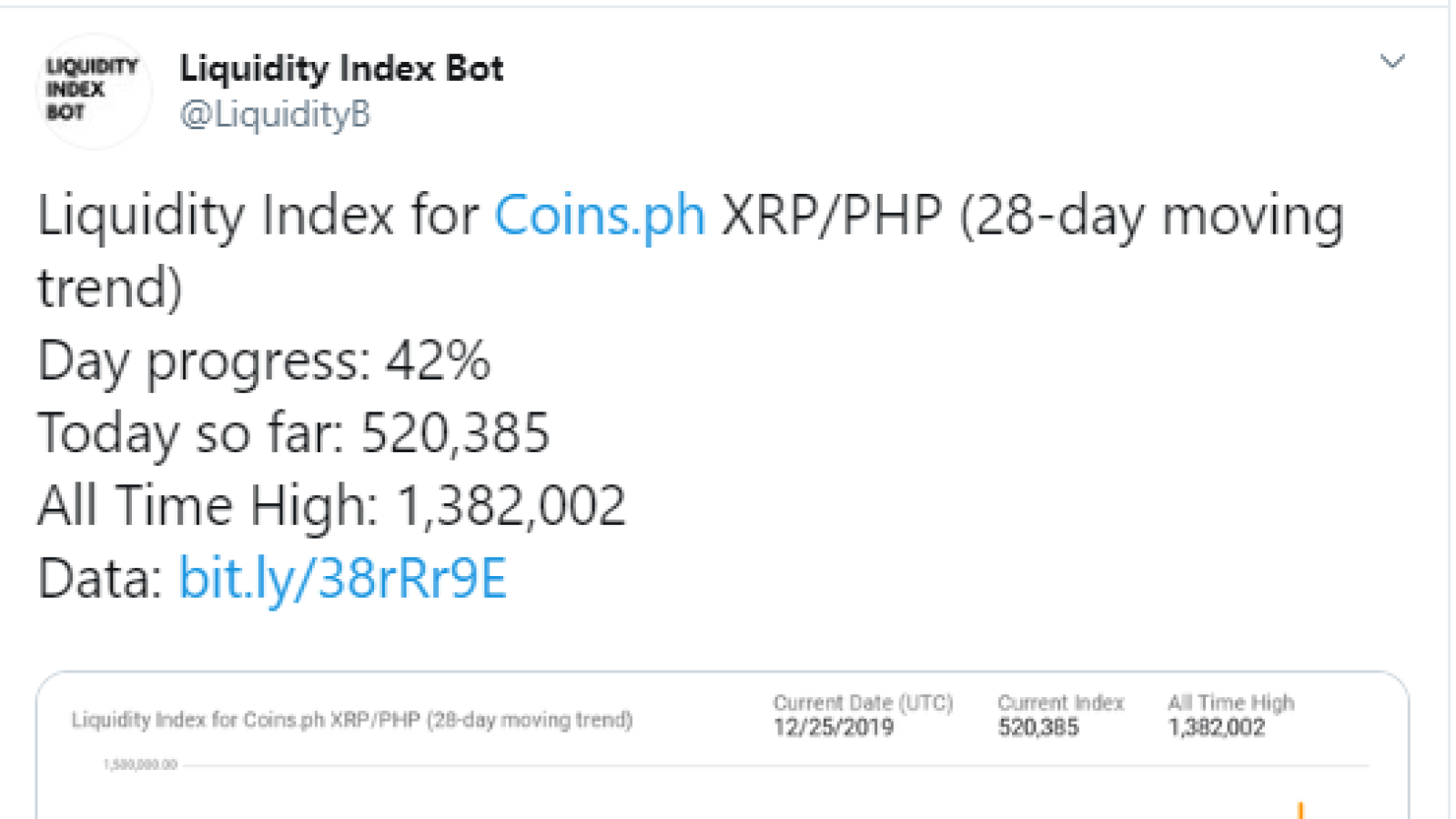 Bitrue to add 27 new XRP pairs
The other day, the crypto exchange Bitrue made an announcement about adding 27 more XRP pairs soon. The tweet stated that 14 of them would arrive on Christmas Day.
A small little gift for the #XRPCommunity this Christmas, we have 27 new $XRP pairs coming soon, with 14 of them arriving on December 25th. In total this brings us up to 77 XRP pairs ? All the coins and listing schedules here - https://t.co/fBTvRlUmHU #XRPTheStandard pic.twitter.com/WABXDPiuoG

— Bitrue (@BitrueOfficial) December 23, 2019