The index of liquidity for XRP in one of the two active ODL corridors – the Coin.Ph exchange located in the Philippines – has started rising in volume.
The XRP Index for Philippines starts rising
At present, Ripple has two active corridors that use the ODL platform – one works in Mexico and the other one operates in the Philippines. The liquidity index on the XRP/MXN flow to Mexico surges frequently and has already seen an all-time high recently.
Now, the Twitter user @tenitoshi has shared data that the liquidity index for Ripple's remittance corridor to the Philippines has also started rising.
The liquidity index for XRP/PHP @coinsph.
ODL payments into Philipppine got started.#XRP #ODL pic.twitter.com/alLGzdCoev

— てにったー (@tenitoshi) December 3, 2019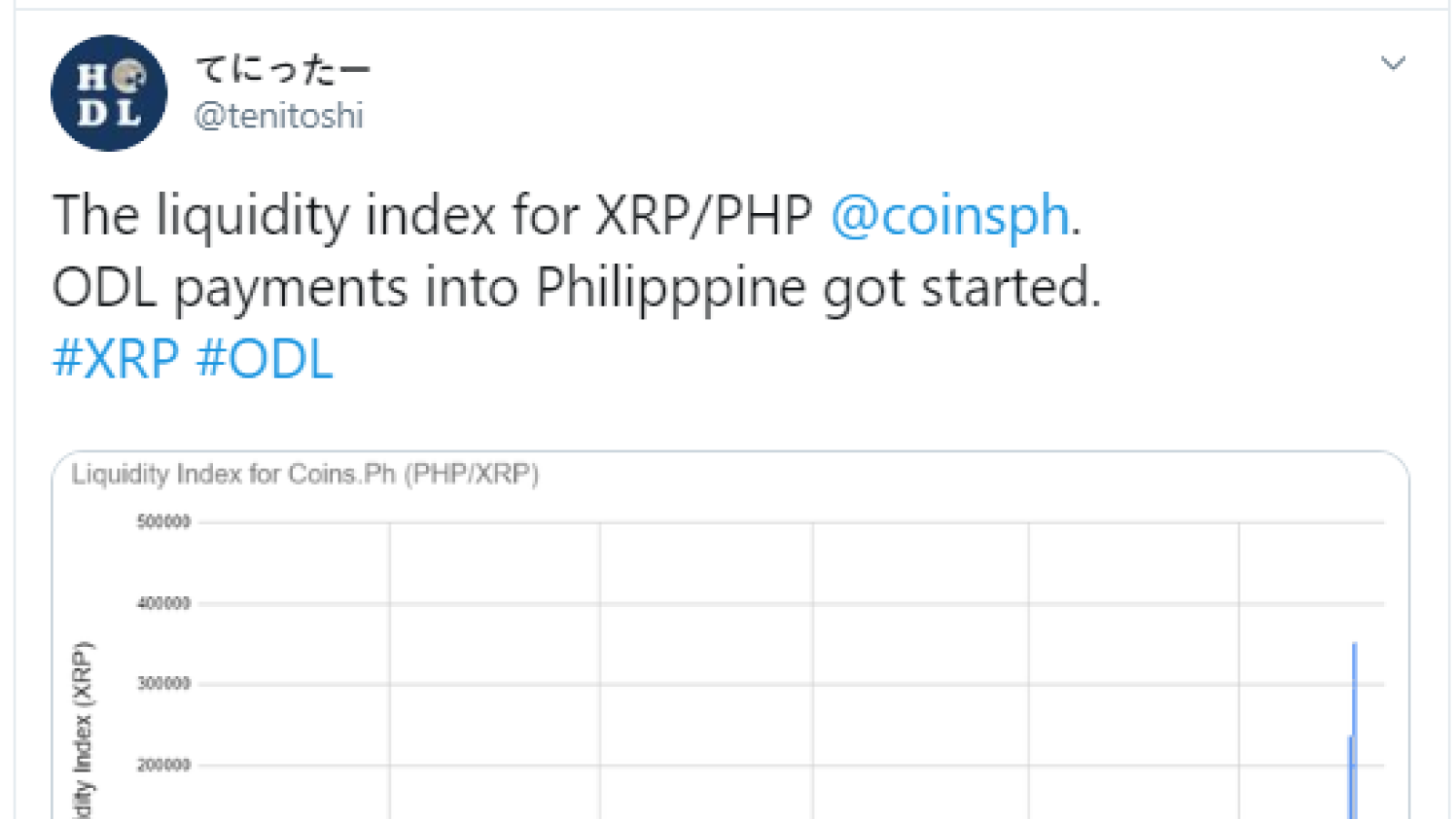 The XRP corridor to the Philippines has been operating via the Coin.Ph crypto exchange since September this year.
From September to October an increase in liquidity was observed on Coin.Ph but the reason turned out to be an inflow of local traders to the exchange.
データを元に9~10月からCoins. Phの出来高が増えた原因を調べました.
その結果、この出来高増加はおそらくODLが主要因では"ない"と現時点では結論しました.
図はCoins. Phの流動性指数.

別の指標も加えて総合的に判断すると
単純にトレーダーの増加が原因ではないかと。これはこれで良いことですが. pic.twitter.com/AG7n8jFvdl

— てにったー (@tenitoshi) November 20, 2019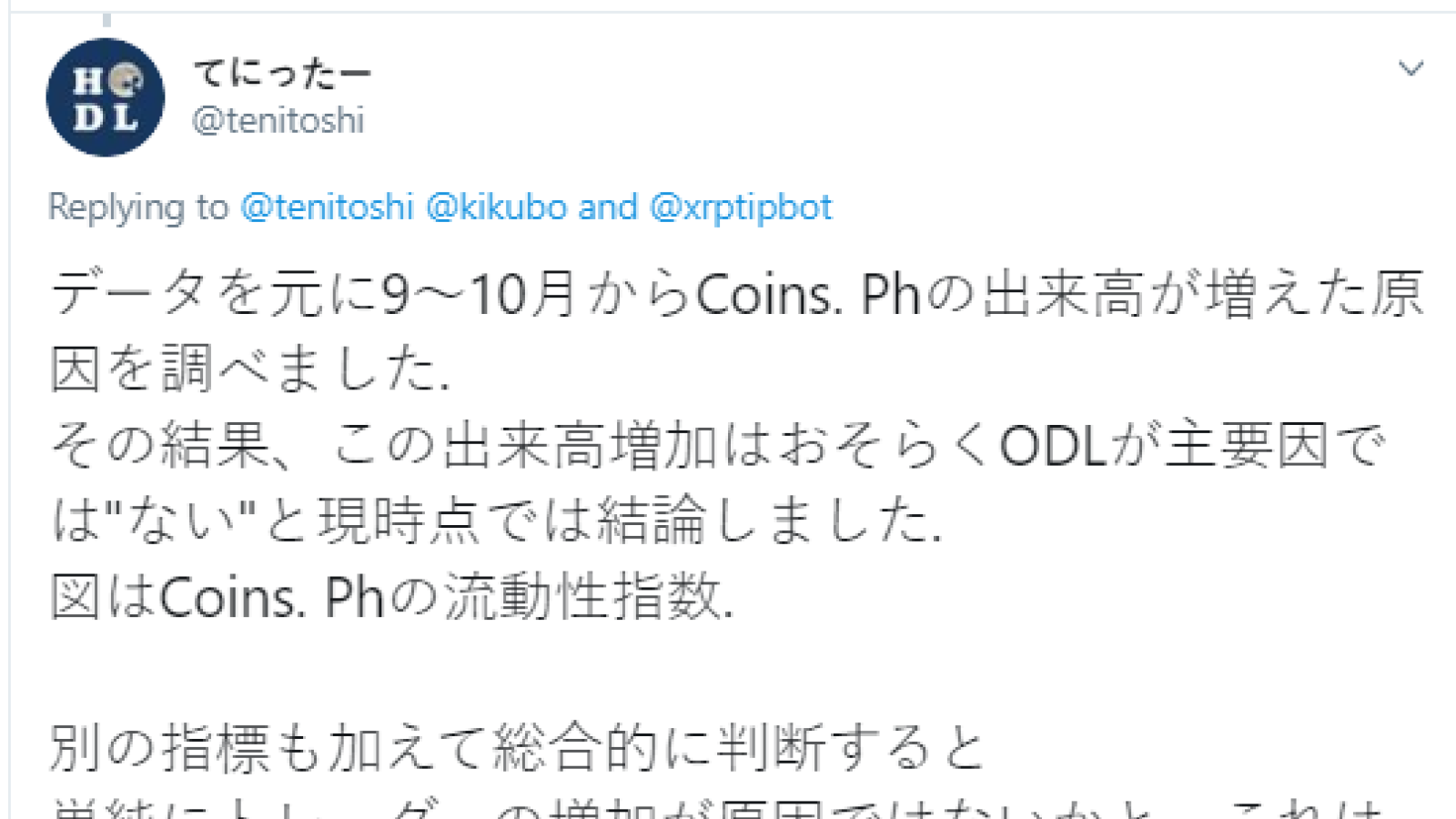 'The XRP market price depends on investors'
When a Twitter user in the comment thread asked whether XRP would now drop like it was when the Bitso ODL corridor launched in Mexico, approximately by 30 percent, @tenitoshi responded that the market price of XRP depends solidly on major investors. @tenitoshi also said that a massive increase in demand from market makers could take several years.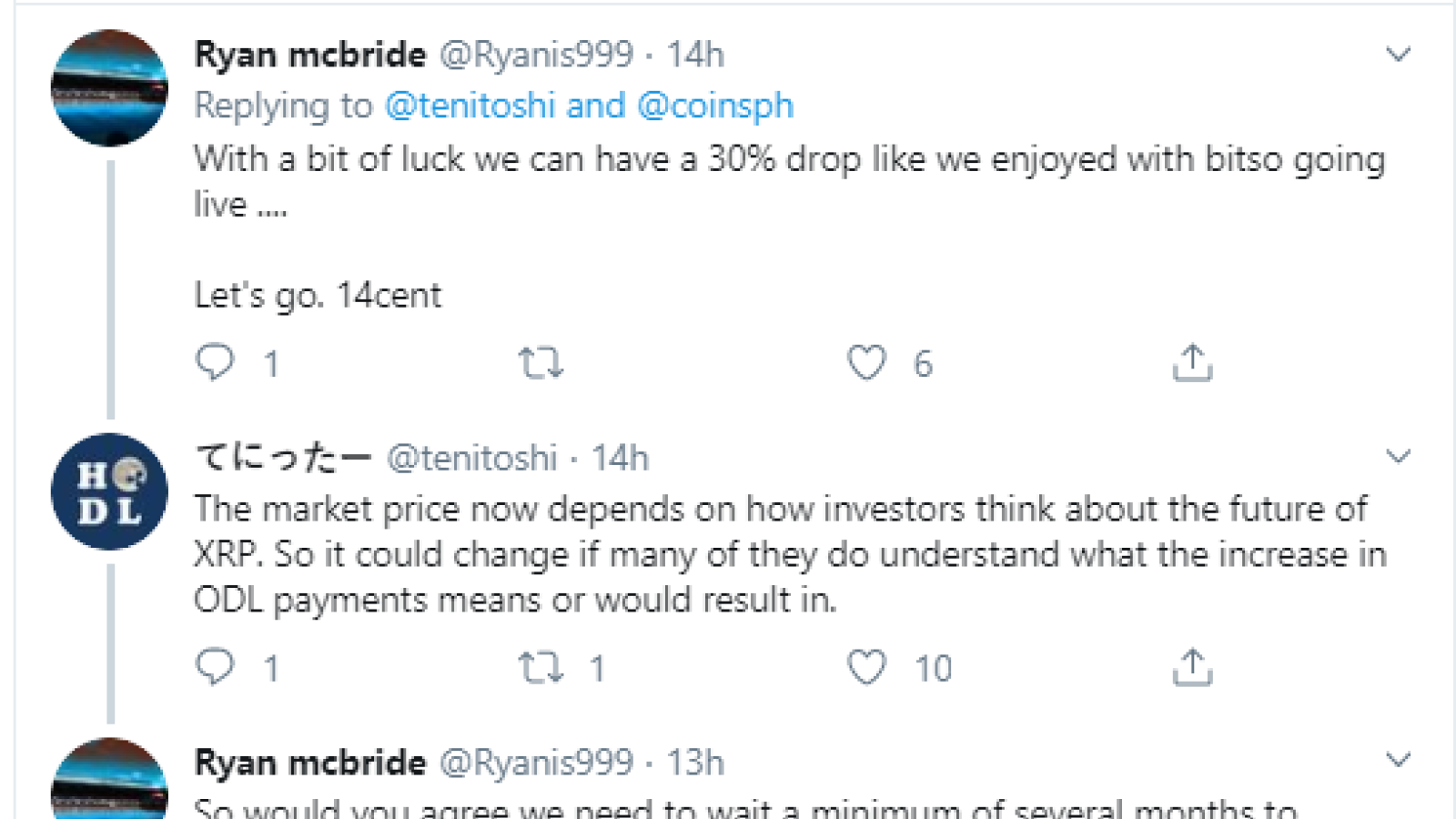 XRP Liquidity Index in Mexico hits its ATH
Earlier, U.Today reported that the index for XRP liquidity on the Mexico-based exchange Bitso (the biggest one in Latin America) reached an all-time high and exceeded 6.24 mln.
Currently, Ripple is working in a partnership with MoneyGram, the global remittance giant, and the Bitso trading venue to ensure the ODL corridor to Mexico that utilizes XRP.
At press-time, the XRP price has got back to the $0.22 level as per CoinMarketCap.