As reported by popular on-chain data vendor Santiment, large Bitcoin holders—widely known as whales in the crypto space—continue to accumulate the flagship cryptocurrency. This time, the company has shared a report about BTC whales who hold a minimum of 100 BTC in their wallets.
Per another source, these wallets with over 100 BTC in them hold a mind-blowing 3.9 million Bitcoins (almost 21% of all circulating BTC).
60K BTC added in past two months, 1.7 million BTC bought since 2017
Over the past two months, as Bitcoin has been sliding down from the $57,000 level pretty quickly and hit a low of $33,700 on Jan. 24, owners of BTC wallets with 100+ coins have continued to add the leading crypto to their holdings.
Since December, they have added approximately 60,000 Bitcoins to their holdings, which is the equivalent of a staggering $2,200,026,000 at the current exchange rate of $36,592.
Overall, in the past five years since 2017, these whales, as per the Santiment report, have acquired a jaw-dropping 1.7 million BTC, including the mentioned 60,000 coins.
That amount, 1.7 million Bitcoins, is worth $62,334,070,000 at press time.
? #Bitcoin whale addresses with 100+ $BTC continue their long-term pattern of accumulation during this volatility in the 34k to 38k range. In the past 5 years, 1.7M $BTC has been added to these large addresses, including 60k more in the past 2 months. ? https://t.co/VVNPS2hUEI pic.twitter.com/FvpuZoimnT

— Santiment (@santimentfeed) January 27, 2022
According to BitInforCharts, wallets with 100-1,000 BTC stored in them include 13,808 addresses, and they hold 3,956,271 BTC worth $144,901,597,476. That is 20.89% of all Bitcoin in circulation.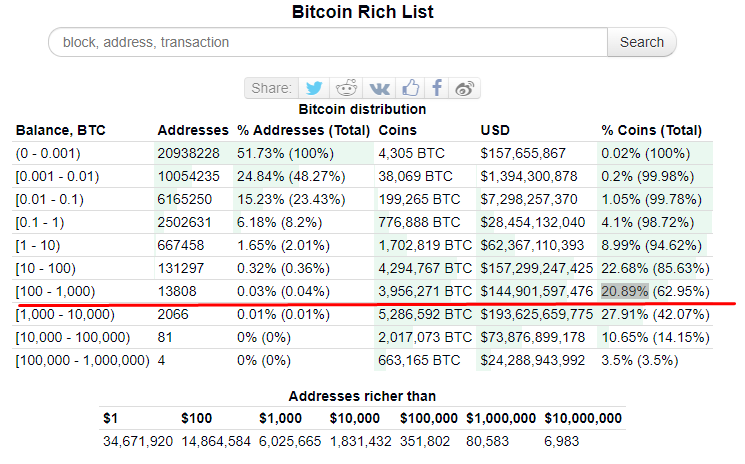 On Jan. 20, U.Today reported that whales had acquired 40,000 Bitcoins before the price went below the $42,000 level.
Bitcoin social dominance plunges
Santiment has also shared that Bitcoin has been losing its social dominance since last year. After the profitable year that 2021 happened to be for altcoin holders, Bitcoin is now discussed half the amount compared to the previous year by crypto holders.
As a rule, Bitcoin price dominance and BTC social dominance are both at high levels. In 2022, so far only the former is high, Santiment says.
? #Bitcoin's price dominance is discussed commonly in #crypto circles. But social dominance is also important. After #altcoins' amazing 2021, $BTC is discussed at less than half the rate it was a year ago. Typically, high $BTC social dominance is ideal. https://t.co/Cy1RMU9No1 pic.twitter.com/01znlHRQoN

— Santiment (@santimentfeed) January 28, 2022