Tron Price Prediction 2019 – A Bottom at $0.0255 Has Formed. Will It Last in February?
Tron (TRX) has a 1-year performance of about -34%, which is much better compared to the collapse of prices of other cryptocurrencies. In fact, Tron has a year-to-date performance of +35.94%. In this article we will mention some Tron price prediction ranges from various sources, plus we will make our own Tron price prediction for February 2019 based on our technical analysis. Some key stats for Tron as of Feb. 2, 2019 are the following:
Price of Tron (TRX) is $0,026339
Market Cap: $1.755.963.777 USD, 503.847 BTC
Volume (24h): $200.614.221 USD, 57.563 BTC
Circulating Supply: 66.666.917.581 TRX
Total Supply: 99.266.129.237 TRX
Rank 8 on CoinMarketCap based on top 100 cryptocurrencies by market capitalization
Tron price prediction February 2019 based on various sources
What are some Tron price prediction opinions?
WalletInvestor is pessimistic about the price of Tron in the long-term, but according to its forecast trend line the price of Tron may be above $0.030 in February 2019. It has a Tron price prediction for the next 14 days as $0.0331 USD to the upside and $0.0256 to the downside.
PrevisioniBitcoin is bullish on Tron, estimating that it will have a minimum price of $0.030 in February 2019.
CoinFan makes the following Tron price prediction range. A minimum price of $0.051126476 and a maximum price of $0.069171114. This seems to be a very optimistic price forecast as the minimum price is almost 96% above the current price of about $0.02633 as of February 2, 2019.
DigitalCoin only provides as a forecast the price of $0.03284536.
ExpressTricks has a Tron price prediction of $0.50 for February 2019, another very optimistic forecast.
CryptoGround is on the other side of forecasts, with a conservative Tron price prediction of $0.0270 for a time period of one month, a return of +1.79%.
Tron price prediction based on technical analysis
What does the weekly and daily chart for Tron tell us trying to make a forecast for February 2019? We will examine the two charts, trying to make an unbiased Tron price prediction for February 2019.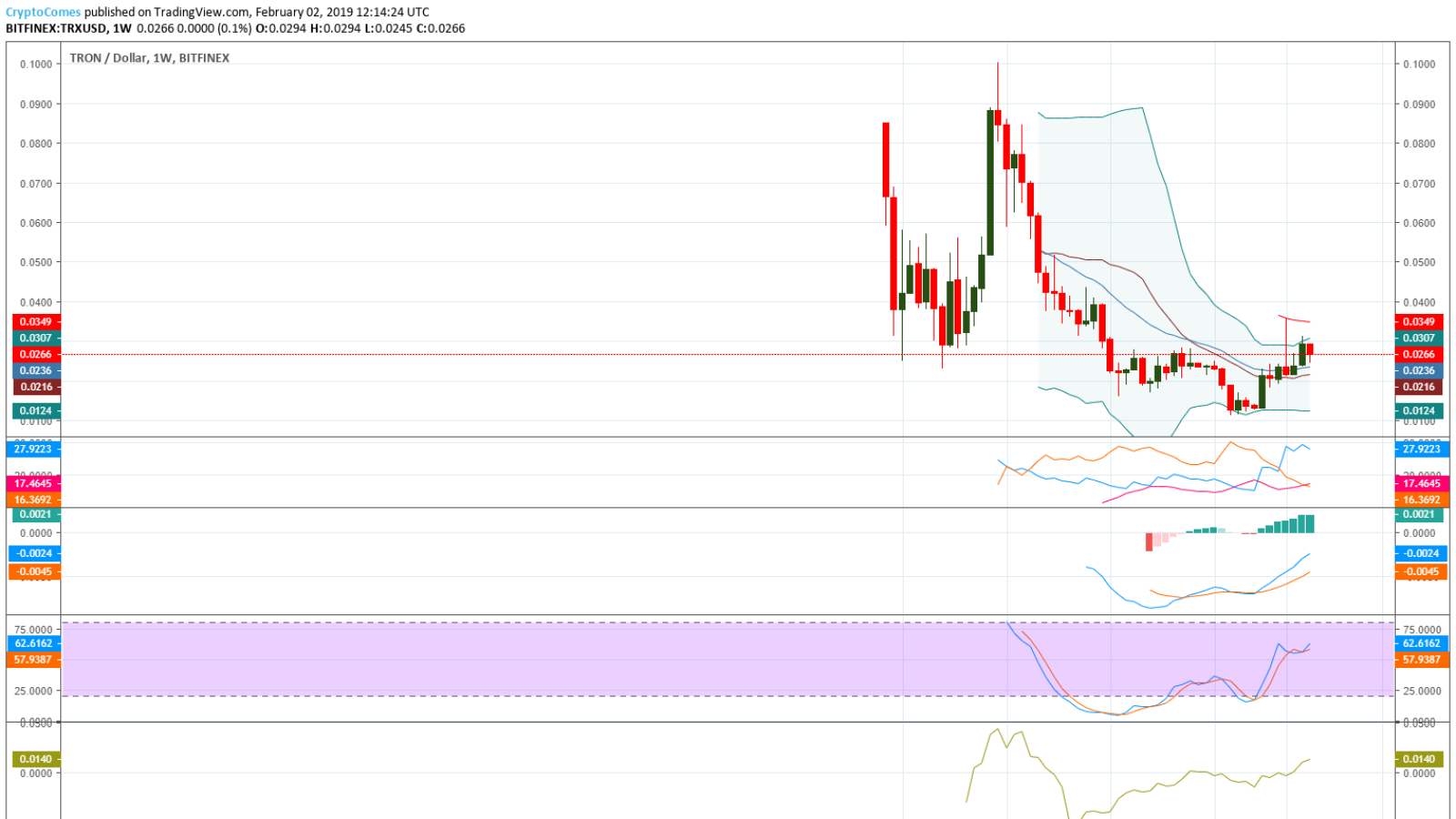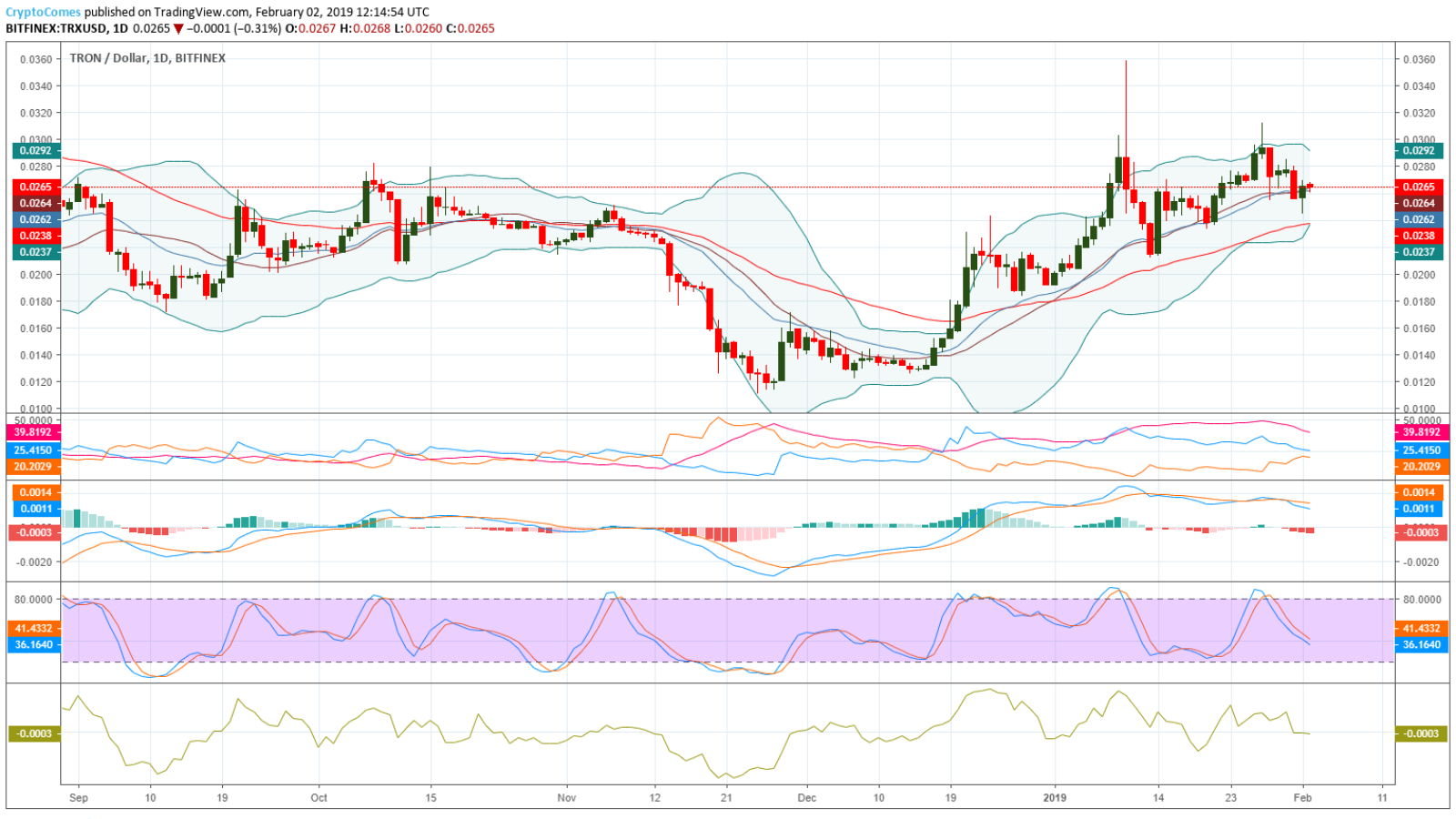 The two scenarios, the optimistic and the pessimistic ones, bullish and bearish for the price of Tron in February 2019 can provide some possible ranges.
Tron price February 2019 prediction bullish scenario
A very positive note is that both on the daily and weekly chart there is a trend shift from downward to upward. On the daily chart the price made a bottom around the level of $0.011, retested the low level of $0.012 and made a nice rally up to the level of $0.036 on January 10, 2019.
The price of $0.0257 as of Feb. 10, 2019 is above the 50-day and the 20-day exponential daily moving averages. The fact that both these moving averages are trending up is positive for the price of Tron. It means buying pressure. On the weekly chart the MACD indicator is trending up, and its histogram is positive, Momentum indicator is rising, and price is above the 50-period and 20-period exponential moving averages.
Switching back to the daily chart, the ADX/DMI indicator shows a strong trend and the +DI line is above the -DI line, with values of 25.41 and 20.20 respectively. A first target price is the upper daily Bollinger band at $0.029. Next potential targets would be the high prices of $0.0312 and the recent high price of $0.036.the 20-day exponential moving period with a value of $0.026, where current price of Tron is now, should provide a strong support.
Tron price prediction February 2019 bearish scenario
On the weekly chart the level of $0.0296 is a very strong resistance. Other strong levels od resistance are $0.0279, and $0.0288. On the daily chart the MACD indicator has made a bearish crossover, the Momentum indicator has lost its upward direction and now is pointing down, and there are strong levels of resistance at $0.0264, $0.027 and $0.0275. If the current uptrend is to pause and reverse, then possible targets are $0.0243, $0.0237 which coincides with the 50-day exponential moving average and then $0.022.
Traders should monitor the trendline that extends from the low price of $0.0127 on Jan.10, 2019 to the high price of $0.0263 as of Feb. 2, 2019. If this trendline does not hold as support, then lower prices are very likely.
For February 2019 we prefer the bullish scenario, as odds are for now in favor of it. As always it is not an investment recommendation, just an analysis and a forecast.