The crypto community on Twitter is discussing a removed tweet by Poloniex, in which the crypto exchange (whose investor recently became Justin Sun, among others) urged the community to buy TRX.
Later on, one of the DigiByte team members threw an accusation in their face, saying they are promoting Tron's coin. Poloniex responded with a decision to delist DGB.
After a careful review, we decided #DigiByte is not qualified per our listing standard. We will delist $DGB soon. Details to be announced.

— Poloniex Exchange (@Poloniex) December 5, 2019
Now, some in the community seem to be accusing Justin Sun of forcing that decision on them.
The Tron CEO rejects accusations about delisting DGB
In a recent tweet, Justin Sun says that all decisions are made by the Poloniex team separately. Justin Sun points out that he is just one of Poloniex investors. He always prefers to work with mainstream exchanges, he writes. However, Sun says that he respects and supports this decision.
.@Poloniex 's decisions are made by the team independently. As a humble investor of #Poloniex, I respect and support their decision. As a HODLR of $BNB, $HT, $OKB and other platform tokens, I always support and partner with all mainstream exchanges. Always BUIDL!

— Justin Sun (@justinsuntron) December 6, 2019
Tweets below show that this post was meant to be a response to community discussing the DGB situation and perhaps blaming its delisting on Justin Sun.
@jaredctate was tweeting in about 8-10 tweet that Poloniex was one of the worst exchanges ever created.

So Poloniex did the DGB community a favour and delisted it

Now it happened and the community is crying about is at @justinsuntron...Well go to MR digibyte it was his call

— subsidieland (@subsidieland) December 6, 2019
Poloniex resumes listing, the community pleads for DGB
Earlier on Friday, the Poloniex exchange tweeted that they have resumed listing. Any project team who wish their coin to be listed have to fill out a google form.
In the majority of comments that came up later users ask for one thing – that DGB be relisted. One of them addresses Justin Sun.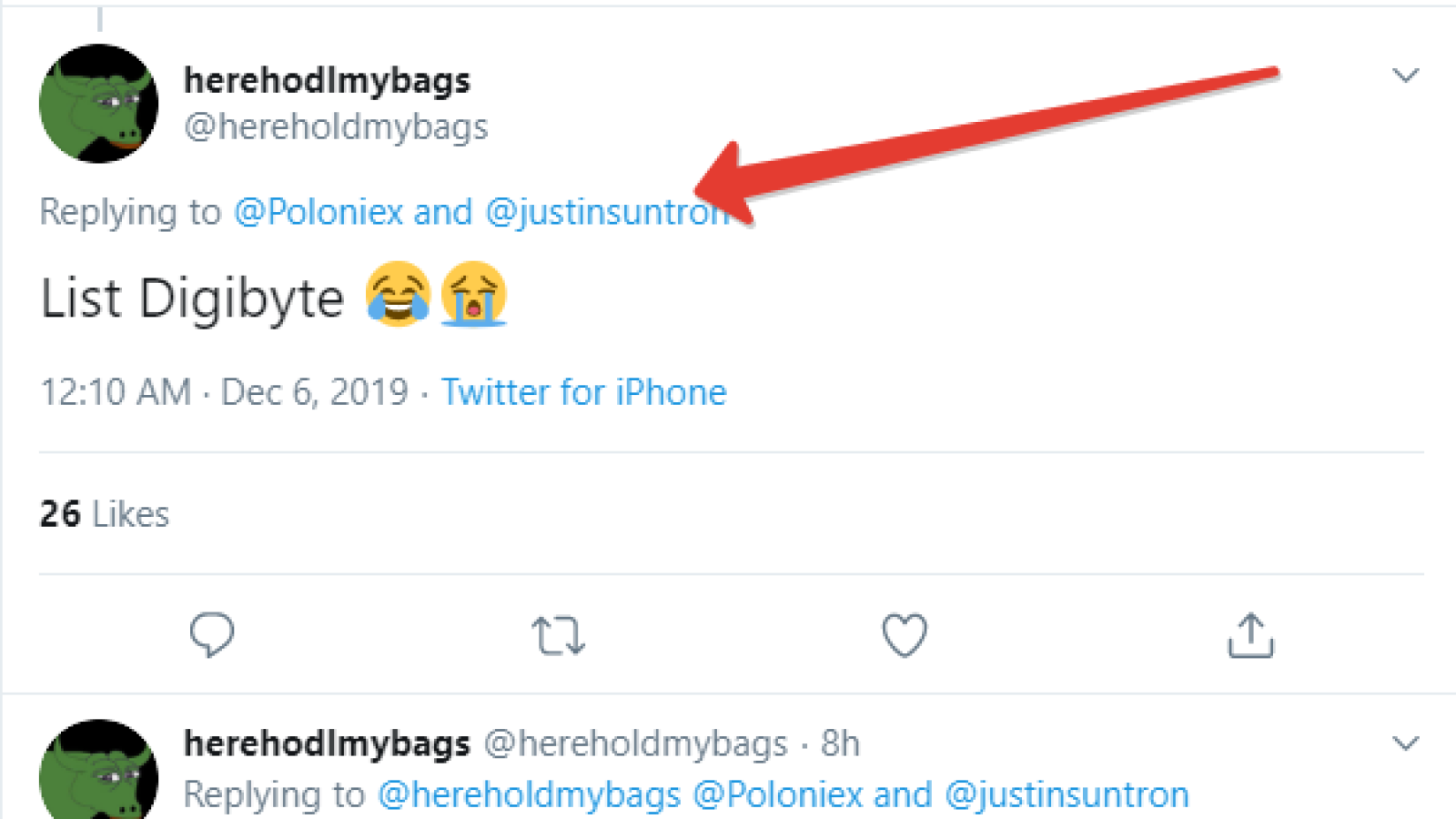 Previously, U.Today reported that the DGB CEO, Jared Tate, also tried getting his coin listed on Binance but was rejected. In response, Tate initiated a scandal, accusing CZ of Binance and his team of being corrupted and ignoring DGB.
All that CZ responded to this back then was a refusal to waste time on scandals.
lol, interesting (in a fk'ed up way). I think he specifically does NOT want DGB listed on Binance.

not gonna waste any time on these types of guys. There are more interesting things to do in life. Moving on...

— CZ Binance (@cz_binance) September 21, 2019