Twitter account @shibburn has spread the word that in the past twenty-four hours another large amount of Shiba Inu tokens has been removed from circulation by "burning" – 75,828,000 tokens.
Despite the impressive amount in crypto, it is worth much less in the USD – only $1,448. The burn (transfer to an unspendable wallet) was performed in thirteen transactions.
The initial supply of Shiba Inu has been a staggering one quadrillion. Now, 41.03014 percent of it has been burnt.
In the past 24 hours, there have been a total of 75,828,000 $SHIB tokens burned and 13 transactions. So far, a total of 410,301,373,505,661 #SHIB tokens (41.03014%) have been burned from the initial supply of 1 quadrillion. #shibarmy

— Shibburn (@shibburn) January 22, 2022
Later on, the same Twitter account reported, another million SHIB was sent to the dead wallet.
That does not help the coin's price to recapture and surpass its October all-time high of $0.00008845, though.
At press-time, the token is down by nearly thirty percent, trading at $0.00001958 (having shown a tiny rise from the price in the screenshot). The coin has also rolled back to spot 16 on CoinMarketCap.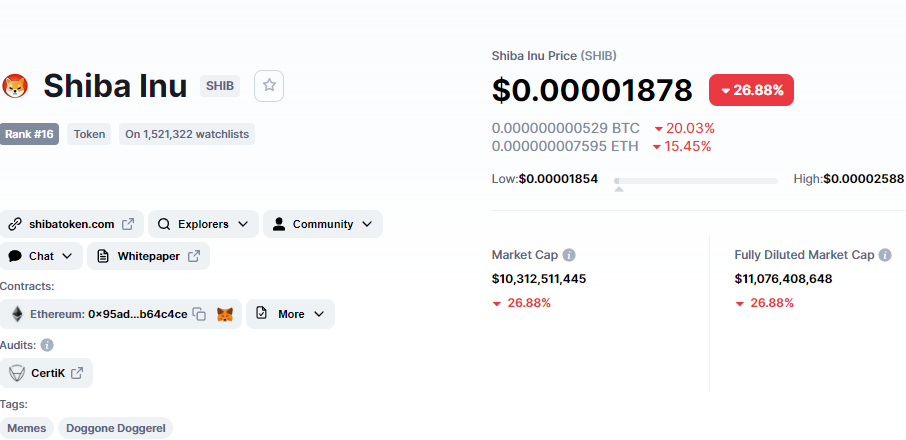 Overall, as covered by U.Today previously, since December 1, more than 2.5 billion Shiba Inu has been destroyed with over 428 million SHIB burned over the weekend. By the way, according to a prominent SHIB community member, Steven Cooper, whose business takes an active part in burning SHIB during regular burn parties, Shiba Inu developers are working on new ways to put these meme coins out of circulation.
On January 20, the overall amount of SHIB holders hit a new record, reaching 1,150,173.