With the Bitcoin market showing signs of life there are other indications the cryptocurrency market is beginning to wake up. One of those is Bitcoin dominance. Bitcoin dominance is a measure of Bitcoin's command of the cryptocurrency market. Expressed as a percent of the total market cap it shows Bitcoin is still the preferred token by HODL'ers. What it also shows is that other tokens are beginning to see some action too. BTC's dominance has been edging lower since hitting its peak in September 2018 as money begins to flow into other cryptocurrencies.
Litecoin Price Prediction: LTC Is This Year's Big Winner
Litecoin, arguably a better faster version of Bitcoin, has been among this year's big winners. The token hit a bottom in mid-December 2018 and has been trending steadily higher ever since. Now trading near $60 it is up more than 170% off the low. The token is now wrestling with a bit of resistance that does not look overly strong at this time, a move above $60 and continuation of the trend is expected. Once the $60 level is firmly broken, we can expect to see a rapid rise to $70 where stronger resistance may be found.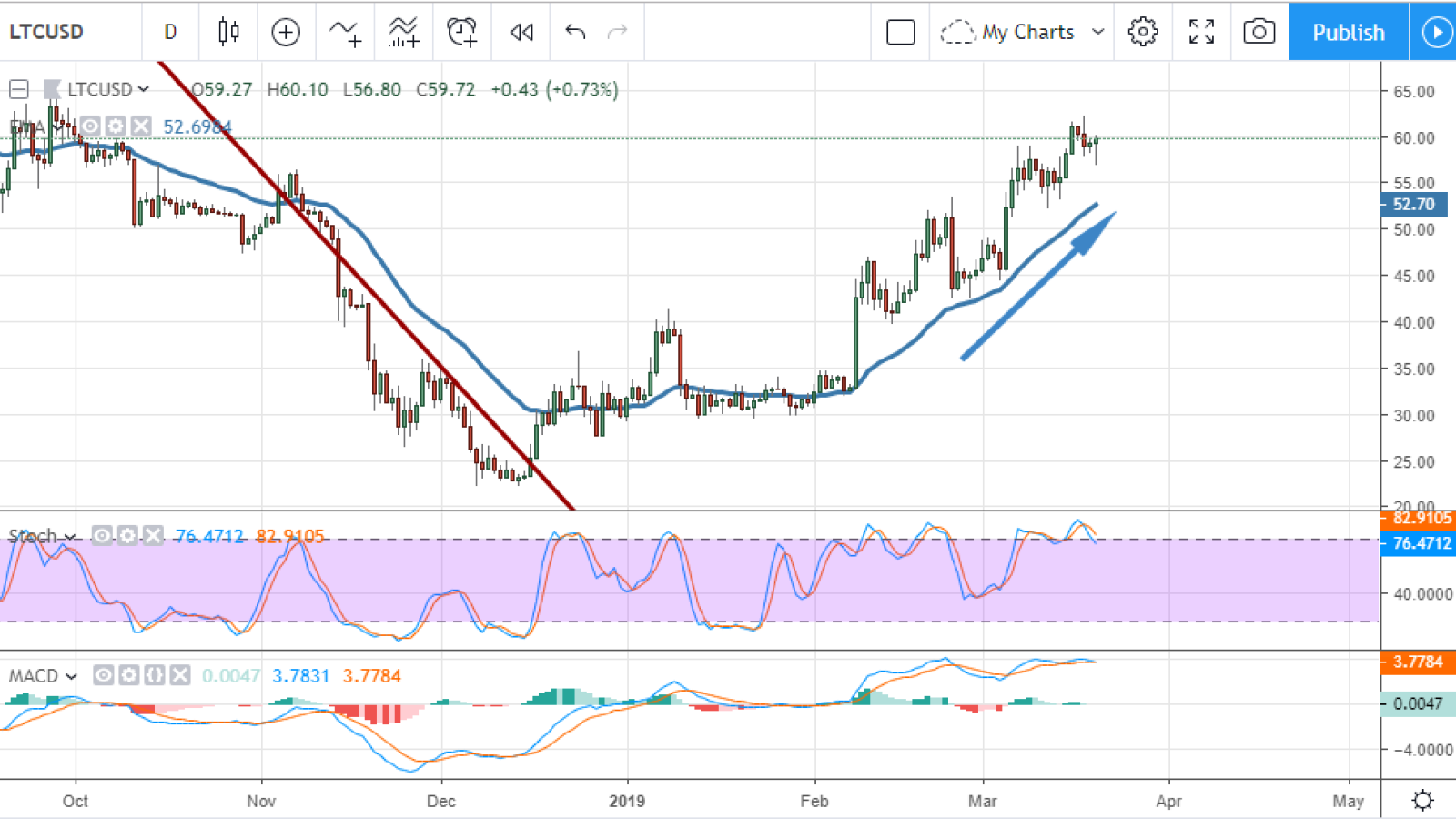 DASH Price Prediction: DASH to the Top of the Ranks
DASH is gearing up for a big move that could see it rise several spots in the market cap rankings. Now sitting at 14th spot it would not take much for this token to gain 4 or 5 spots in the ranks. Currently trading just below the $95 level it is up about 50% since hitting its bottom and looks like it could easily move up to the $120 level in the next few weeks to 3 months. A break above the $95 level would break a strong resistance and a trading range with magnitude near $30. Projecting that $30 puts us near $125 and well above my next target for resistance.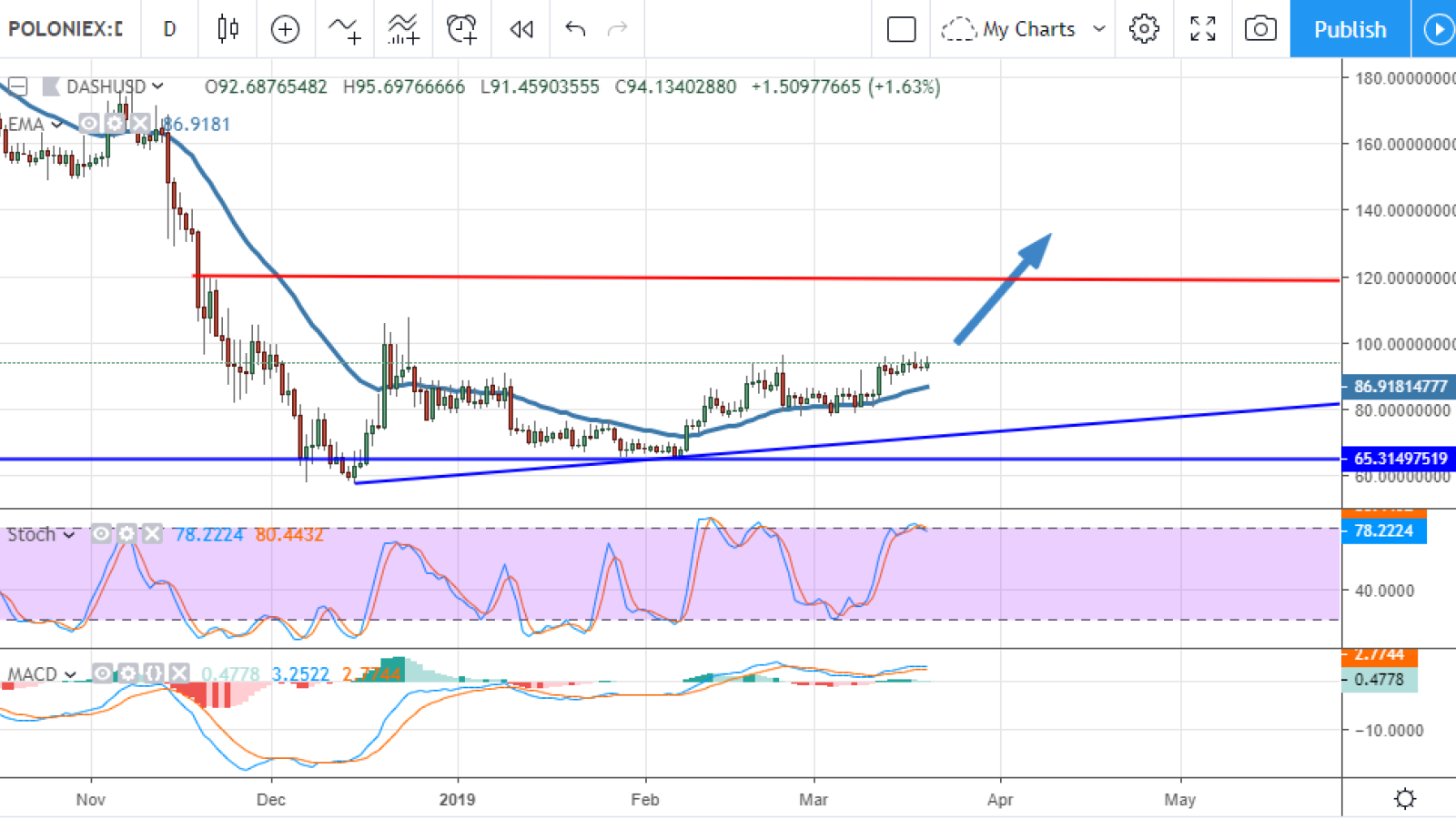 IOTA Price Prediction: IOT Edging Higher
IOTA has not yet begun the move I predicted last month but it still looks good for big gains. The token is supported by the short-term moving average and an uptrend line that is likely to start producing more significant bounces higher. The indicators are consistent with rising prices and now set up to fire technical signals that will attract new money. Once resistance at the $0.32 level has broken a move to $0.35 and $0.40 is expected.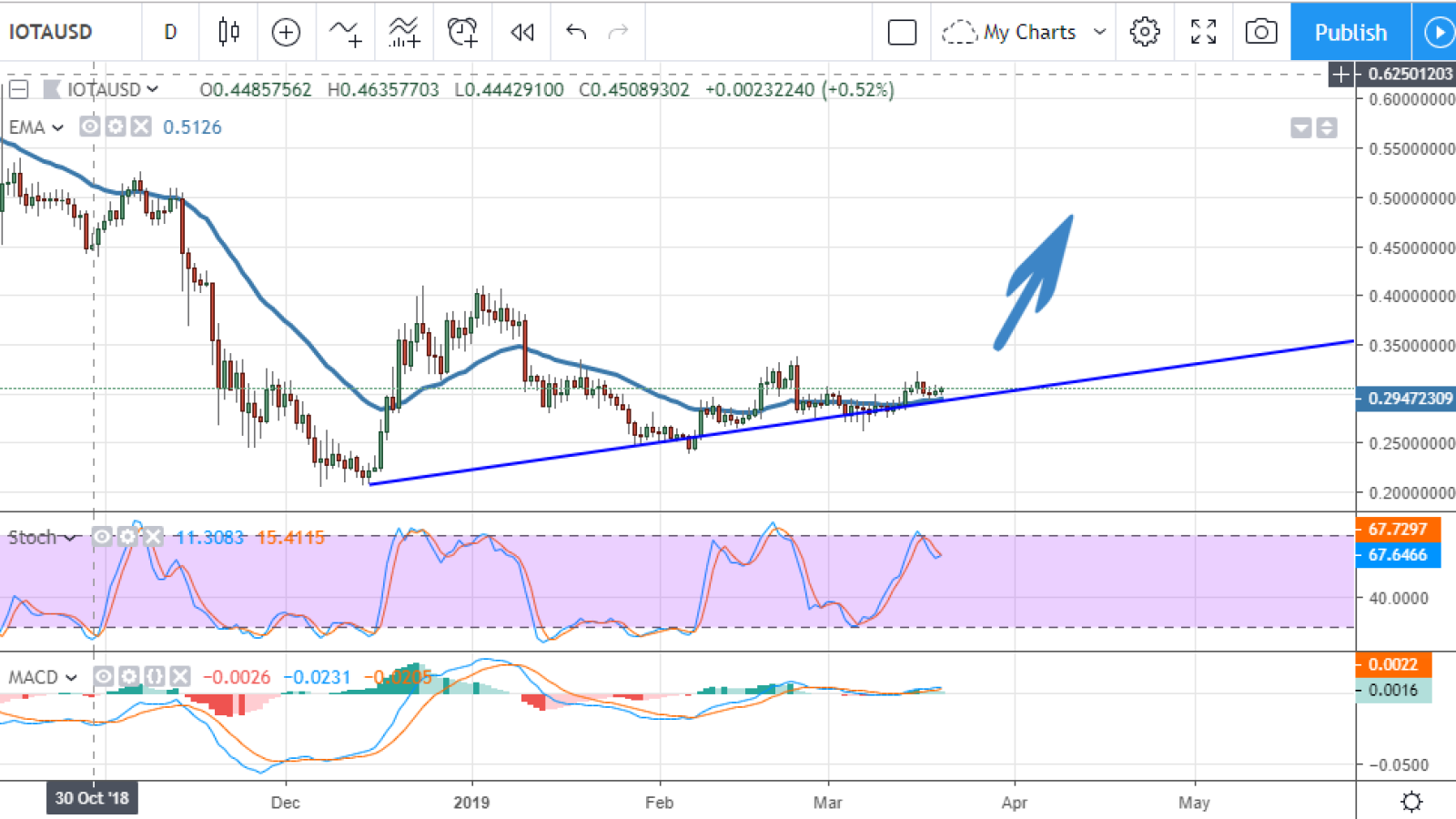 The Basic Attention Token Has Utility
The Basic Attention Token is the native digital currency for the Brave Browser system. The Brave Browser is an open-source privacy-oriented browser that pays viewers to watch ads. The system has been gaining popularity over the past year and demand for the token is heating up. Up 100% from the December low this coin is now in consolidation. The indicators suggest consolidation will continue until the 30-day EMA catches up to price, at that time I expect to see the BAT advance about $0.10 to test support at the $0.30 level.