In a recent interview, Binance CEO Changpeng Zhao called 2018 a year of correction, saying that many crypto projects are not making it.
Binance has been delisting some coins recently, as have other crypto exchanges. This time, KuCoin is doing it. Bitcoin Gold is among the assets to be delisted before 2019 arrives.
Away with BTG
On Friday, December 21, the KuCoin exchange posted on its Twitter account a list of virtual assets to be delisted. The major coin there is Bitcoin Gold, which is currently holding position #24 among the assets by market capitalization.
ST: KuCoin Delisting of Some Projects

See the official announcement here:https://t.co/3F20l4bXms pic.twitter.com/9IijdF8w8x

— KuCoin Updates (@KuCoinUpdates) December 21, 2018
Deposits in the coins will be closed on December 21 at 8 p.m. (UTC+8). Trading pairs will be shut down on December 24. Withdrawals will be allowed until March 21, 2019. So, users still have plenty of time to withdraw their assets before that day.
Currently, BTG is trading at $15.98, having shown an 11.72-percent rise over the last 24 hours.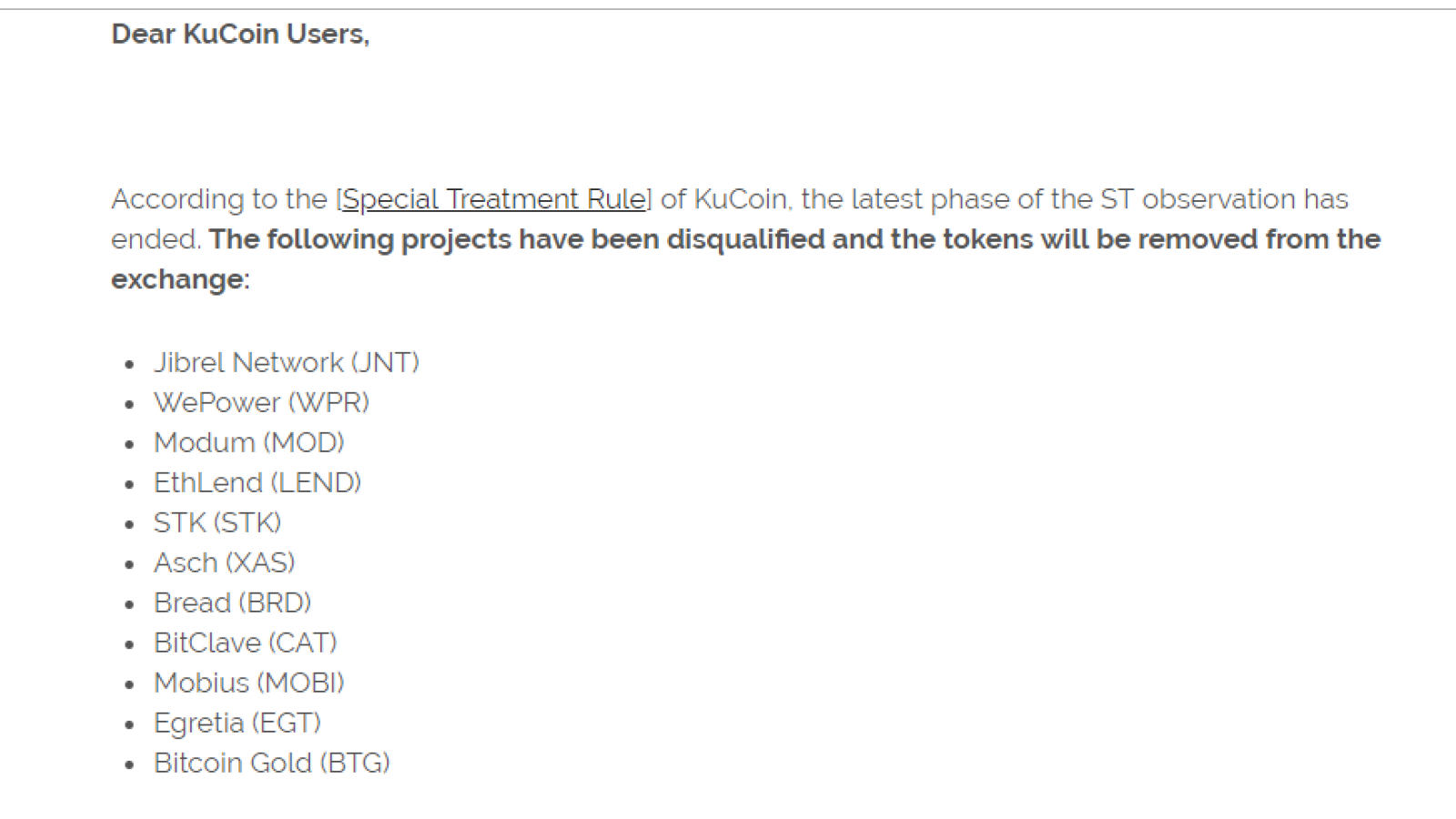 Special treatment area
KuCoin has set up a number of rules by which the exchange team will consider crypto project tokens to be removed from the exchange.
All 'suspicious' coins are put into a so-called 'Special Treatment' category. These coins are to be reviewed with special attention within a certain time period.
Projects which are considered for delisting show low liquidity volume over a certain period. They stop or intend to suspend their work for three months, or fail to cooperate with KuCoin on the issues of being regulated locally. Also, a coin can be removed if it develops contrary to what is mentioned in its whitepaper or shows no notifications of progress on its website.
Earlier delistings from other exchanges
Recently, U.Today reported about Binance and OKEx delisting Bytecoin (BCN), which was followed by a drop in the price of the coin by around 17.30 percent.
Also, recently a rumour was spread around the crypto community that Binance was preparing to remove the Tether stablecoin (USDT), but it later proved to be fake.