A new yearly low
Is crypto dead? What is happening to cryptocurrencies today? Bitcoin's turbulent week has recently been on everyone's lips — the flagship currency has dipped to a new low, and news outlets are struggling to keep up with Bitcoin's dramatic plunge, which is already poised to be the third biggest sell-off in history. That means that the king of crypto lost almost 80 percent off its December's high. This marks Bitcoin's worst string of losses in its whole history. The most concerning fact is that there is no clear indicator of what caused this dramatic crypto rout. Last time such a major sell-off happened, the Mt. Gox exchange, the biggest cryptocurrency exchange at that time, was hacked, causing a frenzy in the cryptocurrency market.

At the time of writing this article, Bitcoin is still struggling to breach the $5,000 mark. As a result of this crypto rout, more than $50 bln of Bitcoin's value has been wiped off in a snap.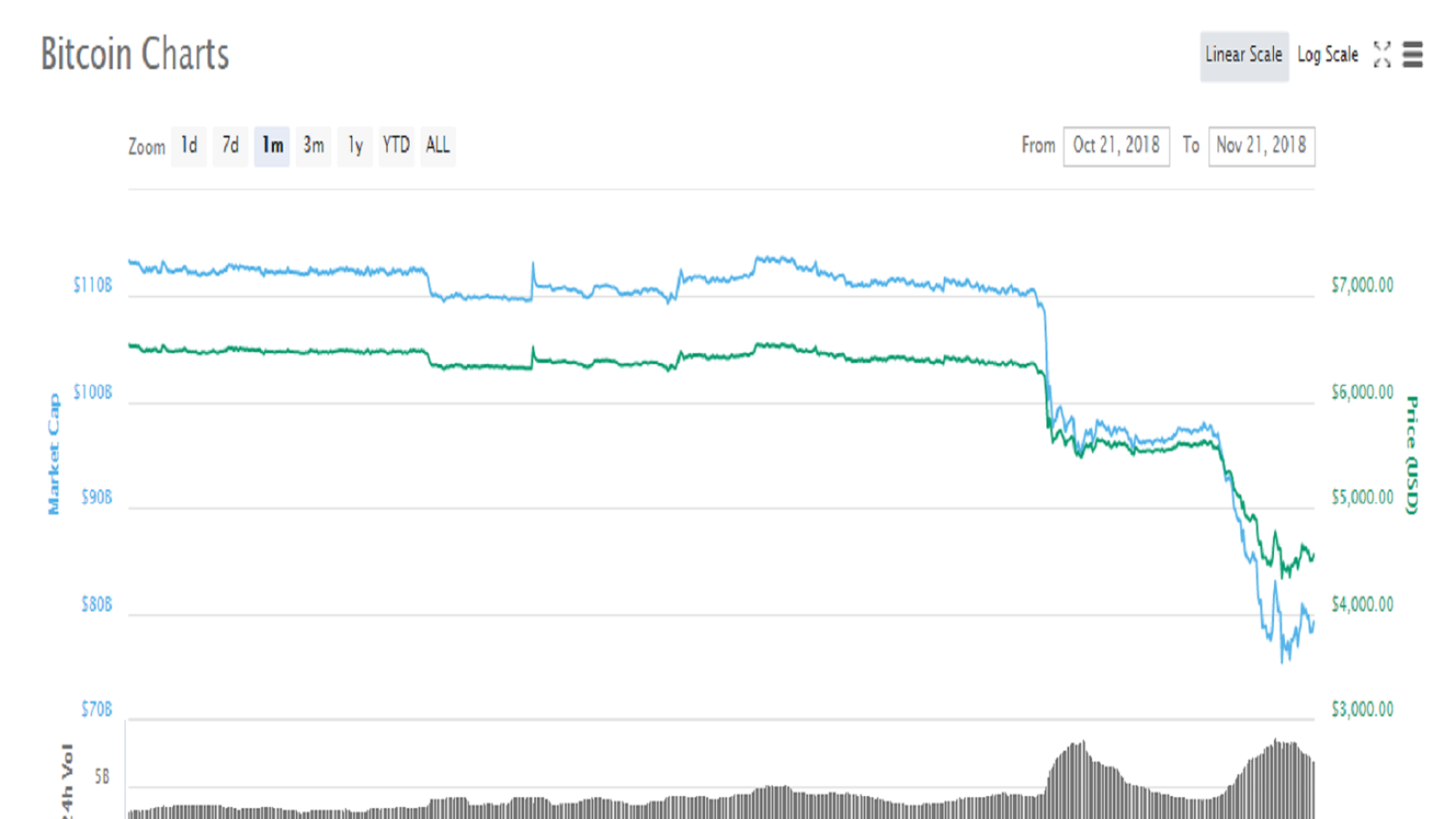 Last Thanksgiving, the phrase 'Should I buy Bitcoin?' was probably one of the hot topics during family dinners. CNBC has recently estimated that Bitcoin is down by more 45 percent since last November. On Nov. 20, the flagship currency hit its 14-month low of $4,048. Steve Ehrlich from Wall Street Blockchain Alliance claims that many ordinary people who earlier felt dismissive about crypto started experiencing FOMO ('fear of missing out') when Bitcoin became part of pop culture.
Altcoins are experiencing the same woes
Bitcoin Cash fork turns messy
After Bitcoin kissed goodbye its new 'stablecoin' status, falling down below the $5,000 range, many altcoins followed the same trend. Bitcoin Cash (BCH) even ceded ground to Stellar Lumens (XLM) that subsequently became the fourth largest cryptocurrency by market capitalization. However, this doesn't mean that XLM wasn't affected by Bitcoin's downfall — its market cap lost nearly 300 million in the nick of time. It's just that Bitcoin's offspring, which recently underwent a hard fork, turned out to be such a weak competitor. At the time of writing this article, Bitcoin Cash regained its fourth place, but the gap between the two currencies is not significant, which means that they will continue seesawing until the market settles.
Ethereum is inching closer towards double digits
Still, there was another major development on CoinMarketCap: XRP dethroning Ethereum as the second biggest currency. The battle for second place on CMC is nothing new — XRP already dethroned Ethereum back in September during its unprecedented surge caused by the xRapid rollout. This time, however, XRP is firmly holding grip, surpassing Ethereum's market cap by more than $3 bln. At press time, Ethereum is sitting at $134.90, but there is a looming possibility that Vitalik Buterin's creation, which was once predicted to make Bitcoin obsolete, may indeed test double digits if this negative trend continues. The fact that Ethereum had the sharpest drop is not quite surprising — as U.Today reported earlier, Buterin doesn't rule out the possibility that Ether could become worthless.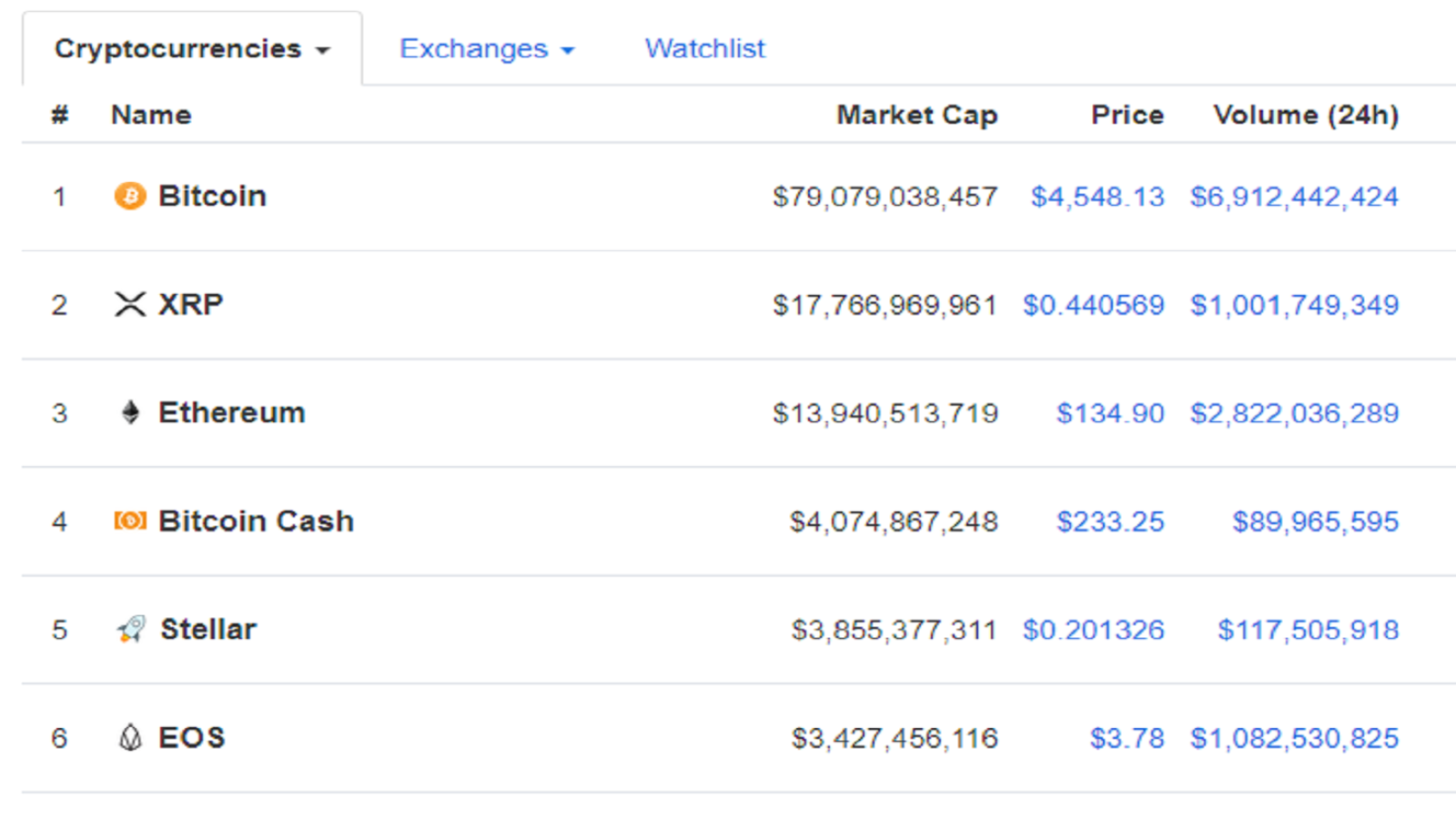 Altcoins remain in the green, refusing to die
Going beyond the top 10, one can notice that CMC has already listed more than 2,000 coins. Does this milestone mean that the market is booming? Well, not exactly. As CNBC reported earlier, there are more than 800 dead cryptocurrencies that are worthless and abandoned. Moreover, only a minor share of coin offerings managed to exceed their initial valuation.
Still, at press time, some top 100 altcoins made sizable gains over the last 24 hours with Aurora (AOA) being the biggest gainer.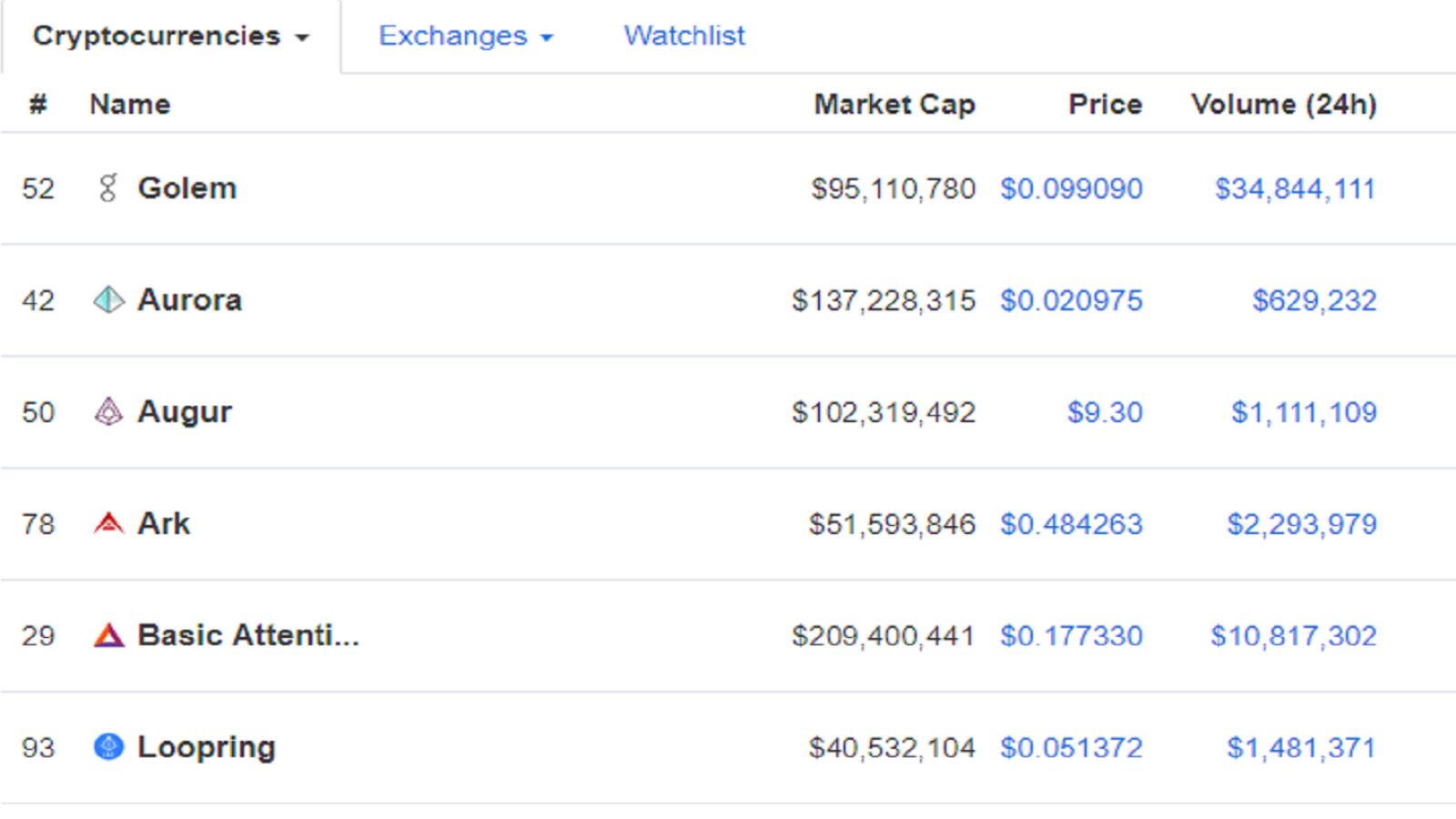 Possible reasons behind the collapse
It might be challenging to grasp what was behind the decline as the whole cryptocurrency market remains in the doldrums.
In a recent article, Fortune determined three main reasons why Bitcoin keeps struggling, and why cryptocurrency investing is becoming less popular:
While relations with the SEC haven't been exactly smooth, it got past the boiling point on Nov. 16 when the US-based securities watchdog cracked down on two ICOs that operated without obtaining a license. Many believe it's only a stepping stone to further regulatory clampdown. The Bitcoin craze led to another phenomenon known as the 'ICO bubble' when numerous startups raked in tons of money while having nothing but a white paper

The Bitcoin hard fork. The hard fork didn't bring anything good to the table. While forking seems like a mundane practice in the crypto space, the messy fork still dominated the news cycle, supposedly being one of the driving factors behind the recent crypto rout.

The decline in cryptocurrency mining. Such giants as Nvidia and AMD already jumped the ship after releasing quarterly earnings reports that showed a sharp decline in the cryptocurrency sector. While the timing of these reports doesn't exactly coincide with the recent crypto rout, it is just another match that ignited the great powder keg.
Finally, there is also the opinion that cryptocurrency market is simply showing its true colors, playing into the hand of the many crypto doomsayers who still believe that Bitcoin doesn't have any value.
The drop in price could only be the tip of the iceberg
Notably, there was one currency that performed better than its competitors — XRP. Actually, the coin, which is constantly slammed by critics as too centralized, even managed to bounce back in the middle of the bearish trend. This is not necessarily a good thing for Bitcoin, the very first decentralized digital asset. The reign of centralized currencies in the likes of Ripple may shoo away institutional investors from Bitcoin (the recently announced delay of Bakkt's Bitcoin futures could be the first warning sign). The main power of Bitcoin consists in in its decentralization, but the world of crypto, ironically, is getting more centralized. Obviously, the fact that decentralized cryptocurrencies are crashing doesn't help, and it might be an indicator that the completely decentralized financial system will remain nothing but a pipe dream of ardent Bitcoin evangelists.
Here's what industry bigwigs are saying
Traditionally, November is a bullish month for Bitcoin, but the current bloodbath shows that it's rather unlikely that 2018 will follow suit.

According to Forbes, cryptocurrency trader Altcoin Thoreau believes that this is not the end of Bitcoin's decline, and a further drop is expected since the bottom hasn't been reached yet. Speaking of short-term predictions, he states the prolonging bearish trend that started right after Bitcoin reached its peak, may continue up to 2020 (until the Bitcoin halving). Meanwhile, he also believes that there are several catalysts that could propel the market's growth. There are high hopes that Bakkt, an ICE-backed cryptocurrency trading platform, will be a boon for the market's further growth. However, the CEO of Bakkt has recently made an announcement about the postponement of the much-anticipated Bitcoin futures launch. Binance's CEO Changpeng Zhao also recently made an appearance on CNBC's Crypto Trader, claiming that they are 'not really' worried about the market woes — they are still profitable, and there will be a catalyst for a bigger market growth.
Sooner or later, something will trigger it," CZ said
Meanwhile, Arthur Hayes, the CEO of Bitmex, doubles down on his bearish prediction, claiming that Bitcoin may plunge even lower. Just like Thoreau, he is certain that the trend will continue in 2019, and BTC testing the $2,000 range is a viable possibility.
Even amidst the cryptocurrency market crash, there is also a place for bullish predictions with Adam Back, who spearheads Blockchain startup Blockstream, claiming that Bitcoin could reach a whopping $500,000 if a flippening scenario between Bitcoin and gold translates into reality. That forecast was made in response to Charlie Lee who earlier drew parallels between Bitcoin and gold.
That's the real flippening @bobbyclee! personally I consider $250k-$500k/BTC plausible in the years ahead, from the digital gold, censor-resistent competitor to physical gold, and internet native digital money. https://t.co/hSq2aHvg8z

— Adam Back (@adam3us) November 20, 2018
Still, these predictions are very far-fetched, and given that Charlie Lee is the brother of a well-known crypto permabull Tom Lee, these predictions should be taken with a grain of salt. Tom Lee already had to lower his year-end Bitcoin prediction to $15,000 ($25,000) since the current market sentiment doesn't look promising. The same goes for Mike Novogratz who was recently ridiculed on Reddit for not being consistent with his predictions.
Of course, the infamous crypto baron John McAfee who earlier made an outlandish claim that Bitcoin will hit $1 mln by 2020, stands his ground, asking everyone to 'relax' and wait for a glorious 'winter' since this bearish market seems like a mundane situation, judging by his own experience.
Somehow, Bitcoin always stays there (and some people can't stand it)
Does all this turmoil mean that cryptocurrency is dead? Not exactly. Since Bitcoin is basically a utopian idea that turned into a billion-dollar industry overnight, everyone and their uncle have already called it a 'Ponzi scheme' and predicted its demise. The rejection of Bitcoin ETFs, Goldman turning its back on Bitcoin and finally the recent drop in price are all supposed to be the sign that BTC will never recover from its current predicament, and cryptocurrency naysayers in the likes of Nouriel Roubini are certainly having their field day.
Let's recall the 2011 article written by Tim Worstall that states how Bitcoin will never go mainstream due to its extreme volatility and numerous issues connected to its liquidity and security. The article was published when Bitcoin was trading at $15.5 — now it's at $4,500 (even considering the recent decline in price, that's almost a gargantuan increase). Of course, that's not an attempt to poke fun at Worstall and his ludicrous predictions — there have been hundreds of articles with the same connotation over the last seven years that try to diminish the cryptocurrency future (even the Economist came up with a 24-page piece on how Bitcoin is inherently useless).
Will cryptocurrencies crash? Of course, such a possibility exists, but it pertains to any industry in the world. Think that Bitcoin is a bubble? Take a look at a myriad of Silicon Valley startups that were deemed to fail from their very inception, but you won't see any articles (or at least very few of them) about the global tech industry coming to a head. While the nascence of Blockchain that its number one use case could be the reason behind this 'bias', the relentless slander directed at cryptocurrencies represented the attempts of traditional economists to remain relevant in the world that is inching closer towards decentralization. Blockchain is on track to reshape many industries (from healthcare to real estate), making any intermediaries obsolete.
The bottom line
If you are a run-of-the-mill investor, you should take everything you read on the Internet with a grain of salt since there is too much bias, depending on who's side you pick. As the cryptocurrency market is losing billions, Bitcoin critics are rejuvenating, but cryptocurrency evangelists believe that investors shouldn't be deterred by the prolonging bearish trend, bracing themselves for a great influx of institutional money. The same pertains to the majority of other altcoins that usually follow Bitcoin's lead.
One thing is certain: the market is inching closer towards greater centralization and Bitcoin is losing its main power, which completely contradicts Satoshi's vision.