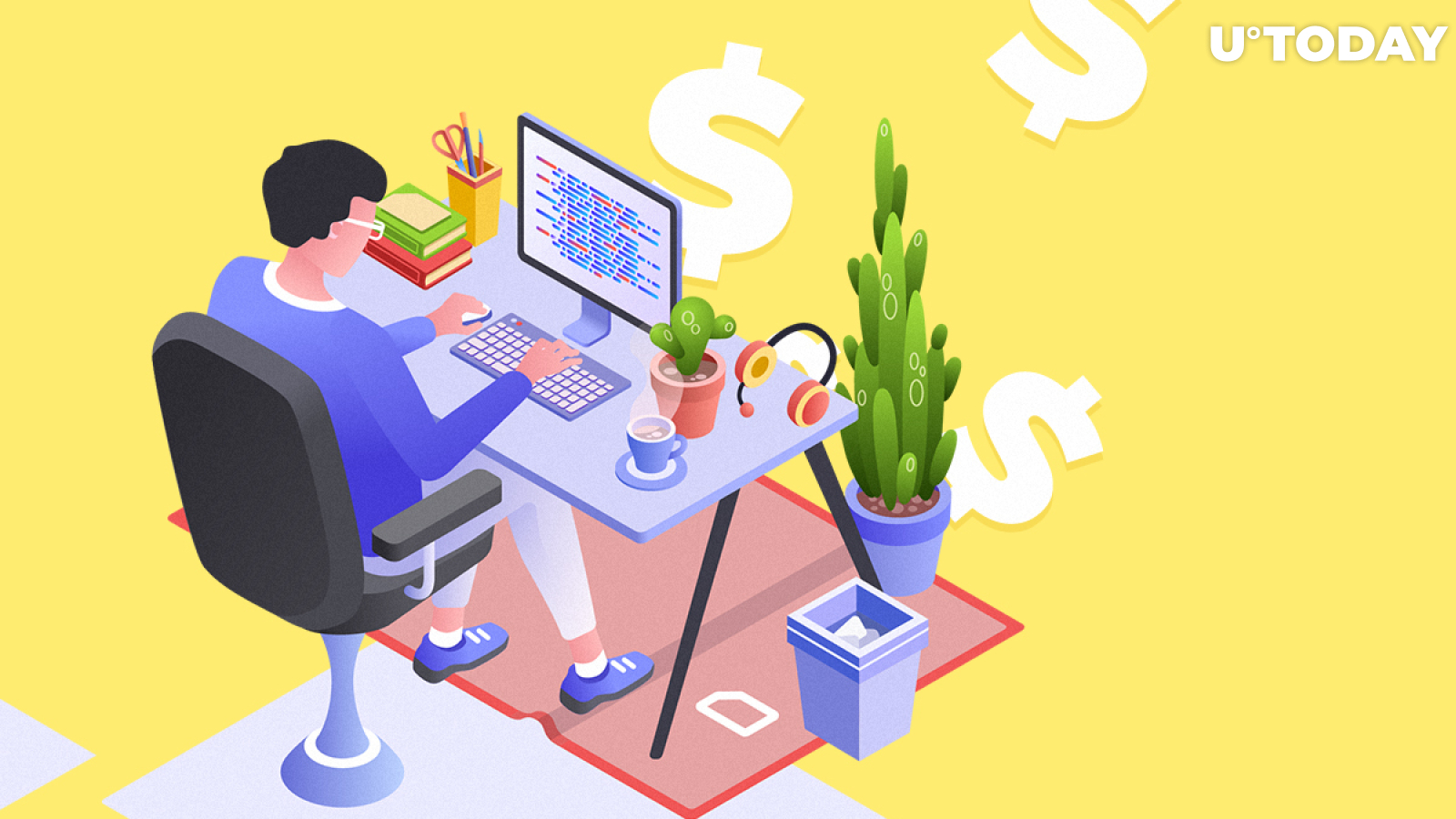 Cover image via U.Today
The blockchain sphere was sort of under the radar since the introduction of Bitcoin until finally Ethereum's ERC20 standard appeared and gave birth to thousands of startups in 2017. The ICO craze led to a notorious crypto bubble, which drove up the demand for quality developers. Innovative technology, low competition, and startling salaries attracted many of the engineers from other spheres to the blockchain space. As they were building new networks and dApps, the infamous crypto burst of 2018 occurred and some of the companies started to rapidly lose the funds they raised.

card
After the dust settled, the surviving startups realized that the only competitive advantage they can have in the future is only a real working product. The times when people paid millions of dollars just for a white paper are gone. Hence, to make it through hard times and eventually prosper, crypto companies need experienced engineers even more. In addition, large enterprises like IBM and Google realized the new trend and are now making the competition even tighter. Unlike the freshly appeared startups, these behemoths have plenty of cash in their pockets to pay a premium for good specialists.
Considering that the blockchain sphere is still in its infancy and there is enough room to grow professionally and financially, engineers around the world are still looking into entering the space. There are also people who never touched a terminal but were attracted to the crypto market during the latest bull cycle and want to start their professional paths within the industry. For all of them, it will be useful to know the size of a paycheck to aim for. Therefore, in this article, we will present you with an overview of the job market for blockchain engineers. Let's get going!
Where to look for a job?
Traditional job listing boards
For our first step, we took the most popular website for job search overall, which is Indeed.com and also a resource that is used by startups to post their listings – AngelList. We also included LinkedIn, as it's by far the most used social network for professionals. The blockchain-related openings on these resources soared significantly (in some cases more than 4 times) from 2016.
Specialized aggregators
The new industry inspired a new type of job board. Currently, there are several crypto-oriented resources where one is able to find a job in a crypto startup. Among such service providers are Blocktribe, Cryptojobslist, Blockace and a number of others.
Upwork
For people, who are familiar with working remotely, Upwork is the go-to resource to find clientele. This is the most popular freelance website in the world and the paychecks there can be astonishing.
Company websites
Some of the job postings for large (and some small) companies never leave company websites. Recruiters may be in a passive mode of searching for some positions, so it's always useful to double-check the 'career' section on websites.
How big of a paycheck to expect
Blockchain developers make 10 to 20% more than their non-blockchain peers. This is on par with AI software developers. For instance, if we talk about the most prominent place for software companies, Silicon Valley, a blockchain engineer's salary there may reach $158k USD a year, while a hardware engineer's salary will only be $135k USD. Switzerland companies in some cases offer even higher salaries that may go up to $180k USD a year, but you have to consider that the taxes and prices there are quite high too.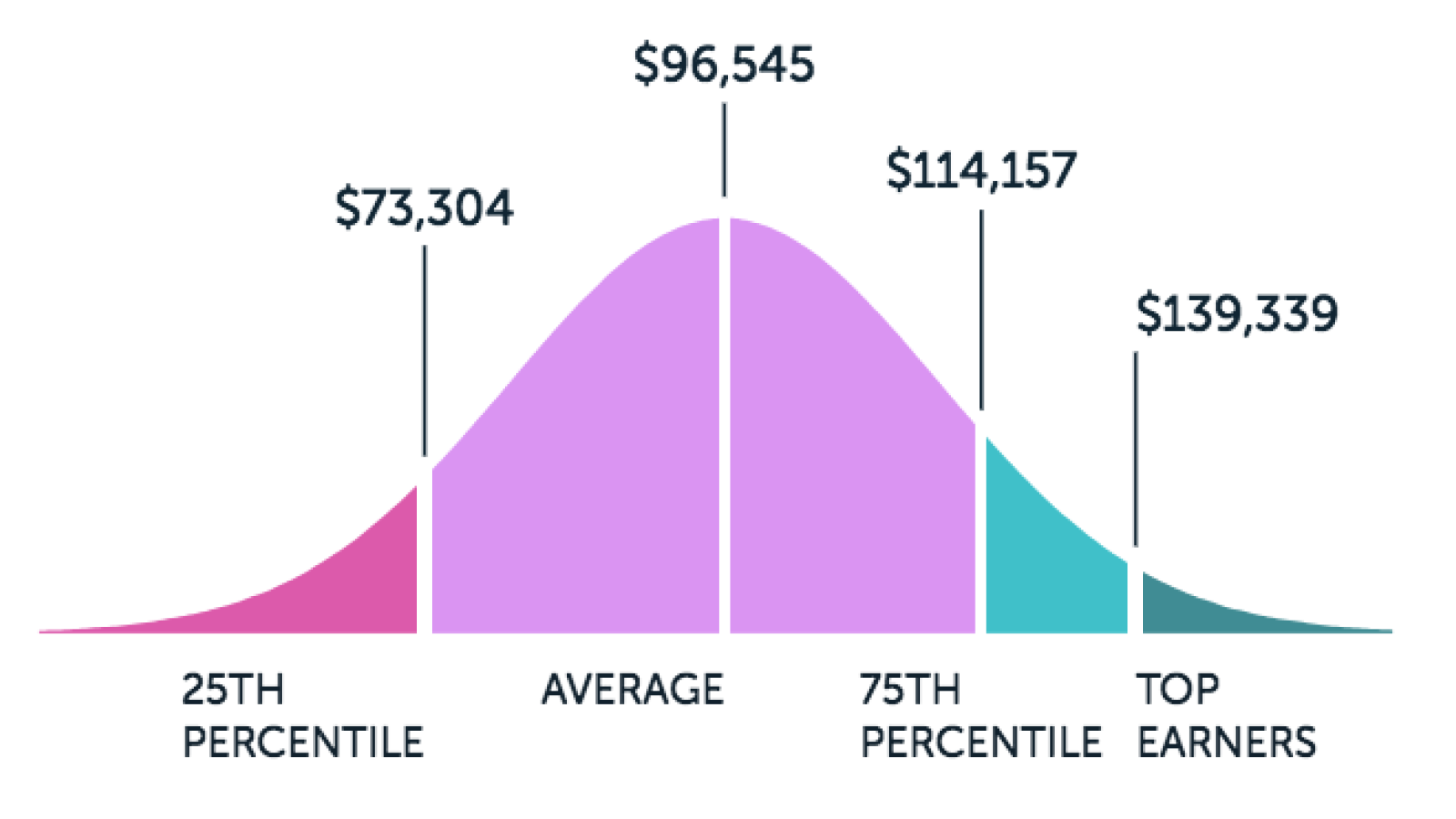 If we review the market as a whole, the average salary for software engineers specializing in blockchain is $114k USD. The range of salaries goes between $50k and $134k USD a year for a full-time job. For freelancers, the hourly rates start from $15 and continue up to $300 USD.
As we discussed in our article about the most popular languages in blockchain development, there are new ones like Solidity and Simplicity that are just starting to get traction. Enterprises with their products are also more inclined to pay higher amounts of money to those, who already have a narrow specialization, such as Hyperledger composers.
Enterprises vs startups
It's important to distinguish between young companies and well-developed enterprises. Startups are looking to recruit the best professionals out there as they influence the company's image. People heading there will receive more responsibility, freedom of making decisions and room for professional growth. On the flip side, the salary range is in the lower bracket of $50k to $70k USD. However, in the long run, financial rewards can be much higher for some devs, as they may be offered equity in the company or certain allocation of tokens that have a chance to skyrocket.
For those, who are looking for more secure positions, enterprises represent a better choice. Starting salaries for junior developers can be from $70k to $80k USD and senior devs usually start getting from $100k to $120k USD. The drawbacks could include a limited set of tasks, the need to report more to seniors and not so many promotion prospects. In addition, enterprises will be able to provide better social compensation and benefits.
Top offers
Senior Managing Consultant at IBM ($122k-$179k USD/year)
IBM is one of the leaders in software development with a great legacy of hardware development. With Hyperledger and Sawtooth, IBM strives to capture a significant share of the developing blockchain market. The position they offer pays well and requires an appropriate level of experience, at least 5 years of programming and half a year in blockchain development.
Blockchain SI Partner Development Manager at Microsoft ($109k-$172k USD/year)
Considering the size of Microsoft and their involvement in cloud and blockchain solutions based on their Azure platform, there is no wonder that it makes it to the top of our list. Except for advanced programming skills and knowledge of the proprietary software, this job will require the perfect candidate to have a background in business communication and management experience.
Blockchain Engineer at Visa ($110-$140k USD/year)
Visa, like any global payment system, feels the competition from cryptocurrencies the most and tries to get the best talent to evolve quickly. A developer joining this company should consider making an emphasis on Java and Golang, as Visa requires two-year experience with these languages. Expertise in other spheres of software development will also be a plus along with specialization in scalable products.
Blockchain Developer at Blocksmith ($45k-$65k USD/year)
Here we step onto the startup grounds. Blockchain offers outsourcing services related to the blockchain to other startups and enterprises. In their job posing, Blocksmith highlights willingness to learn and share knowledge as the core requirements. Unlike enterprises like Visa and IBM, they value personality more than tech expertise. In addition, the person who gets hired will be eligible for equity share after working within the company for more than 6 months.
Senior C++ Blockchain Developer at Atlas City ($90k USD/year)
Atlas City is another startup that is focused on helping other businesses to cut costs and boost efficiency. The team looks for a person with a decent knowledge of blockchains, which is apparent by the requirement of knowing C++, a language Bitcoin was built with. Among other requirements worth considering is the knowledge of Linux and back-end scripting. The salary for a startup is rather high and there is a neat bonus of being eligible equity.
The bottom line
To sum up, the blockchain sphere with its incredible volatility and instability is still a technical environment that is set to disrupt our world and transform it completely. Despite rallies and crashes on the market, the business side of blockchain has been rumbling since its inception.
This field is definitely challenging because there are many undiscovered territories, and the infrastructure is not always clear. However, anyone with exceptional ambitions and libertarian views will feel comfortable in the epicenter of the blockchain development buzz. Thankfully, at this point in time, there is no shortage of opportunities, and the level of experience varies greatly from company to company. In some cases, personality comes before knowledge. If you feel uncomfortable working at the office, you will be glad to find out that there are not only many freelance opportunities but also remote offerings from startups and enterprises.
When it comes to payment, like in any workplace it will depend on a number of variables. First and foremost, you will have to choose between working in a recently initiated startup or an enterprise with a long history of operation. Second, your development experience along with the knowledge of specific languages will play an important role. Third, if you want to get a higher position, be prepared to learn or prove some managerial skills. Finally, your personality and willingness to learn new things in such a fast-paced environment will also be evaluated by hiring parties. In any case, you can safely consider that your payroll will be a little bit higher than the average for developers in other fields. After all, the demand for the workforce in the blockchain is high and the supply is low – it's time to ride this wave!
Image by U.Today image archive.