Bitcoin (BTC), the top cryptocurrency by market cap, is testing the $7,800-$7,900 support for the fifth time since plunging 20 percent on Sept. 24.

This time around, bulls might be way too exhausted to defend the above-mentioned price level, which could potentially result in another major downward move that bears have been waiting for.
At the time of writing, Bitcoin is trading at $7,946 after a sizeable 3.22 percent drop, CoinStats data shows. Altcoin holders are also feeling the burn -- Ethereum (ETH), the top coin by market capitalization, is currently down by almost 5 percent while Bitcoin Cash (BCH) has plunged by 6 percent.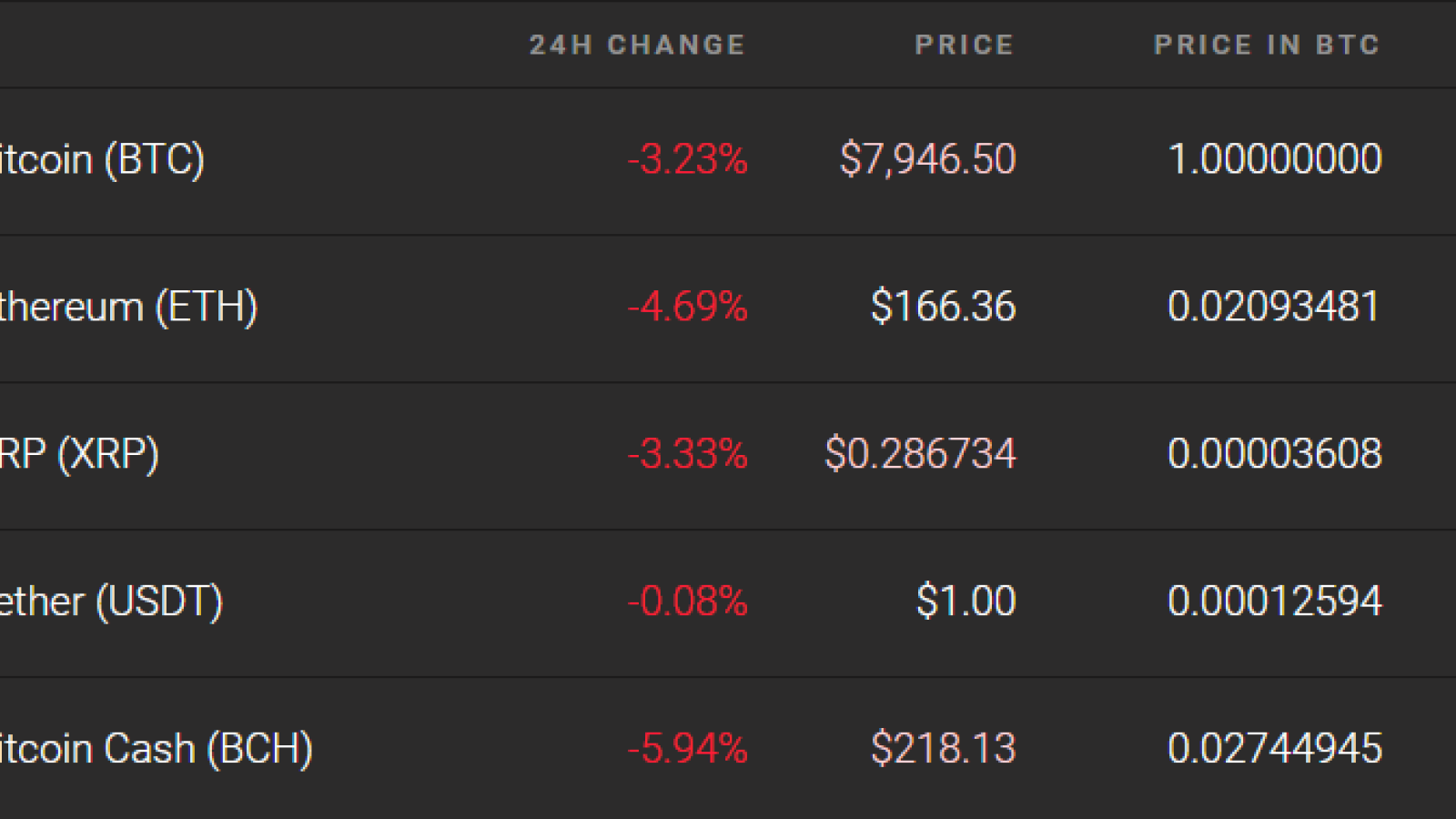 Despite the gloomy technical picture, cryptocurrency trader 'Galaxy' says that it's too early to call the battle.
BTC: dropped $100

and CT be like: is dead $5k next stop.

— Galaxy (@galaxyBTC) October 22, 2019
Meanwhile, Josh Rager hopes to accumulate more at the $3,000 level in case of another major price drop.
I don't ask for much

All I want is a $600+ green candle so that I can put in a 5x short as price rejects off overhead resistance for Bitcoin to freefall $3k so that I can collect my short profits & load my bags once more at $6k to ride off in the sunset to new highs

That's all

— Josh Rager ? (@Josh_Rager) October 23, 2019
Bitcoin has been going back and forth within the same price range for nearly a month with a few notable fakeouts. It doesn't take a trading guru to predict that the top coin might experience another volatile move in a matter of days given that
the Bollinger Bands
, a key technical indicator for measuring volatility has been extremely tight as of recently.
Trader "The Crypto Dog" says that he's surprised that anyone is still able to buy BTC at $9,000. Meanwhile, famous gold proponent Peter Schiff insists that the orange coin is way too expensive, and its price might drop to as low as $200.
What will be Bitcoin's next move? Share your take in the comments!