Since its launch in 2017, Coin Liquidity Solutions is developing a go-to platform to allow emerging crypto products to resonate with a large audience of crypo exchanges and blockchain media outlets. Its toolkit combines automated market-making strategies with a stack of amazing advertising opportunities.
When marketing meets market-making: What is Coin Liquidity Solutions?
Coin Liquidity Solutions, or CLS, promotes itself as a crypto market-making and fundraising ecosystem designed to boost the marketing, listing and trading strategies of new crypto products and tokens. At the recent 2021 Dubai Crypto Expo, Coin Liquidity Solutions was awarded the title of best trading support company.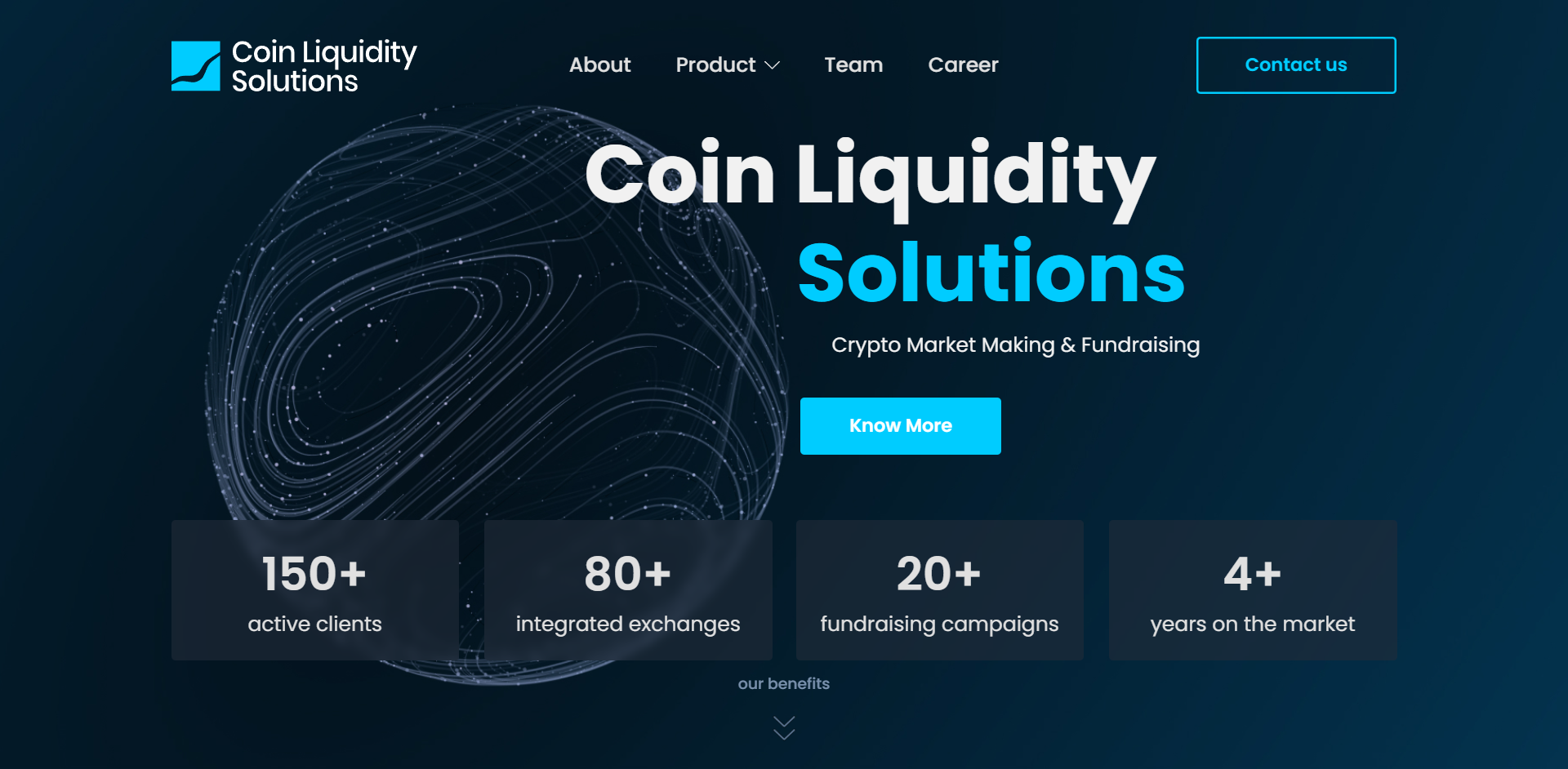 CLS introduces projects and tokens to its target audience with its patented toolkit of techniques tailored to all segments of the Web3 and blockchain sphere. To start with, it implements novel market-making strategies to help low-liquid tokens in maintaining a tight spread. Also, its products are set to help new projects with liquidity acquisition, treasury building and resupply management.
Clients of Coin Liquidity Solutions are protected from HFT attacks: high-frequency traders with large deposits and even aggressive communities will no longer be able to manipulate token prices. All market stability and risk management strategies by Coin Liquidity Solutions are thoroughly tested with various inputs.
In terms of marketing, Coin Liquidity Solutions supports its customers with urgent publications in Tier 1 crypto, IT and fintech media outlets in different languages. Both global and regional media platforms are available for various types of publications. Besides informative and eye-catching publications, Coin Liquidity Solutions can launch banner advertising and buy all-in-one media packages.
During this bullrun, more than 150 cryptocurrency projects have already given a boost to their interaction with audience, investors, developers and cryptocurrency enthusiasts. CLS' level of trading solutions adheres to top-notch "Wall Street" standards and, therefore, should be considered pioneering for the entire Web3 sphere.
360° community building and promotional support for crypto products
Community management on all social media platforms is yet another array of services offered by Coin Liquidity Solutions (CLS). Its specialists can develop and implement sophisticated SMM strategies on Twitter, Instagram, Facebook and Reddit. Also, a dedicated team of managers can run "ask-me-anything" sessions on various platforms.
As such, Coin Liquidity Solutions offsets the gap between the development efforts of emerging products and their promotional strategies. CLS clients are able to grow their audience and make it more passionate about the project's mission, vision and progress. Cutting-edge market-making tactics go hand-in-hand with coordinated marketing strategies.
This, in turn, will accelerate the massive adoption of the project and its token among cryptocurrency professionals and newbies and help its team to accomplish every goal on its roadmap.