The widely known technology fund that became one of the most profitable exchange-traded products on the U.S. market in 2021 has given its prediction for the digital assets industry and Bitcoin and Ethereum, specifically.
Bitcoin's future
Ark's analysis suggests that the majority of Bitcoin investors have matured and held the assets for long-term gain instead of short-term speculative gain. The analysis in the report relies on on-chain data like the Long Term Holder Base and Aggregated Cost Basis.
Both metrics provided are staying at an all-time high. The second Long Term Holder Base is the foundation of Ark's statement about the Bitcoin market turning from speculative to long term, which could be considered as "maturing."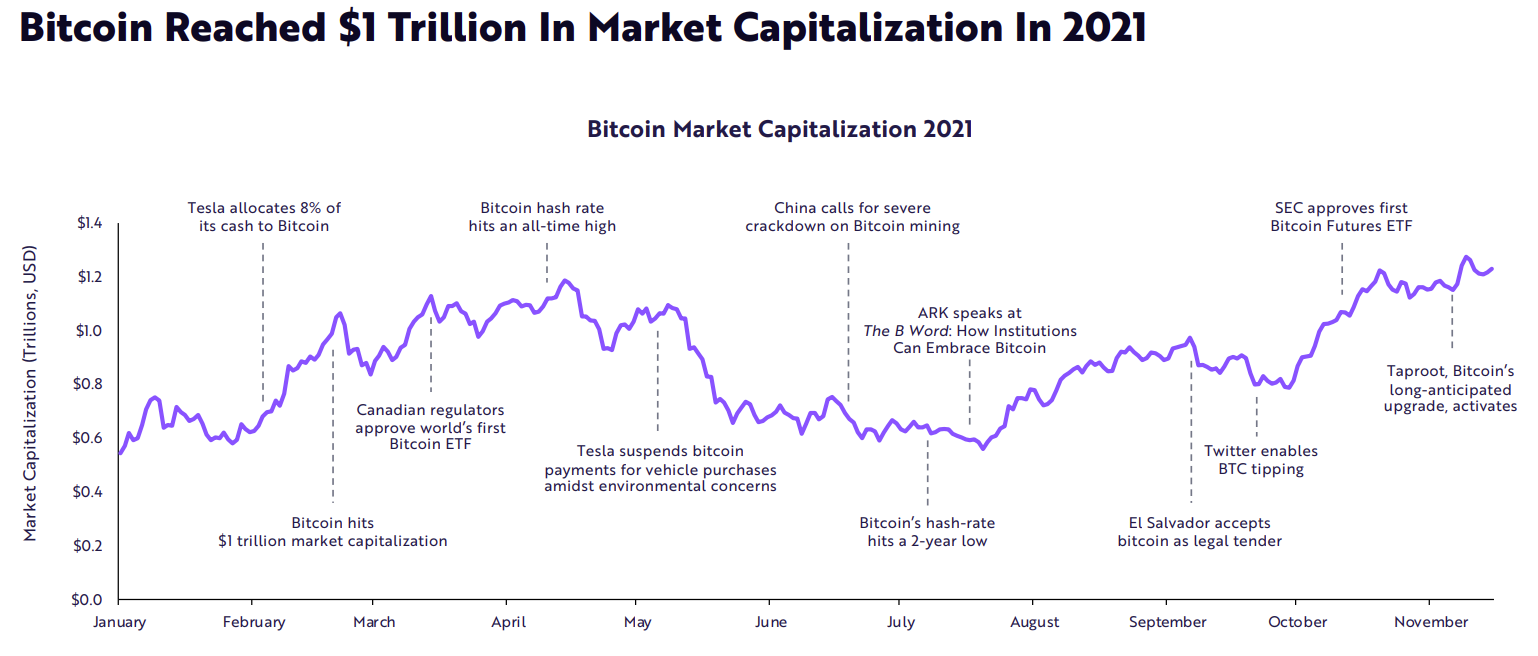 In addition to the asset's on-chain data, Ark is also considering the market data of Bitcoin like Transfer Value Metric on both Absolute and Price-Adjusted Basis. As the report suggests, Bitcoin took its market share as a settlement network.
The transactional volume of BTC has faced a 120% increase in 2021 and reached $12 trillion. As cryptocurrency adoption continues, users start to use digital assets for both remittance and regular transfers. Various cryptocurrencies allow customers to transfer large quantities overseas with significantly lower fees compared to regular bank wires.
Ethereum to hit new highs
As for the second-largest cryptocurrency on the market, Ark expects a mind-blowing capitalization increase with the further development of decentralized finance that scales significantly better than traditional banking solutions.
Additionally, DAOs might act as a new standard of governance and coordination with the help of an economical foundation behind them. Additionally, Ark mentions Layer 2 solutions that have become a popular alternative for mainnet transactions after fees on Ethereum jumped to new highs.