Over the past 24 hours, over 144.5 million SHIB tokens have been removed from circulation forever, but these regular token burns, however, seem to have no effect on the coin's price. Currently, the Shiba Inu price is declining, falling further from its all-time high reached in October 2021.
A total of 239 million SHIB were burned two days ago as well.
144.5 million SHIB go to inferno
Twitter user @shibburn, who keeps the SHIB community aware of multiple transactions that move large amounts of SHIB to a dead wallet, has tweeted that in the past 24 hours, a total of 134,519,822 tokens have been incinerated. That took 17 transactions.
In the tweet posted after that, the user tweeted that another million tokens were burnt, bringing the total count to 144.5 million.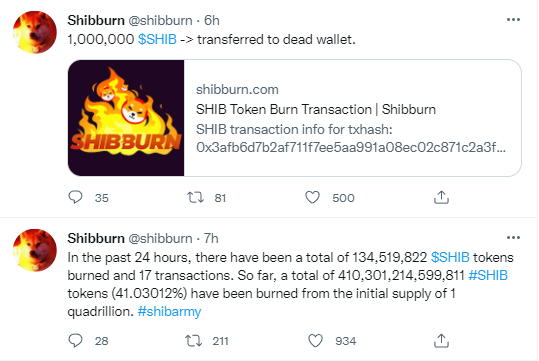 Over 239 million SHIB destroyed two days ago
Twice this amount of these canine crypto tokens were also burned two days ago, when in his tweet on Jan. 15, Steven Cooper, an entrepreneur who also loves burning SHIB, gave a shoutout to the team behind Travis Johnson's SHIB burn games.
According to Cooper's tweet, two days ago, these guys sent more than 239 million SHIB to a dead wallet so no one can ever withdraw or spend those coins.
The Twitter account of this gaming company shows that it has so far burnt over 358,000,000 SHIB.
Huge shoutout to @317_key for another 239+ Milliom #shib burned. That's huge and from his game catalog. You can trust this one. When he says he's going to burn, he burns! Be sure to give him a follow and support his games. ? #shibarmy

— Steven Cooper (@iamstevencooper) January 15, 2022
Steven Cooper is owner of Bigger Entertainment crypto music label, which makes regular SHIB burns as well. The recent SHIB burn party organized by the company live on YouTube took place on Dec. 26. Back on that day, they destroyed 239,600,144 tokens.
The next burn party is to occur on Feb. 14, St. Valentine's Day, and so far there are $1,200 worth of SHIB in the "burn pot."
On Dec. 30, Cooper tweeted that his team now intends to burn $100,000 worth of SHIB—a whopping 3,409,943,656 tokens.
Recent SHIB price action
Since a peak of $0.00003146 on Jan. 15, the second largest canine crypto, Shiba Inu, has lost 7.96% by now. At press time, the token is changing hands at $0.00002896.
Last week, SHIB rallied at around 20% on the rumors of the Robinhood app listing it soon. However, the top executive of the company did not confirm these rumors. Jason Warnick, the company's chief financial officer, stated that Robinhood would keep its listing options open.