On-chain data shared by crypto tracking platform Whale Alert shows that in the past 10 hours, major crypto trading platforms have shifted approximately 150 million XRP.
Meanwhile, the Ripple blockchain decacorn has been sending crypto to the Chinese Huobi exchange regularly. The crypto giant started these daily transfers last year and continues them now.
Two top-tier exchanges wire 150 million XRP
Whale Alert tweeted that two large XRP transactions conducted by crypto addresses tagged as "unknown" carried 70,001,270 XRP and 79,299,700 XRP—a total of 149,300,970 XRP tokens. That constitutes $113,639,826 in fiat currency.
However, data from the Bithomp XRP analytics platform shows that these "unknown" wallets in reality were addresses belonging to the Bybit and Binance exchanges.
Bybit wired 70,001,270 XRP to a Binance wallet and then Binance shifted 79,299,700 XRP internally.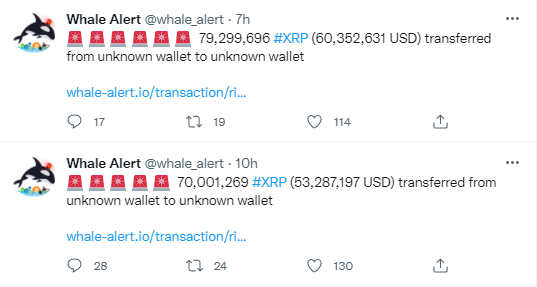 Ripple continues to shovel XRP to Huobi
As per data collected by the aforementioned platform Bithomp, Ripple continues to send regular weekly and daily XRP stashes to the largest exchange in China, Huobi Global.
So far in December and January cumulatively, the blockchain giant has wired a total of 74.3 million XRP to the exchange.
Every week, a different amount of XRP is sent to Huobi daily. In December, these weekly transfers varied from 2.2 million to 1.6 million XRP. In January so far, the amount of XRP sent to Huobi on a weekly basis has changed from 1.8 million to 673,000 XRP.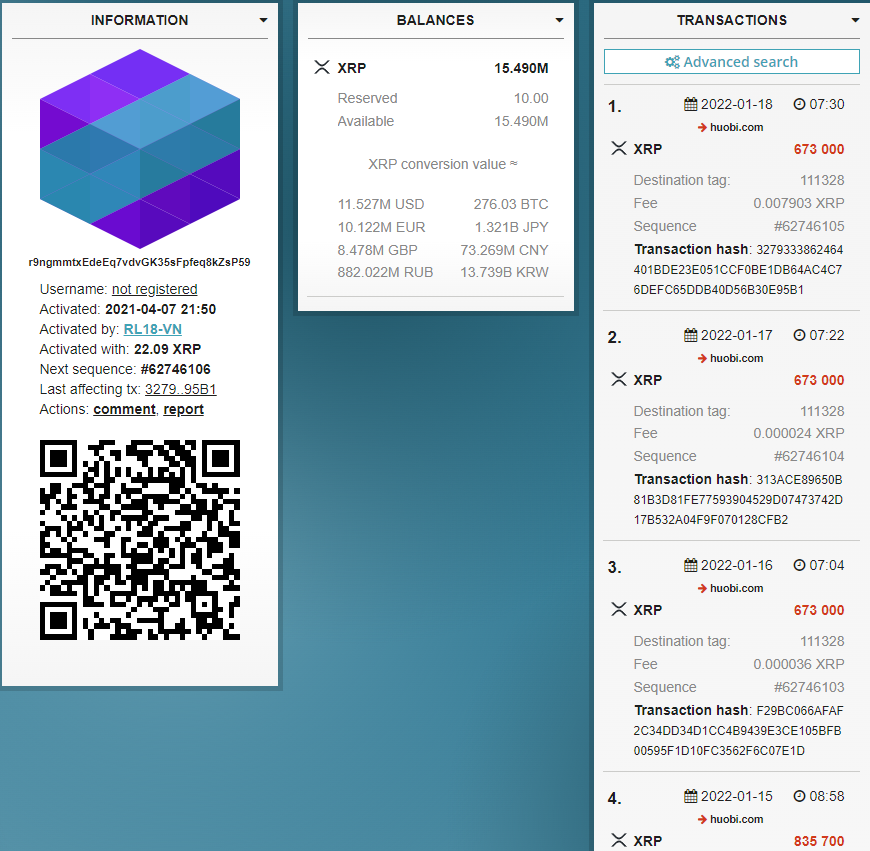 Huobi leaves Chinese market
As reported by U.Today previously, in September 2021, the top management of Huobi chose to stop operating in the Chinese market. It happened just days before the local government and central bank published a document that declared all operations with cryptocurrencies illegal in the country.
By Dec. 31, Huobi shut down all trading operations with crypto assets and Chinese yuan.
Following the company's example, many other smaller crypto exchanges began to either withdraw from the crypto-unfriendly environment that has been formed in China or started relocating to other jurisdictions.
In September, Binance closed registrations for new Chinese users, as did CoinEx. Renrenbit was forced to shut down its business completely.