According to CoinMarketCap, the XRP price is up nearly 6% in the last 24 hours, outperforming the rest of the top 10 largest cryptocurrencies by market capitalization. The XRP price steadily declined from April 16 until the support was met at around $0.56, which halted the declines. XRP resumed a positive rise on May 1 and has surged nearly 12% since then.
At the time of publication, XRP trades at $0.61 after reaching intraday highs of $0.63 earlier. XRP's latest rebound seems to be supported by favorable technical and investor sentiment regarding XRP despite delays in the Ripple SEC lawsuit.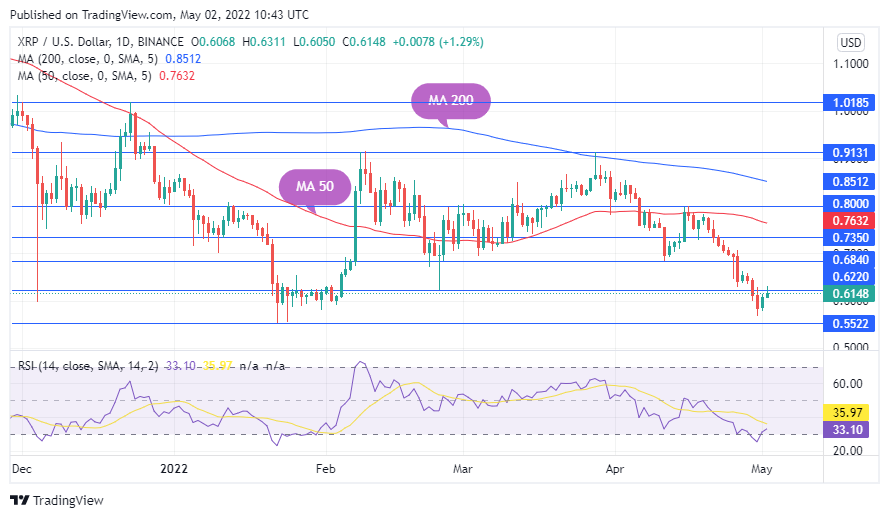 As previously reported by U.Today, the relative strength index (RSI) on XRP charts reached oversold levels, a signal that the recent heavy selling was in the process of exhausting itself, and investors might begin to look for entry point opportunities on the buy-side.
The relative strength index (RSI) is a technical analysis indicator that measures the extent of recent price fluctuations to gauge whether an asset is overbought or oversold. If the RSI reading declines below 30, the asset is deemed oversold. The bigger the negative value, the greater the chances of a relief rally.
Investors remain positive despite delays in the Ripple-SEC lawsuit
As reported by U.Today, CEO Brad Garlinghouse says Ripple is already operating as if it had lost the lawsuit, saying "Justice delayed is justice denied. Unfortunately, justice is being delayed hereby continued efforts by the SEC to push things out." The top exec says that the SEC has been dragging its feet and accuses the SEC of hiding its notes despite claiming that they are all about disclosure and transparency. Despite the lengthy lawsuit, Ripple says it is seeing record-breaking growth outside of the United States.
In the latest court ruling, Judge Analisa Torres modified the briefing schedule for Ripple and the SEC, ordering that all motions excluding expert testimony be fully briefed by the end of August. Any motions for summary judgment must be filed by September 2022. Likewise, motions for summary judgment must be fully briefed by Nov. 15, which remains yet another positive sign.