Tron (TRX) had a range-bound trading activity in March. In our article last month about Tron price prediction for March 2019 we wrote "Tron is trading below its 20-day and 50-day exponential moving averages, the level of $0.028 appears to be a strong resistance, MACD indicator is negative and the strength of trend is very low, still the dominant trend is the downtrend. Tron has difficulty to trade above the price level of $0.02430. Above it there is strong resistance at the price level of $0.026.
As of February 4, 2019 Tron, in general is making lower highs and lower lows which are the textbook definition of a strong downtrend. Because the current trend is not strong, we do not anticipate large price movement for Tron in March 2019."
This was a correct Tron price prediction as the cryptocurrency for last month had a low-high range of $0.02101-$0.02483. What is our Tron price prediction for April 2019?
Tron (TRX) Key Statistics
Some key stats for Tron as of March 31, 2019 are the following:
Price of Tron (TRX) is $0,0232
Market Cap 1.55 Billion, Circulating Supply is 66.68 Billion
Volume: 257.54 Million
52 Week Low- 52 Week High: $0.0115- $0.0958
Year-to-date performance is +20.53%
Rank 11 on CoinMarketCap based on top 100 cryptocurrencies by market capitalization, in March it was number 10. It is now one rank below Cardano (ADA).
Tron price prediction April 2019 based on various online sources
What are some Tron price prediction ranges that can help as a guidance on where price could move during April 2019? Consider the following Tron price prediction ranges not as investment recommendations but as opinions only. Tron price forecast is not an easy task, especially trying to be an accurate forecast.
TradingBeasts has a pessimistic view on Tron price during April 2019. They mention "The TRON price is forecasted to reach $0.02 by the beginning of April 2019. The expected maximum price is $0.02, minimum price $0.01. The TRON price forecast for the end of the month is $0.02." So, a decline is expected, about 13% compared to the current price of about $0,023.

CoinFan has a very optimistic forecast for Tron in April 2019. A minimum price of $0.051799073 and a maximum price of $0.070081099. Even the minimum price is practically very hard to reach as it represents an increase of about 100% from the current price of Tron.
WalletInvestor is pessimistic about the price of Tron in the long-term, and according to its forecast trend line the price of Tron may be in the range of $0.023-$0.02275 by April 6, 2019.

PrevisioniBitcoin estimates that Tron (TRX) will have a minimum price of $0.020 in April 2019, same as per March 2019. It mentions that "On 2019 Tron may heavily boost its price. We assume as high predictable a mass adoption of this cryptocurrency next months. We expect on 2019 a Tron rise with a strong capitalization and consequently a concrete value per coin increase."

CryptoGround makes the following Tron price prediction: After one month a price of $0.0238 is predicted for a gain of +0.89%. It can be considered a very conservative Tron price prediction.

DigitalCoin forecasts that Tron in April 2019 will have an average price of $0.01799496 USD and a change of -22.66 %. This is a very pessimistic forecast. Last month the Tron price forecast was too optimistic.
TRX price prediction based on technical analysis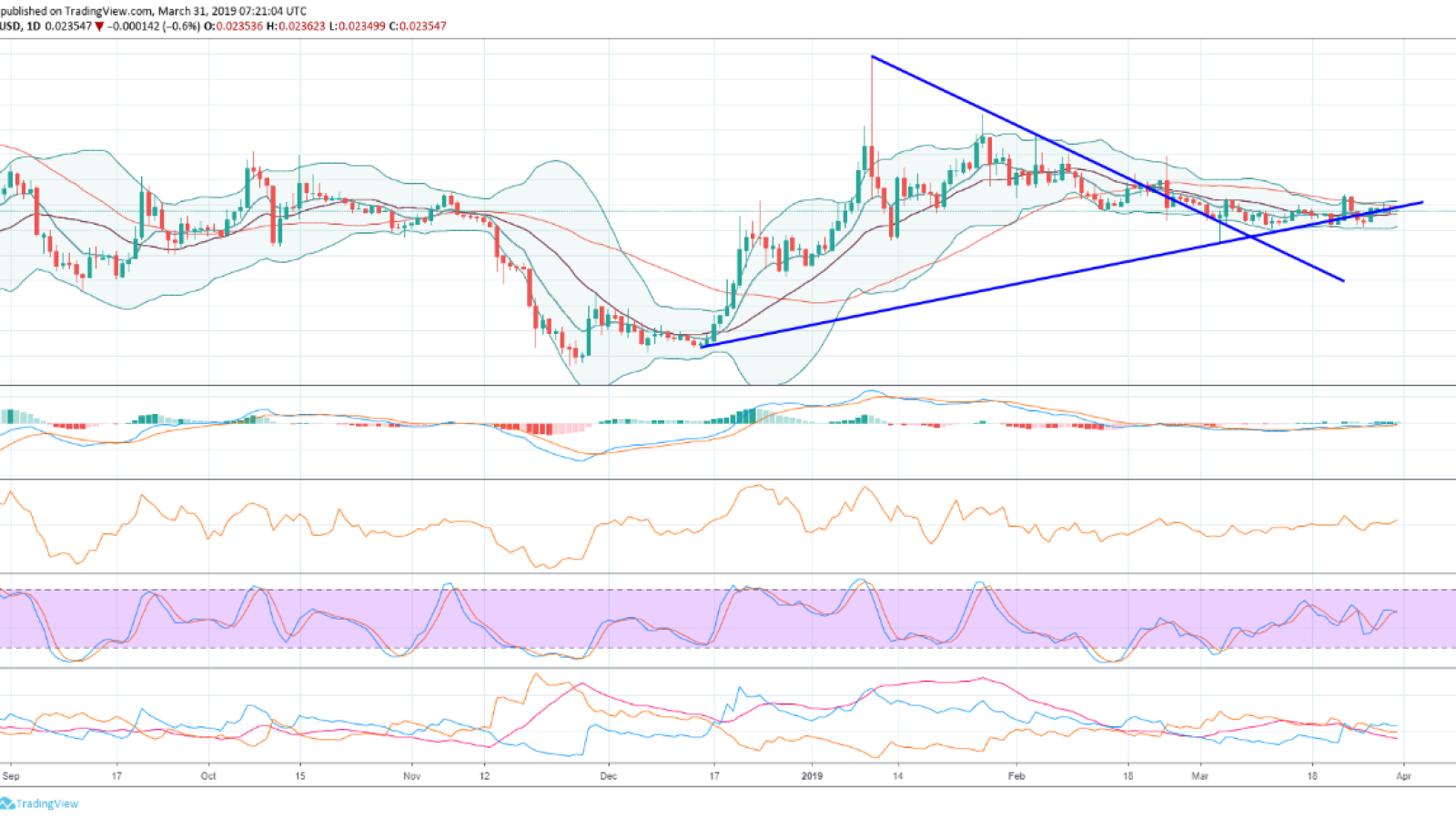 As per our previous article about Tron price prediction our two scenarios, the optimistic and the pessimistic ones, bullish and bearish for the price of Tron in April 2019 can provide some possible ranges about price action.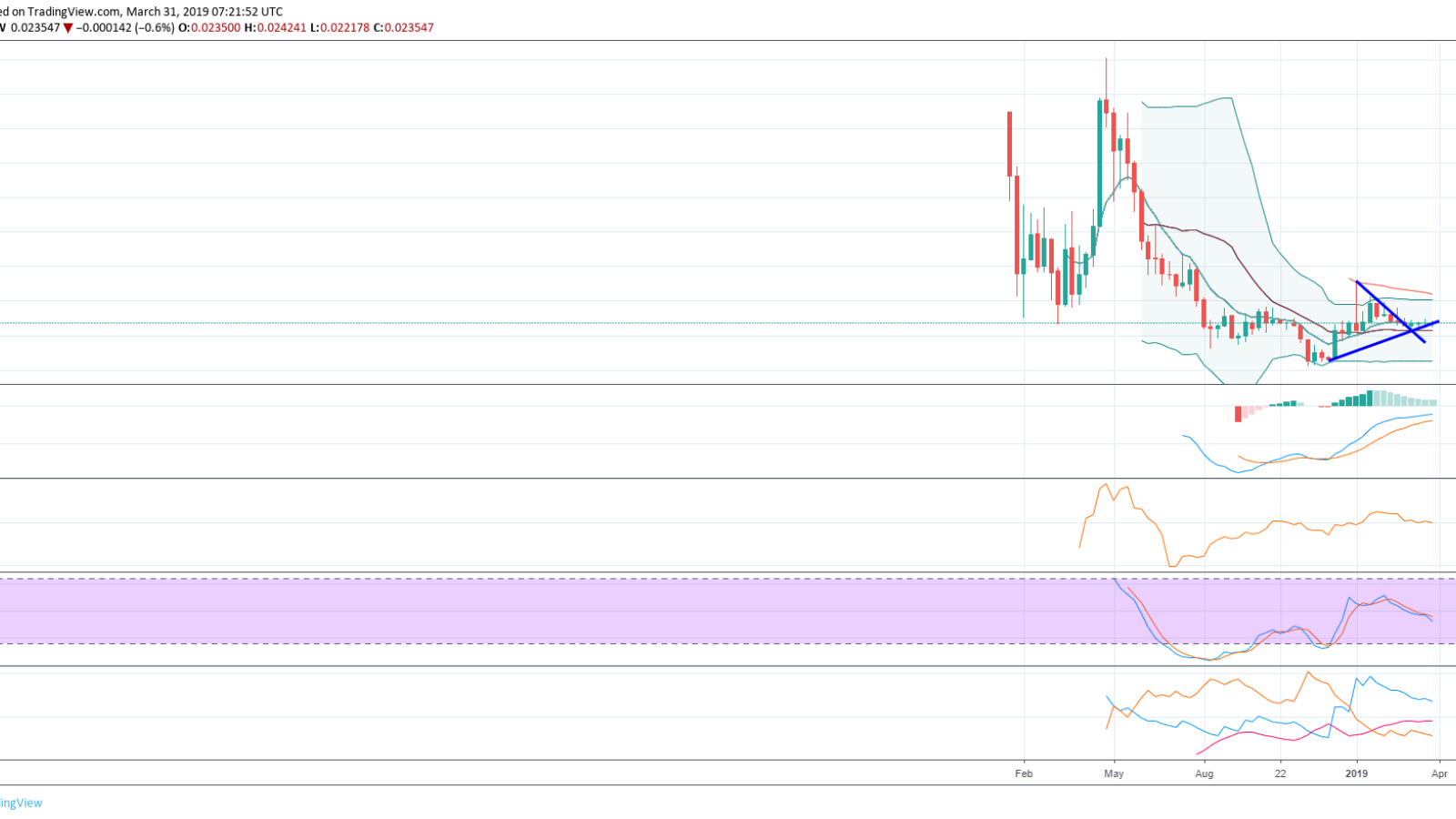 TRX/USD chart by TradingView
Tron price prediction April 2019 bullish scenario
A breakout from the triangle formed is bullish for the price of Tron but in this case, it has failed to gain momentum and strength to move to higher price levels. Instead Tron has consolidated in the range $0.02235-$0.02788. Daily Bollinger bands have contracted a lot indicating lower volatility, which could lead to a new breakout soon, like in mid-November 2018.
The strength of the trend is very weak, but still the dominant trend is the uptrend, as the +DI line is currently above the -DI line and the ADX/DMI indicator shows clearly a weak trend. MACD indicator is flat and the Stochastics indicator is at neutral levels. Momentum indicator is also flat. We estimate that the lower Bollinger band at $0.02220 is a strong support zone and if the breakout is to happen to the upside potential targets are $0.02475, $0.026 and the recent high in late February 2019 at $0.02780. On the weekly chart our target is $0.0030, the upper Weekly Bollinger band.
Tron price prediction April 2019 bearish scenario
The 20-day and 50-day exponential moving averages are flat and this indicates a loss of momentum and a continuation of the consolidation. The failed breakout to the upside suggests that there Is selling pressure, especially near the prize zone of $0.02466.
There is also a strong resistance zone at $0.02580. If the selling pressure resumes, then the low-price level of $0.02108 formed in early March 2019 is a potential target. But as the trend is very weak, we estimate that the lower Bollinger band at $0.022 should hold as support.
Conclusion for Tron forecast this month
The current trend of Tron is not strong, and a breakout could soon occur either to the upside or to the downside as there is a mixed picture now.