According to the data shared by Whale Alert crypto tracker, slightly over eight hours ago, Bitso crypto exchange participated in moving 36.1 million XRP.
Bitso shovels over 36 million XRP tokens
Whale Alert has detected that 20 million XRP was received by crypto unicorn Bitso located in Mexico.
Later on, Bitso shifted 16,100,000 XRP between its wallets internally, according to the additional data from the Bithomp analytics platform that tracks XRP transactions.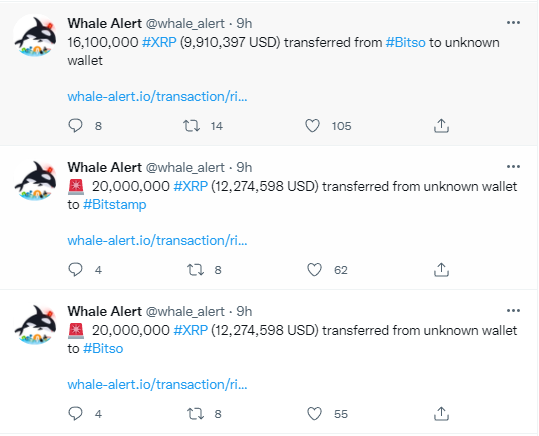 In early May, 2021, U.Today covered that after closing a major funding round, Bitso's evaluation soared above $2.2 billion and the Mexico-based crypto exchange turned into the first crypto unicorn in Latin America.
Back then, Bitso managed to raise over $250 million in the Series C investment round.
In October 2019, the exchange received an undisclosed investment from Ripple tech provider and began using its XRP-based On-Demand Liquidity (ODL) tech for remittances around Latin America.
Ripple ODL sales soar 46 percent
In the recently published a Q4 report, Ripple behemoth stated that its XRP sales related to ODL customers had gone over a whopping $1 billion in the fourth quarter 2021, thus showing a 46-percent increase and spiking to $717 million compared to the $491.74 million sales in the third quarter.
According to the document, the global demand for ODL has substantially increased by now and ODL now has twenty payout markets.
The San-Francisco-based tech giant has also bought XRP worth $321.97 million in the secondary market.