While SHIB remains the largest holding of the top 100 ETH whales in USD equivalent, the supply of the second largest meme cryptocurrency held by these investors has seen a substantial plunge, going below the equivalent of $1 billion.
In the meantime, one of the whales has risked buying a staggering chunk of Shiba Inu—301 billion tokens.
Whales' SHIB balance shrinks but coin remains #1 asset
According to the main page of the WhaleStats website, which tracks down the 100 largest wallets on Ethereum, Shiba Inu remains the number one crypto asset for the biggest wallets on the Ethereum chain.
However, compared to May 2, their SHIB balance has faced a significant decline, dropping from slightly over $1 billion to a total of $983,338,440.
Last week, the supply of Shiba owned by these investors fluctuated between $1.4 billion and $1.2 billion, having been in a gradual decline as whales were selling their SHIB slowly but surely.
Compared to Monday, the percentage of SHIB held by Ethereum whales in their comprised portfolio has dropped from 15.34% to 15.32%.
FTX Token remains the number two holding of ETH whales—13.78% of their portfolio—but it has also declined a little compared to Monday, dropping from $894,267,385 to $885,113,460 worth of this asset.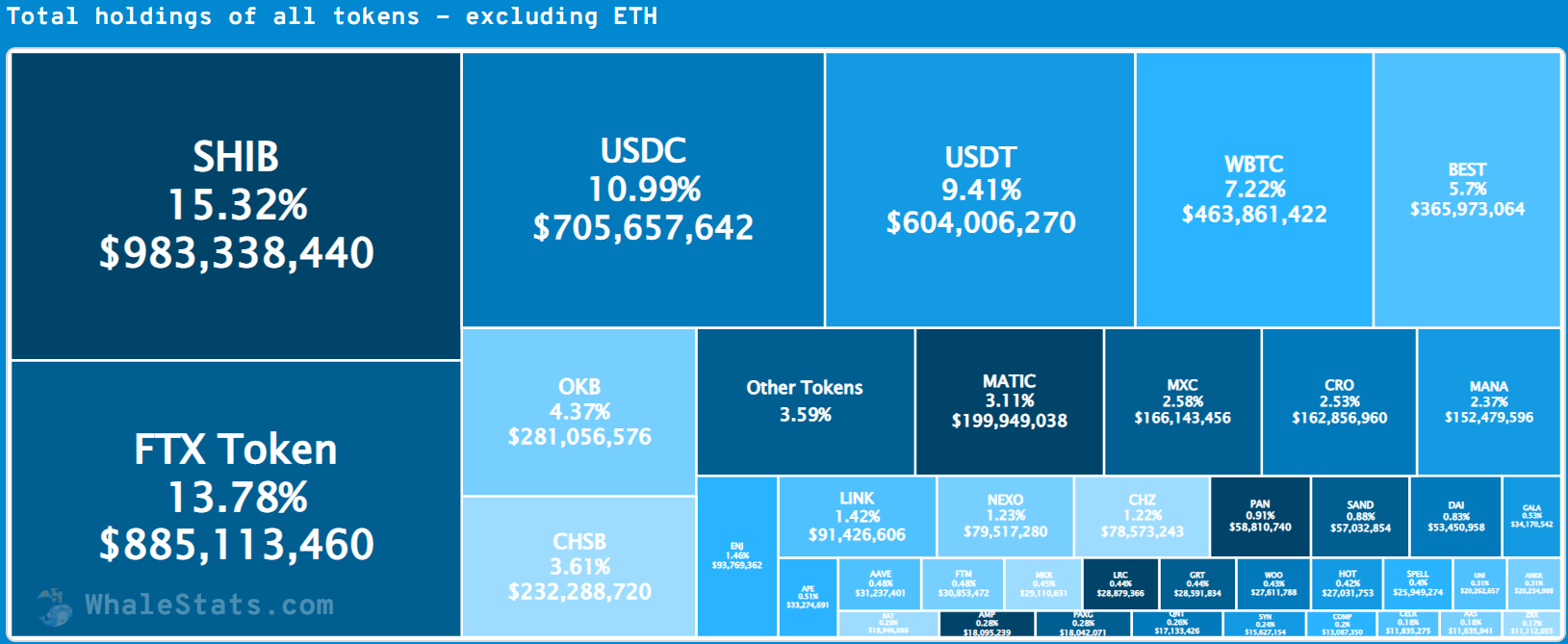 This whale grabs 300 billion Shiba
Almost 16 hours ago, whale "BlueWhale0073" acquired a record lump of 300,997,019,465 Shiba Inu canine tokens.
?? ETH whale "BlueWhale0073" just bought 300,997,019,465 $shib ($6,149,369 USD).

Ranked #257 on WhaleStats: https://t.co/RBupemZyZX

Transaction: https://t.co/jqcF3aOnlQ#SHIB #ShibArmy

— WhaleStats - BabyWhale ($BBW) (@WhaleStats) May 3, 2022
This is the equivalent of $6,149,369. This whale's largest holdings are USDT, USDC stablecoins, MATIC, LINK and UNI.
At press time, the whale holds zero SHIB. The token is changing hands at $0.00002081, as per data shared by CoinMarketCap.
On May 2, SHIB printed a 6.25% decline, where the abovementioned whale purchased the 301 billion SHIB. After that, the token added 3.19%, which was likely the point at which "BlueWhale0073" sold his Shiba Inu.