Again in the old good $0.35-0.40 support zone, Ripple is said to start growing again. The struggle to touch $0.50 ceiling continues. What to expect from XRP token in the mid-term perspective? Check out Ripple (XRP) price forecasts from TradingView users – they provide many interesting price charts and opinions.
XRP on the brink of destruction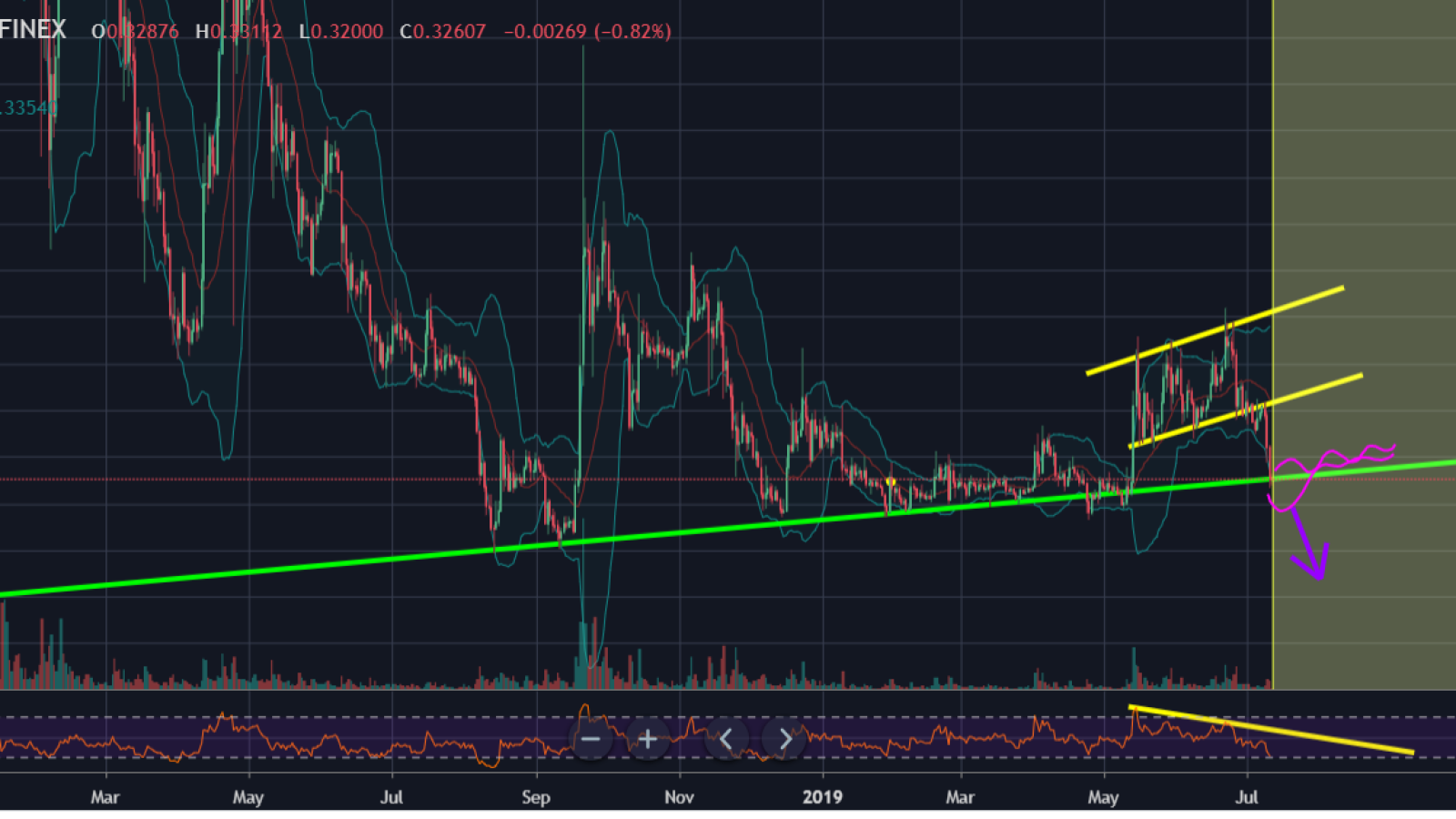 Here's an interesting opinion about CuddlyCuddles: if XRP opens and closes below that green trend line, which has been 3 years of support, then there could be a move to somewhere around $0.01. Ripple must hold this trend line, but will it be able to do that?
Those are long candles approaching the trend line which was a breakout from the rising channel with a bearish divergence. Either the green trend line will continue to hold as support indicated by the violet lines (one of the violet lines indicates a spring, which is a bear trap) or the trend line will be broken and we will see lower price points.
How to buy Ripple?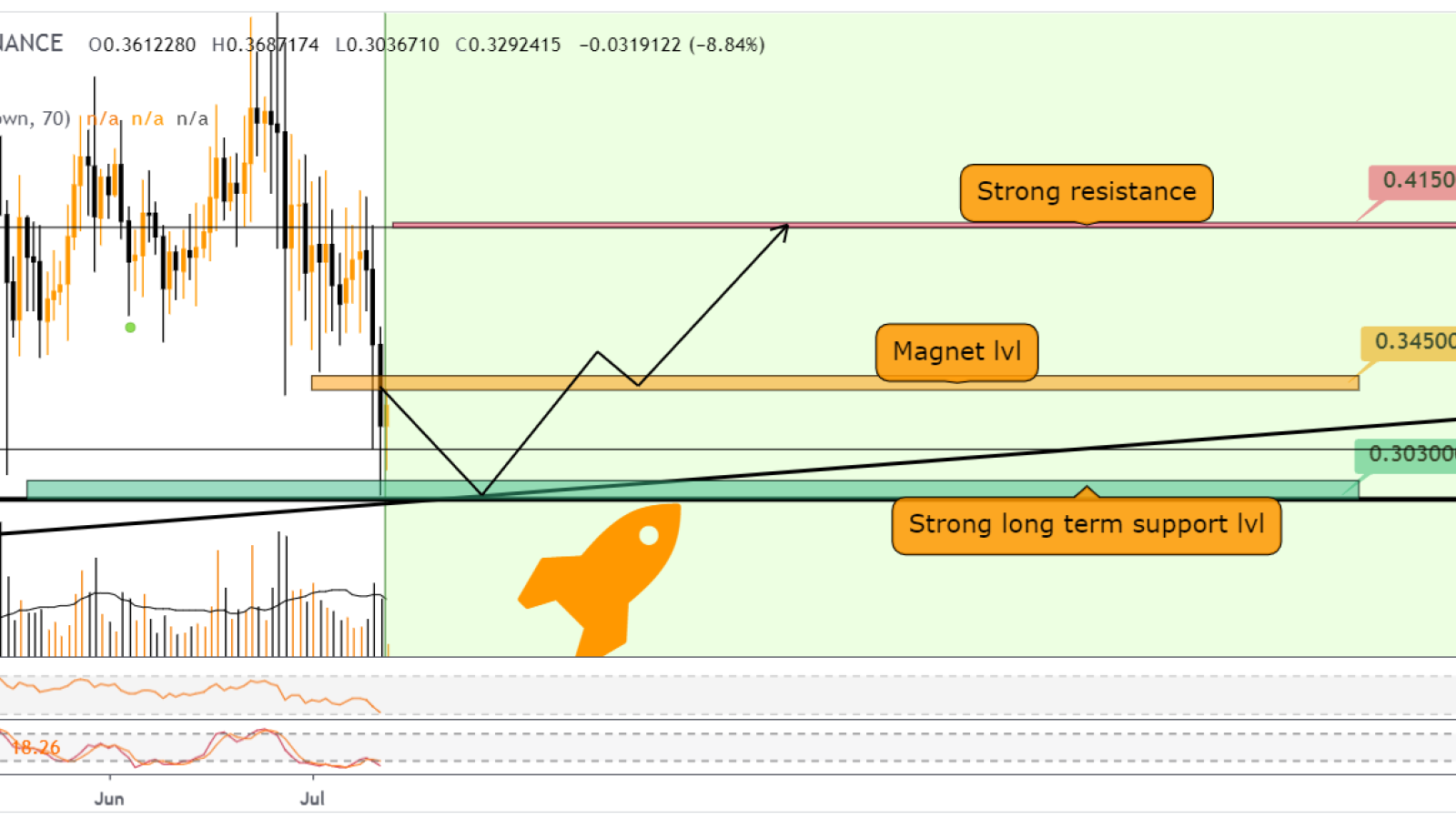 On this XRP price chart, you can see a movement to a strong upward long-term support, where there's also a strong level of horizontal support. This level is juicy because it is profitable to buy from it, so it's not a fact that the price should pump exactly from this support.
There is an option to go to the level of support: after the upward support will be higher than the horizontal support level, thus the price does not risk remaining below any support and remains in a difficult situation for the ordinary trader to invest.
In any case, the price should be pulled up to the level of the magnet at a price of $0.345, from where, when the price is fixed above the orange rectangle, the price should go up and test the resistance. Notice that after fixing below green zone we have all chances to dump further and form new global low.
About Wyckoff law effect on XRP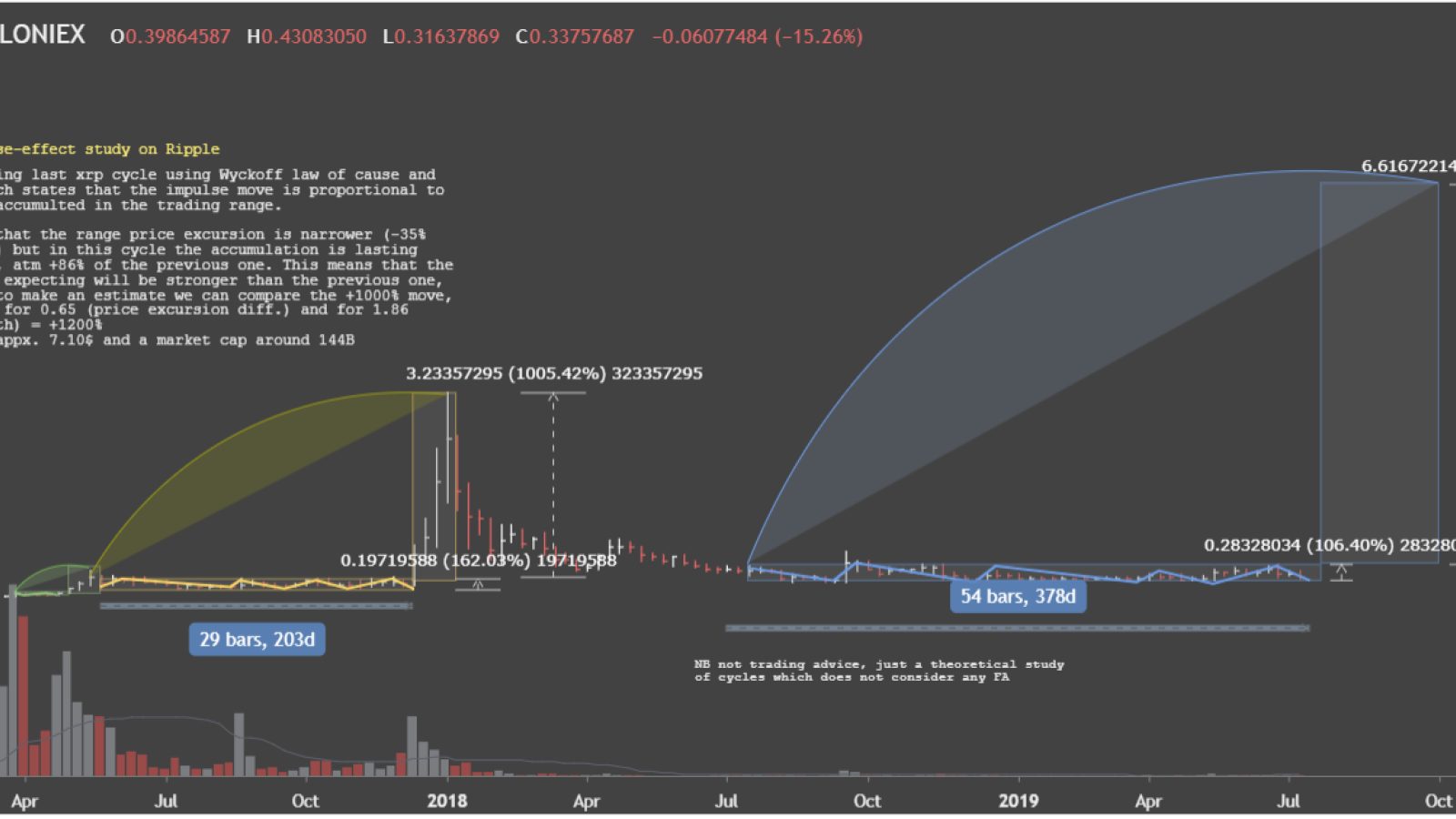 To make his prediction, user chrycrypto compared the last XRP cycle using Wyckoff law of cause and effect, which states that the impulse move is proportional to the energy accumulated in the trading range.
We can see that the range price excursion is narrower (-35% difference), but in this cycle, the accumulation is lasting much longer, ATM +86% of the previous one. This means that the move we are expecting will be stronger than the previous one, if we want to make an estimate we can compare the +1000% move, multiply it for 0.65 (price excursion dif.) and for 1.86 (range length) = +1200%
That means about $7.10 and a market cap around $144 bln. At the moment, it sounds too good to be true.
Is it time to enter on the market?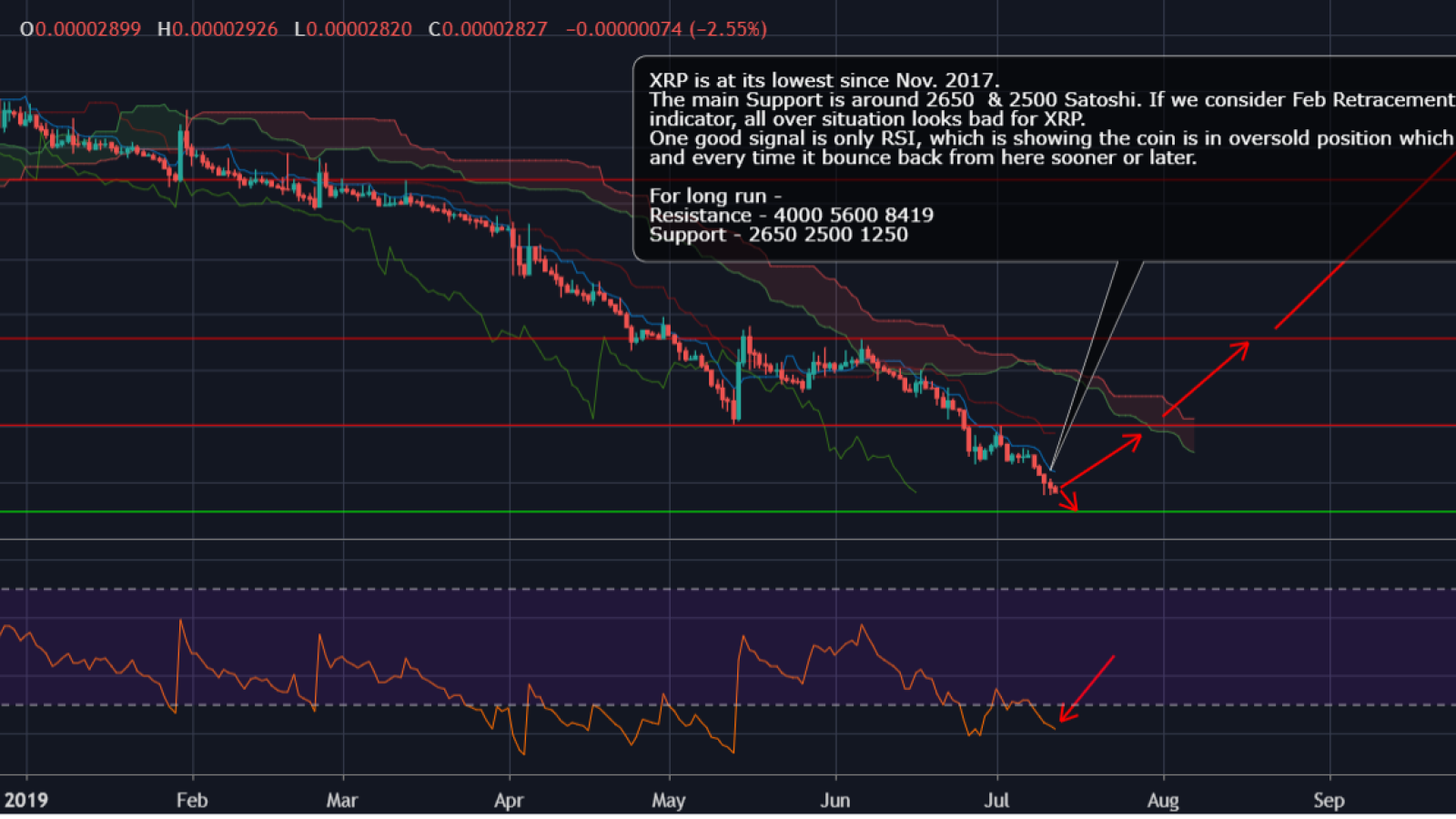 When it comes to XRP/BTC pair, XRP is at its lowest since November 2017. The main Support is around 2650 & 2500 Satoshi. If we consider Feb Retracement & Ichimoku indicator, all over situation looks bad for XRP.
But one good signal is only RSI: it's showing the coin is in an oversold position which is around 20 and every time it bounces back from here sooner or later.
If we consider overall situation and risk & rewards from this point, chances are if you enter at this point, you may lose up to 25 % - 50% of capital from here, but if we consider a long term rewards price may go up to 4000 to 10000 satoshi and above means chances to get 50% to 400% returns from here.
Ripple (XRP) price charts by TradingView