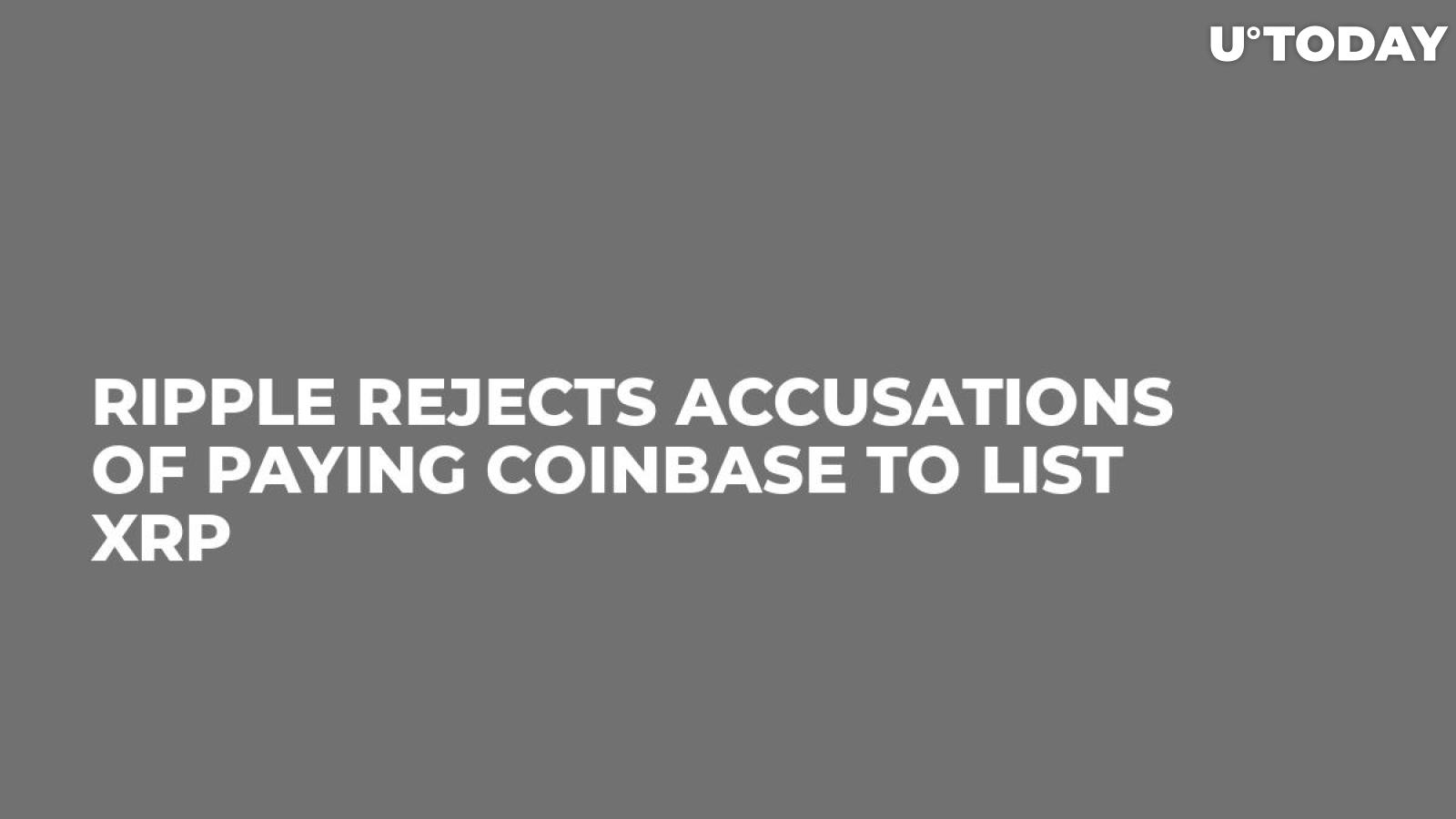 Cover image via U.Today
The other day, U.Today reported that Coinbase Pro had listed three trading pairs with XRP.
Two of them are fiat ones (USD, EUR) and the other one is against BTC. These pairs are now accessible for trading for users from Canada, the US, Singapore, Europe and Australia.
After the listing, the XRP rate surged ten percent.
However, accusations have been thrown around massively at Ripple for allegedly paying Coinbase for doing that courtesy.
Did Ripple pay Coinbase for their token being listed?
"we're not discussing publicly"#xrp #youregoddamnrighttheydid pic.twitter.com/cuuxWGt6ch

— Alistair Milne (@alistairmilne) February 26, 2019
Previous rumours from Bloomberg
Several months ago, reports that Ripple was trying to buy XRP's way into Coinbase were floating around. It started with a Bloomberg article in summer 2018 referring to anonymous sources insisting that in the past Ripple had tried paying the Coinbase and Gemini exchanges for them to add XRP pairs.
The Bloomberg article reported that Ripple reps offered a $1 mln cash payment to the Winklevoss brothers, the founders of Gemini, back in 2017 for listing XRP in Q3.
Then there were reports that in autumn 2018 Ripple offered Coinbase over $100 mln in XRP to stimulate the exchange to start trading the coin.
XRP was finally listed on Tuesday, Feb 26. Head of XRP markets Miguel Vias took to Twitter to dismiss the rumours of bribing Coinbase.
We're happy to go on the record. Coinbase's listing of XRP (also, not "our token") was Coinbase's independent decision - we did not give them anything to make it happen. https://t.co/xTVvACqsQa

— Miguel Vias ⚡ (@miguelvias) February 27, 2019
Ripple's milestones as of late
In 2018, Ripple managed to strike a great deal of partnerships, with major global banks agreeing to its technology for faster money transfers. However, as of last year, Ripple has stopped associating itself with the XRP coin officially, so these banks have not been helping XRP in any way. They are not using the actual coin.
Recently, U.Today also reported that the one of the world's biggest banks, JP Morgan, has launched its own crypto token. When that happened, many experts and news outlets started writing that now XRP has a crucially strong rival in the banking sector.
However, later these concerns went down as the JPM Coin proved to be for the internal use of the bank only, and that technically can hardly be called actual crypto, commented Forbes experts.