When you deal with cryptocurrency, there's no such thing as low-risk investment– all tokens tend to swing up and down in price, and predicting it is almost impossible (if none of professional traders and financial experts can, how can you know for sure?). The worst thing you can do – simply listen to your intuition and go in a happy-go-lucky fashion. The best– start analyzing your investments and keep track on what's going on around. This is what the best crypto portfolio solutions exist for. Let's observe the worthiest of them. But before we proceed, you need to define whether you need one.
Do I need the best cryptocurrency portfolio tracker at all?
To find out whether you need such service, answer a few questions: "Do I invest in something else aside from Bitcoin?", "Do I hold different kinds of crypto coins?", "Do I find not-so-popular coins and invest in them?" If you've answered these questions positively, you must have faced the problem of tracking all of your owned coins and, probably, don't even know how much all of them are worth.
Keeping tabs on your finances with Excel sheets is an outdated approach – it's time-consuming, tiresome, and there's always a threat of making a mistake. This is when special software helps you out.
Now when the stage is set, it's time to figure out the best crypto portfolio manager.

card
Blockfolio
Being available as a free iOS and Android app, Blockfolio is one of the most popular trackers out there. It allows for controlling a myriad of coins and provides the whole gamut of options starting from the news feed and finishing with the actual order book.
What will be particularly useful for traders is the alert that activates when a coin reaches some certain price point. That makes Blockfolio the best crypto portfolio tracker for making a quick profit and reducing losses.
The application is highly customizable: you can hide some sections, set up a password, send screenshots, and so on. What users also like is ergonomic design and the possibility to select between a night (dark) and day (white) UI mode. The only drawback of Blockfolio is the fact that its servers can be slow, and sometimes, the price is a bit outdated.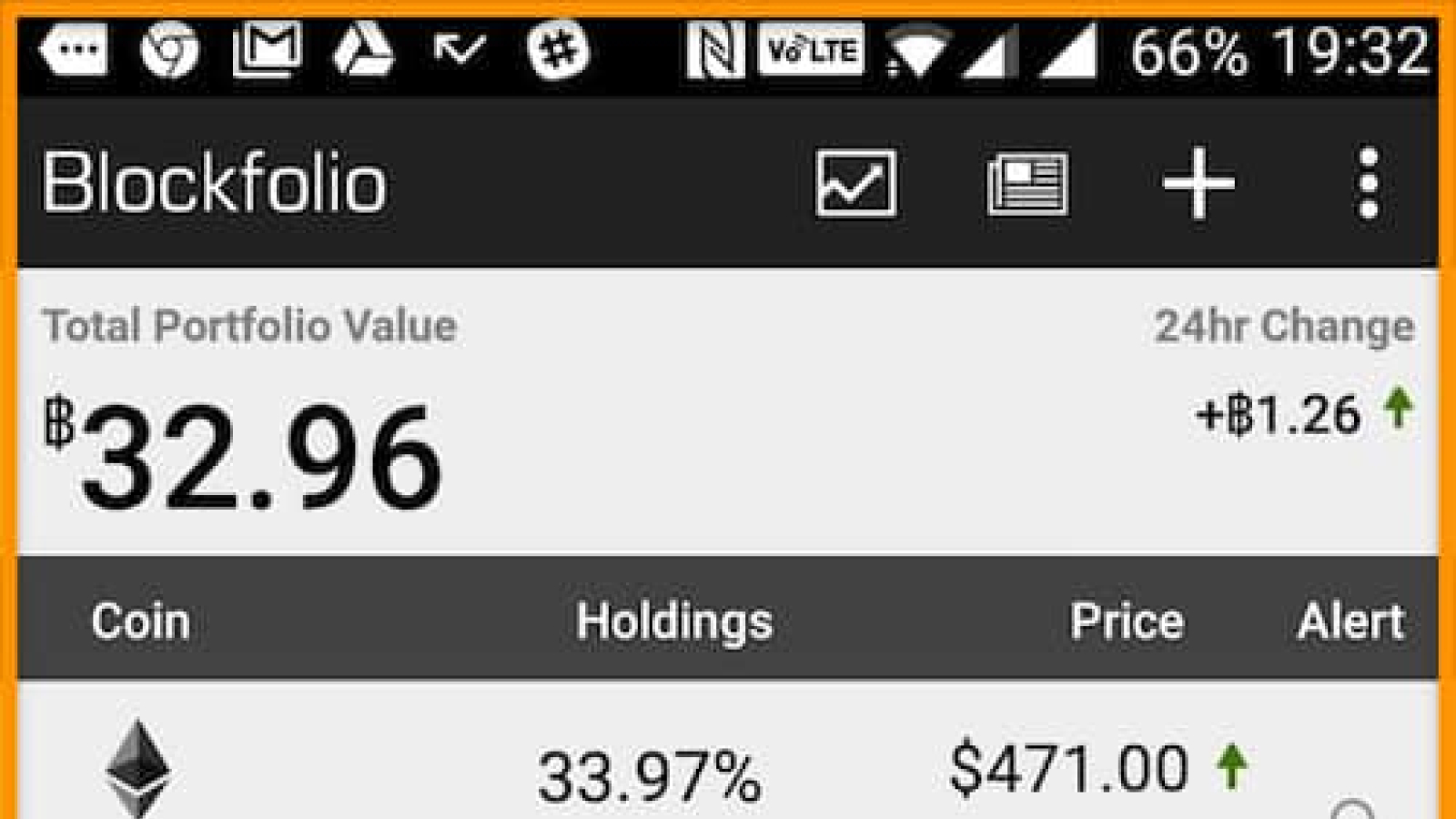 Delta
This is a widespread alternative to Blockfolio due to the fact that its creators have eliminated a lot of its drawbacks. What was changed? The application is much faster, and users rarely complain about server downtime. The list of features is somewhat extended and includes:
Separate viewing of watchlist walls and portfolio

Graphic charts showing coin analysis, volume, market cap and other essential metrics

Price alert for both trading pairs and single coins

Management of up to 10 portfolios in the Pro Delta version

Data synchronization with up to 5 devices

Tracking of over 2,000 (!) coins
It should be noted that the team is tight-lipped about developing their Delta app– in 2018, it introduces the features of order books, advanced alerts, and API synchronization. This mobile-based application is a must for investors who need ample information about their assets.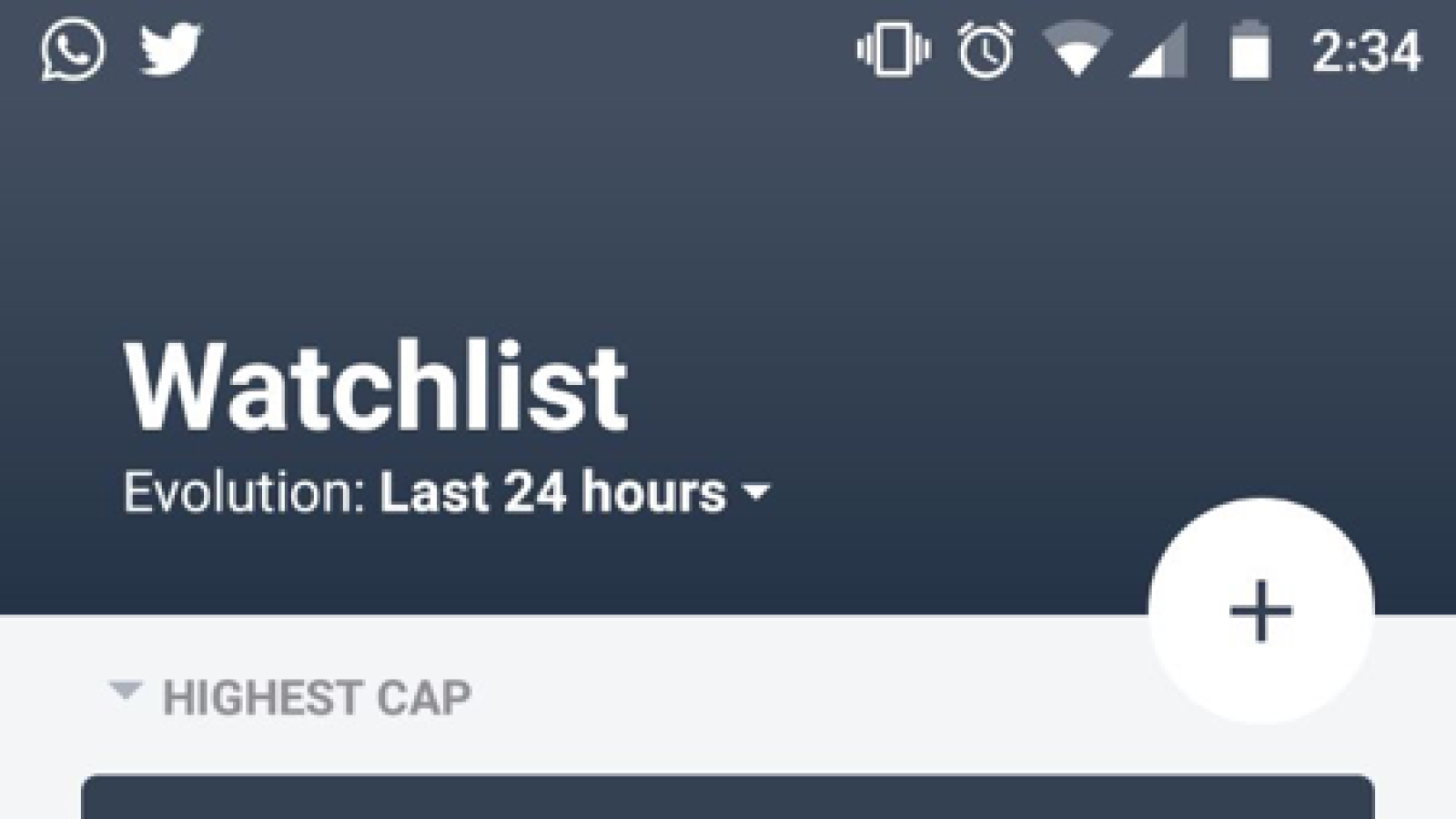 CryptoCompare
This is both a cryptocurrency community and a portfolio management app. CryptoCompare app is available as a web-based and mobile solution with the convenient and intuitive interface. The most prominent features include:
Note creation,

Clear and detailed graphs and charts,

All cryptocurrencies supported,

Management of multiple portfolios,

Advanced chart,

Risk analysis,

Specification of cryptocurrency storage.
It goes without mentioning the fact that CryptoCompare is free to use. However, it's at the beta stage of its development, so bugs can take place.
Most users admit that web interface is more robust than the mobile version, but, anyway, the app gives you instant access to data from any device. You can make your portfolio public or private and even share it with other users. If you're a newcomer in the world of crypto, this platform is the way to go.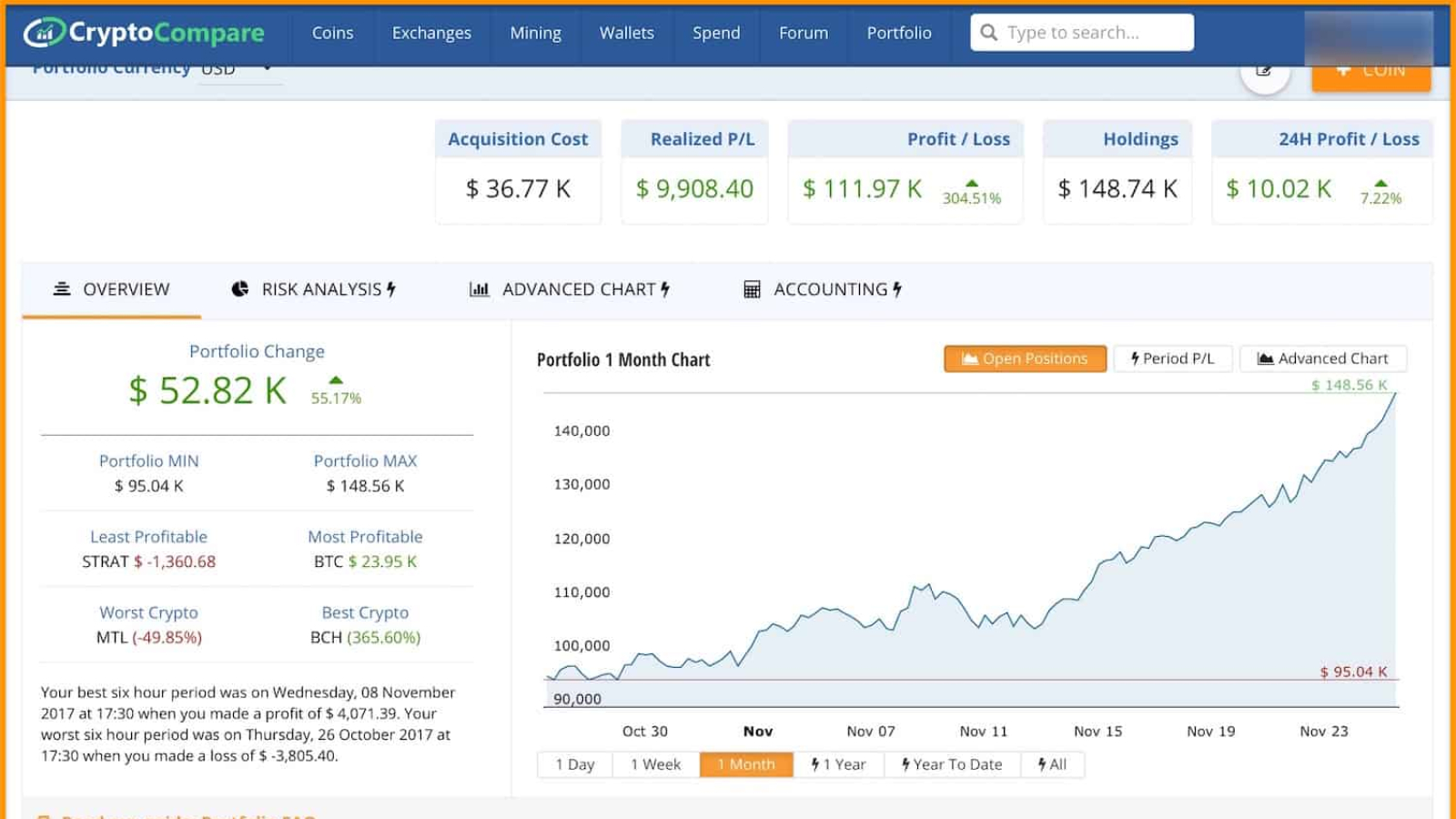 Cryptopanic
This project is not quite a mobile app– this is a web page that can be viewed from both desktop and mobile devices. Cryptopanic is a perfect combination of a news aggregator with social functions (for example, voting), and a portfolio tracker.
Sounds like it has nothing to offer? Don't be confused by its minimalistic design. Cryptopanic provides the basic functions for traders: you can search for a coin, type the amount you own, and have it added to your portfolio. Although you can't check the prices on individual exchanges, there is an "extended" view mode that shows you the coin price in different currencies (USD, ETH and BTC).
You can filter the news by coin and its relevance in the free version, and the Pro mode gives you the possibility to disable some news sources and add your custom websites for $9/month.
Even if it's not the best crypto portfolio app, Cryptopanic can become a useful addition to your everyday instruments. It's an invaluable source of knowledge, as well as crypto-related financial data.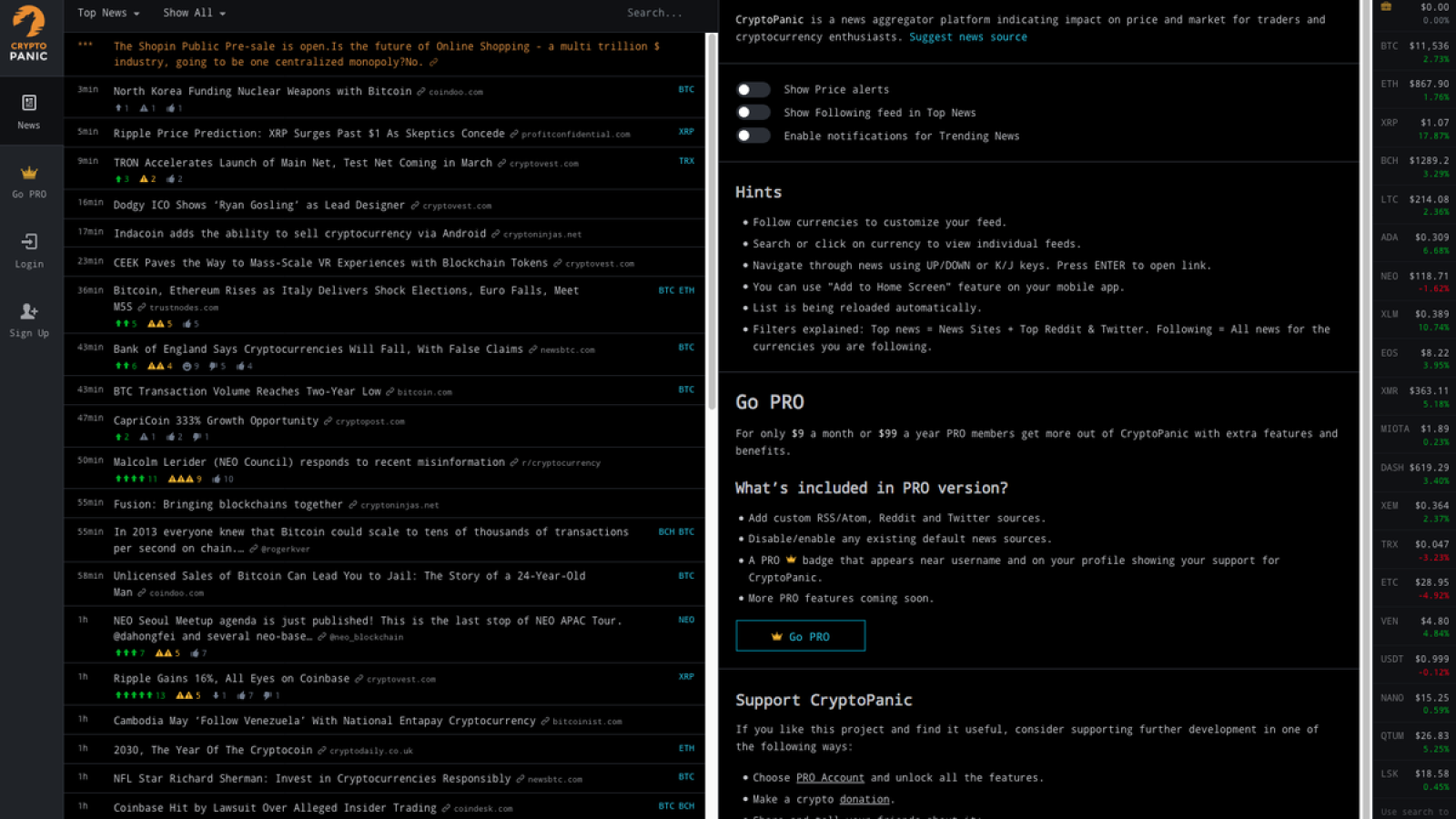 CoinTracking
This solution is exactly the thing in situations when you're engaged in situational selling and buying of cryptocurrency. CoinTracking is available both as a web-based solution, and a mobile app for iOS and Android. On this platform, you may not only see your portfolio balance but also get access to useful data that will help you to make an informed decision. The app shows users the exact amount of owned coins, and another feature making it the best cryptocurrency price tracker is the realized and unrealized Gain/Loss feature.
Although the interface looks somewhat outdated, the whole gamut of functions makes up for it. With the help of API feature, you can get the trading data and connect to popular exchanges. CoinTracking not only saves your time but always keeps you informed about the coins you have.
The most interesting features include:
Tax calculation

Free and paid plan

Adding a cryptocurrency as free or gifted

Import of data from popular exchanges like Bitfinex, Binance, Bittrex, etc

Auto-deduct balance for trading operations
There are both free and paid plans available, and CoinTracking is equally suitable for starters and advanced users.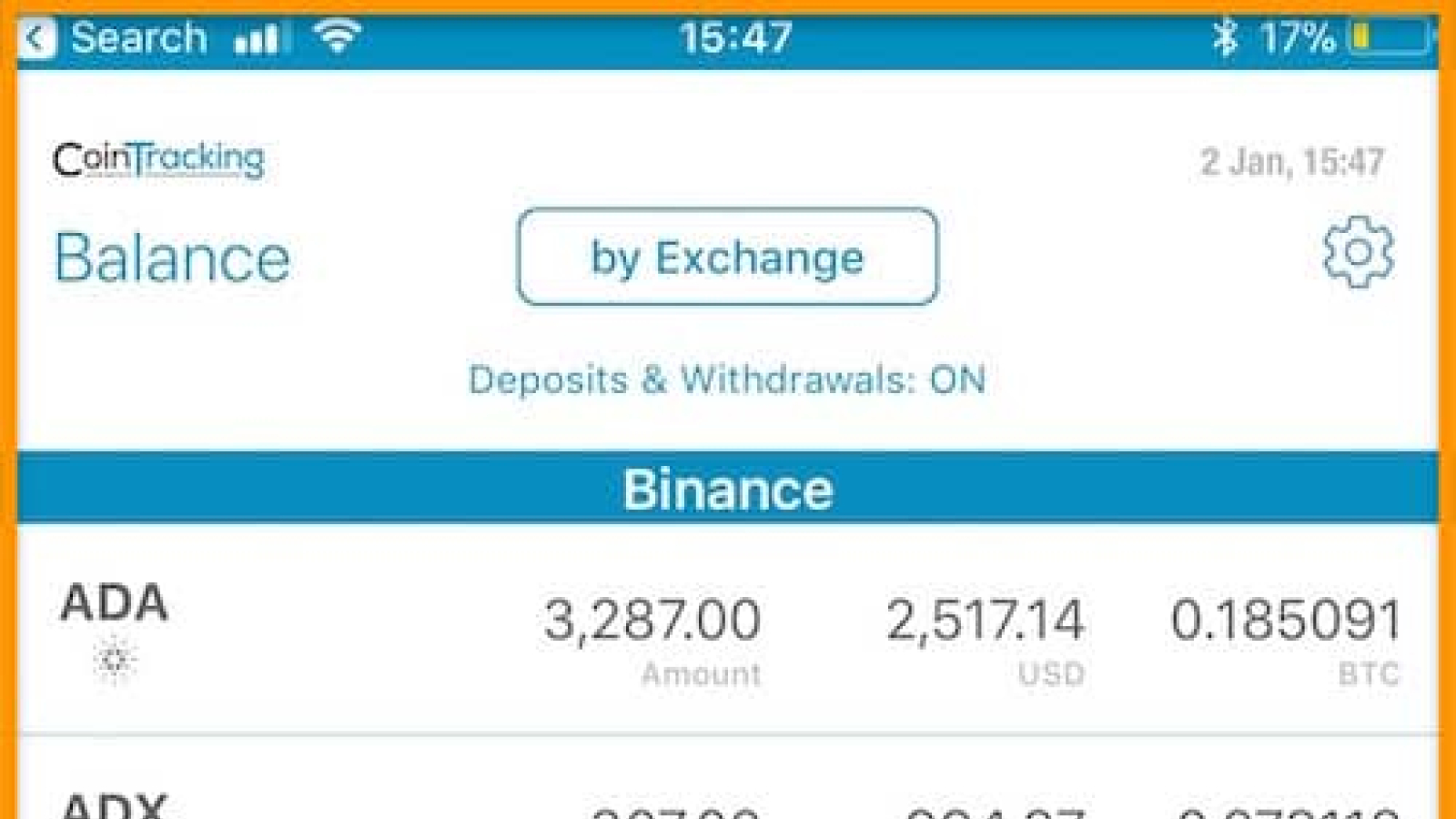 How to make the right choice?
In order to choose the best cryptocurrency tracker app, consider the following scenarios and decide which one is your case:
| | |
| --- | --- |
| Situation | Solution |
| You've just invested in Bitcoin and want to be on the lookout for its current price | Any basic application with average functionality will go. |
| You invest in other popular cryptocurrencies like ETH, Dash, Zcash, Litecoin, etc. | Select an app that supports cryptocurrencies you use and allows for tracking multiple wallets. |
| You've not only invested but keep actively selling and buying coins to profit. | Such an app shouldn't necessarily be a day trader, but it should perform trading and booking being focused on short-term signals rather than long-term coin storage. |
| You do day-trade to get profit. | Choose an app that provides extensive charts and signals allowing you to make informed decisions. |

With the best cryptocurrency tracker, you can assemble all of your coins in one place and get relevant information to make efficient and informed decisions about investing and buying. Good luck!