With Bitcoin on the back foot, Guggenheim Partners Chief Investment Officer Scott Minerd has caused another ramp-up in bearishness with his recent appearance on CNBC.

During the latest episode of "Closing Bell," Minerd cautioned the bulls that the world's largest cryptocurrency by market capitalization is likely to correct all the way to $20,000, thus fully retracing its record-shattering rally:
We're likely to see a full retracement back toward the $20,000 level.
What is more, the 61-year-old executive, who oversees roughly $270 billion worth of assets, is convinced that Bitcoin will not reach a new all-time high this year, meaning that $42,000 is a long-term top:
I think for the time being, we probably put in the top for bitcoin for the next year or so.
Bitcoin hits a major hurdle
Bitcoin continues its streak of range-bound trading after the bulls lost momentum with a failure to find a footing above the do-or-die $40,000 level.
The bellwether cryptocurrency soared all the way to $42,000 on Jan. 8 on the Bitstamp exchange before witnessing a brutal correction. At press time, it is changing hands at $34,412, spending yet another day in the red.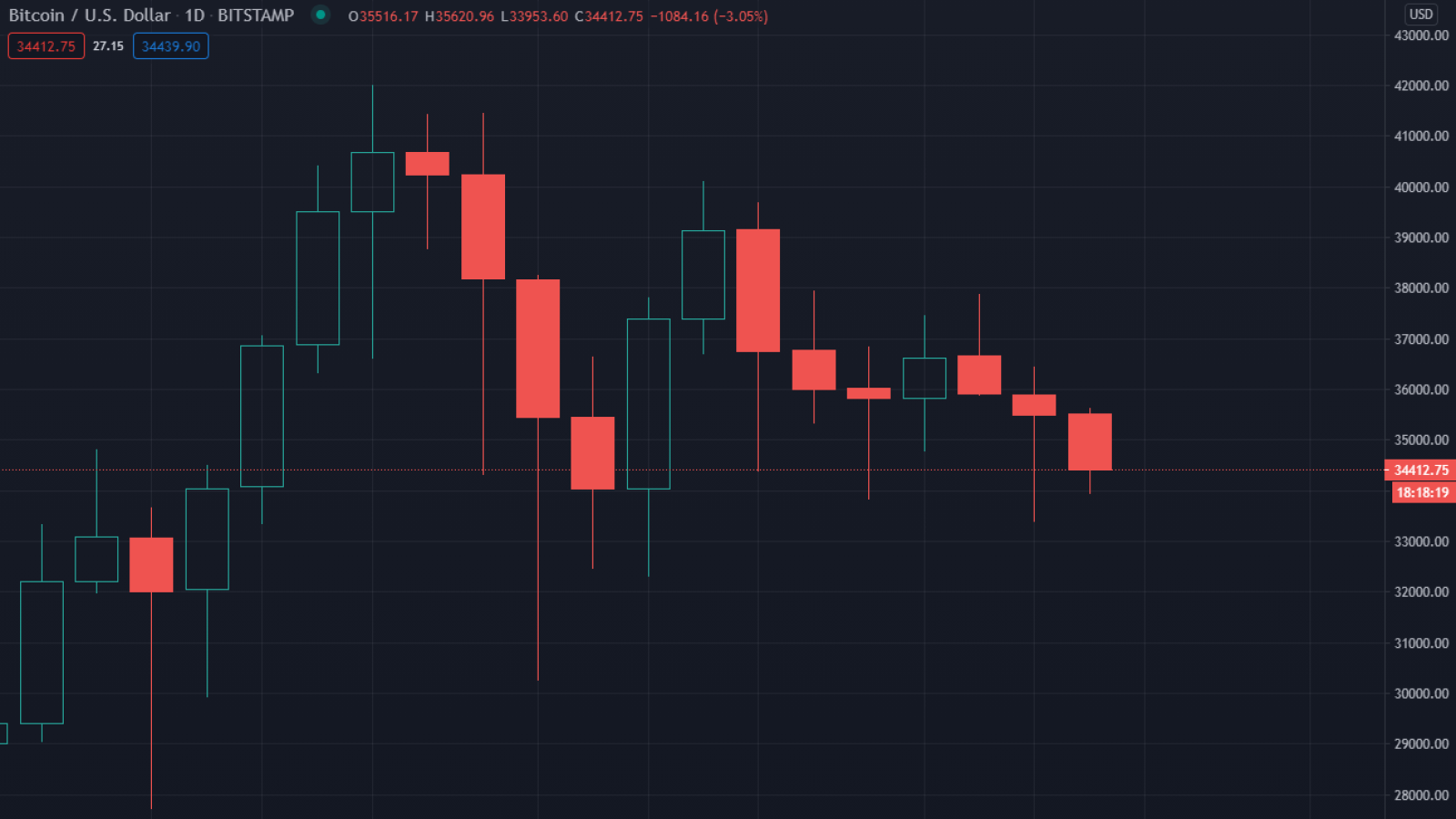 As reported by U.Today, a recent Deutsche Bank survey showed that Bitcoin was far more likely to half in value than double after presumably reaching bubble territory.

Even if Bitcoin were to retrace to $20,000, its December 2017 high, it would still be up 433 percent from its March 2020 low.

Minerd's calculated bearishness
Minerd is far from being a Bitcoin bear. In fact, he told Bloomberg viewers that the cryptocurrency could skyrocket to $400,000 back in December before doubling down on his call last week.
Economist Alex Krüger suggests that Minerd deliberately talks down Bitcoin until Guggenheim is able to buy it lower once its SEC filing becomes effective at the end of January.

Notably, Minderd is convinced that the U.S. stock market is unlikely to see a pullback due to another stimulus package, which is also believed to be bullish for Bitcoin:
Not only does [the market] have good momentum under it, but at the same time we have another stimulus package...and the Federal Reserve has basically backed away from hawkish talk.