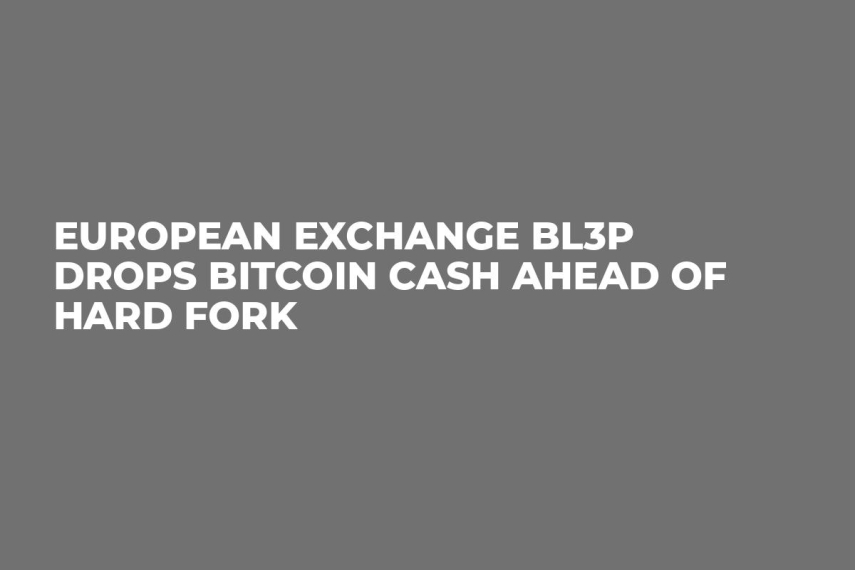 Cover image via U.Today
BL3P, Netherlands-based cryptocurrency exchange, drops Bitcoin Cash (BCH) and asks users to remove balances by Monday, May 14, ahead of the hard fork scheduled on May 15.
The exchange has requested all users to withdraw their holdings by May 14 and said it plans to disable the option to withdraw Bitcoin Cash by May 15. Users can either transfer the altcoin to another wallet or trade it on another exchange.
BL3P, which refers to Bitcoin Cash as Bitcash, announced plans to remove the altcoin on its blog on May 10. The exchange says its decision to remove BCH was due to the cryptocurrency's "inability to meet its strict selection policy."
In the company blog post, BL3P says:
"BL3P maintains a strict selection policy when it comes to support for altcoins. Bitcash, unfortunately, does not meet these requirements. For this reason, we have not made it possible to trade Bitcash on BL3P."
Plans to drop the cryptocurrency were already in the works, but the upcoming hard fork provided a "reason" to complete the process earlier, the exchange added.
"Since there already was a planning for the removal of Bitcash the hard fork has become a reason and strict deadline for the removal of Bitcash from BL3P."
The move follows Hong Kong exchange OKEx which stopped supporting the cryptocurrency in April of this year due to "inadequate liquidity."
Initially entering cryptomarkets in August 2017 as a hard fork of the Bitcoin network, BCH proponents claimed that its bigger block size would allow for faster and cheaper transactions.
However, BCH has come under some controversy in the past month, as Roger Ver, a vocal proponent of BCH, has been accused for allegedly misleading people into purchasing BCH instead of Bitcoin.