On Wednesday, the market is enjoying another day staying in the green zone. Only seven coins in the top-100 list are going down at the moment.
Bitcoin Cash SV gets over to top-10
After climbing by over 213 percent within the past week, BCH SV has done what few expected of it — become a member of the top-10 club. Now it is occupying the 9th position. However, currently the coin is in a fall, losing nearly 10 percent. As per CoinMarketCap, the asset is trading at $93.50, its volume being $301 792 270 and its market cap at $1 618 520 006.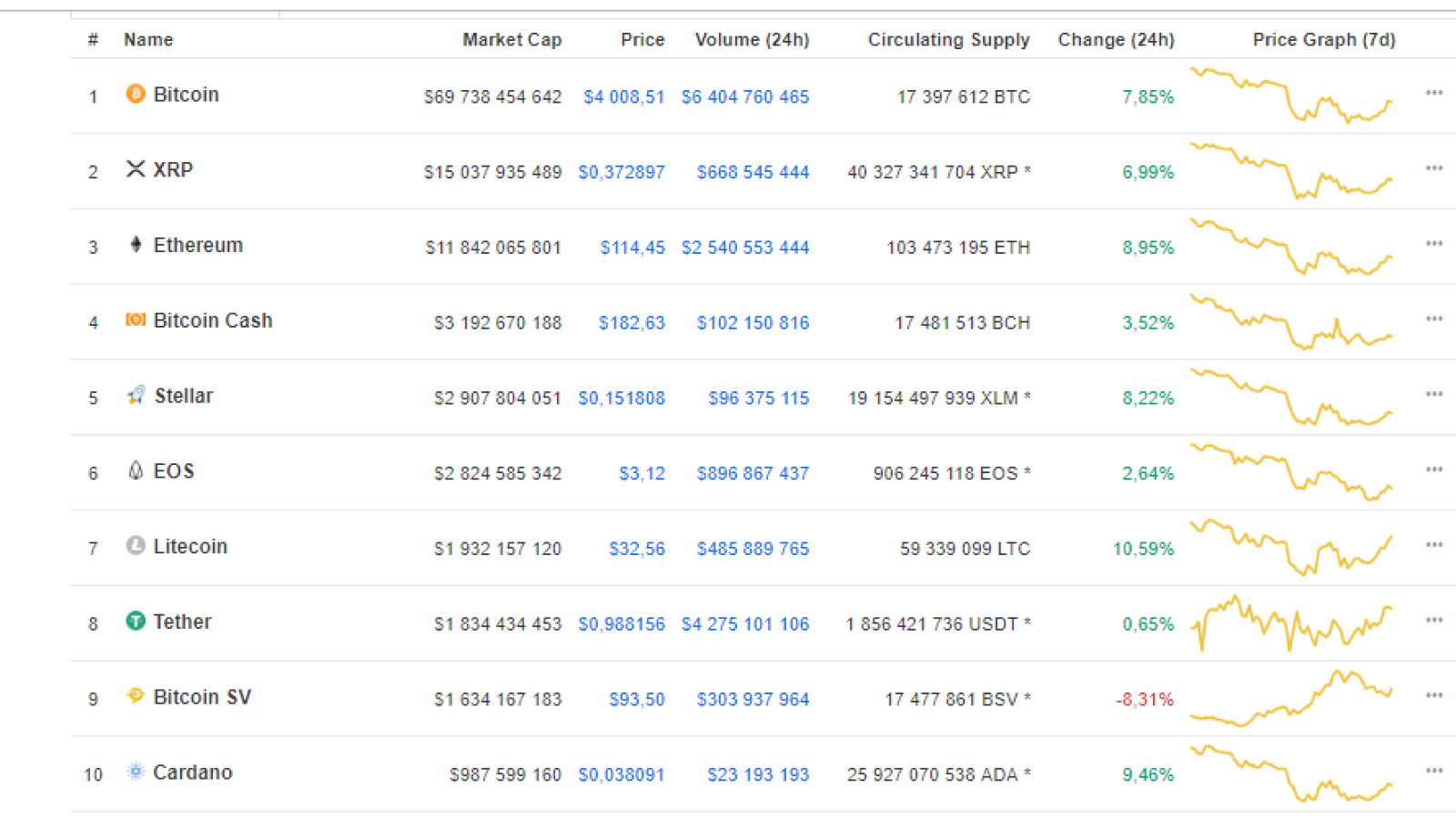 Curiously enough, just recently after the fork, the coin was occupying a position below #1000, light years away not only from the top-10 but also from the top-100 list.
The majority of the community seemed to support BCH ABC, which CoinMarketCap and top exchanges still mark BCH. Bitmain and Roger Ver's mining pools also recently switched to supporting the BCH ABC coin. John McAfee also stood up to defend the original Bitcoin Cash chain against the one headed by Craig Wright, the self-proclaimed Satoshi Nakamoto.
Seems like BCH ABC has won only the battle by now, but the war continues.
Yet another article claiming Bitcoin Cash ABC is winning the war. It will eventually. Obviously. I'd just like to see a capitulation sooner than later.https://t.co/EoAadUNDqb

— John McAfee (@officialmcafee) November 26, 2018
Monero, EOS shift their stand
By Wednesday, some members of the top-10 crypto asset club seem to have changed a little. EOS has gotten back to its previously held position as 6th after briefly enjoying 5th place and pushing Stellar from it. XMR is now trading at $59.17.
Monero (XMR) has moved to the 11th position, though on Tuesday that was the place Tron (TRX) was occupying.
Cardano is in 10th position. The fact that its creator Charles Hoskinson has recently left the Cardano Foundation, forecasting the best times for the coin in the future, has not impacted the asset's rate negatively.
Tron, correspondingly, moved one position down. Despite the numerous attempts of its founder Justin Sun to make it one of the top-ten virtual assets, the coin remains an outsider. Just one time over the summer, briefly, TRX managed to enjoy the membership of this 'elite club,' but it soon returned to where it had been before.
Current market losers
At the time of writing this, the whole top-100 market is in green apart from just a few coins:
BCH SV (-8.31 percent), TrueUSD (-0.04 percent), USD Coin (-0.25 percent), Paxos Standard Token (-0.30 percent), Factom, Revain, Dai, ODEM.