On June 24, the leader of the Tron Foundation, Justin Sun, conducted a live stream talk with the TRX community, discussing several important issues and answering questions.
Among the issues that were discussed, Sun talked about Tron's plan to buy back part of TRX from circulation making an emphasis here on the secondary market.
We will conduct by far the largest #TRX buy-back plan with the widest coverage in the secondary market, which will last for a year and will be conducted in several batches with no less than $20 million. #TRON $TRX https://t.co/AIZLM68feX

— Justin Sun (@justinsuntron) June 25, 2019
The approaching TRX buy-back
Writing in the Medium blog, Tron says that the platform's ecosystem keeps prospering and increasing.
To promote market stability, the blockchain company intends to buy back part of TRX coins from circulation focusing mainly on the secondary market and intending to allocate around $20 for it.
The post also mentions that the TRX stock of the foundation is to be unlocked immediately as 2020 starts. However, the company does not have any plans on using those TRX coins yet.
Summary of Justin Sun's live stream
The big Tron supporter Misha Lederman has summarized the takeaways from Sun's stream on his Twitter page, naming the upcoming buyback plan, the beta-test launch of BitTorrent Speed to take place soon, the intended increase of Tron's team by the end of 2019, the approaching lunch of Sun, Charlie Lee and other crypto leaders with Warren Buffett and a few other points.
#TRON Live Stream Key Takeaways:

- $20M #TRX Buy Back
- BitTorrent Speed beta launch next week + $BTT wallet
- BTFS in Q3
- Sun Network to provide infinite scalabilty
- Team to grow to 600 by EOY 2019
- 2020 niTROn Summit in Seoul
- Warren Buffett lunch set for Quince Restaurant pic.twitter.com/JJFyek026i

— Misha Lederman (@mishalederman) June 25, 2019
TRX is back in top ten CMC
The other day, Tron has got its TRX back inside the top-ten coins' list on CoinMarketCap. Now TRX again holds place #10, trading at $0.0390.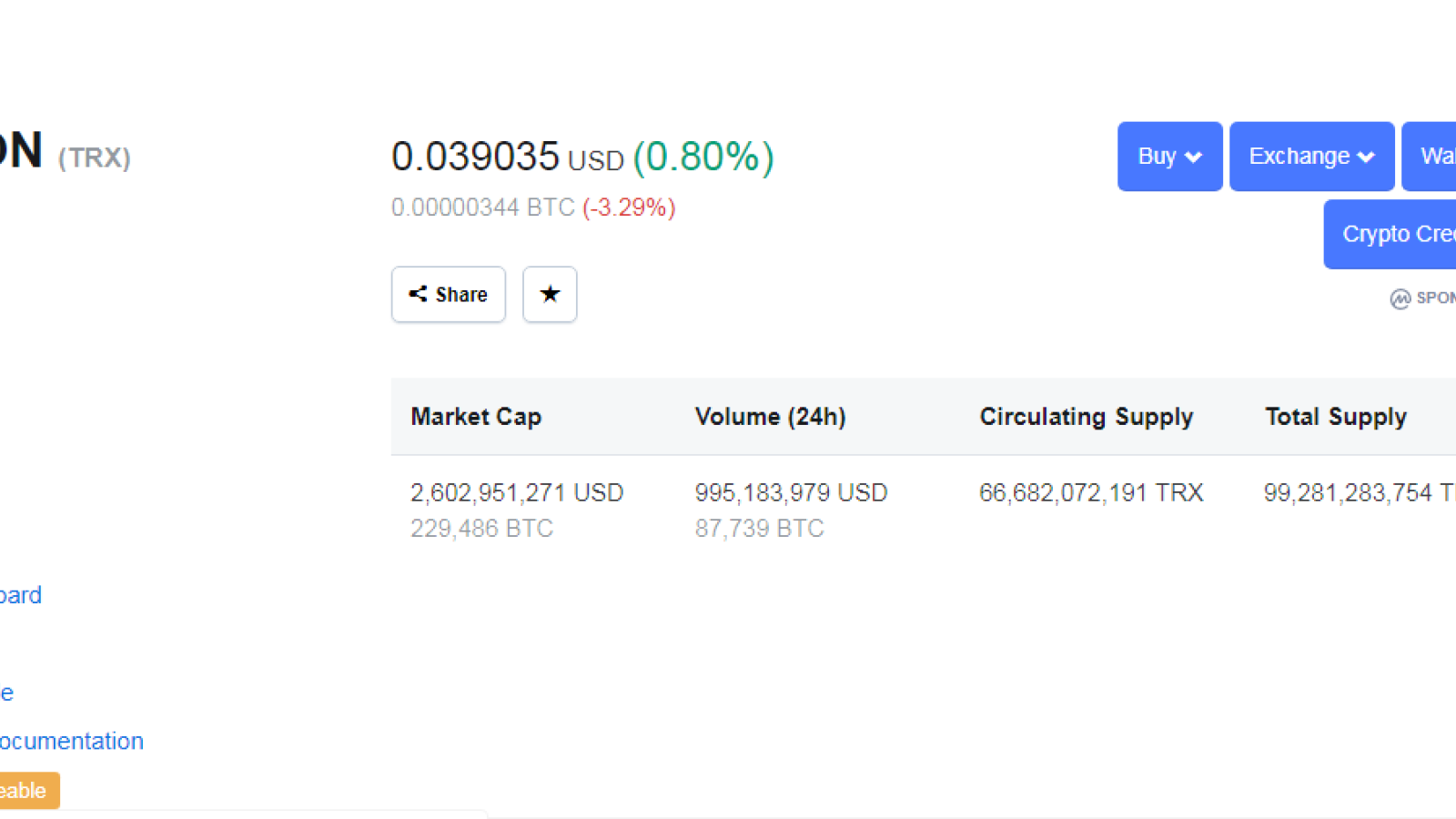 CoinMarketCap.com