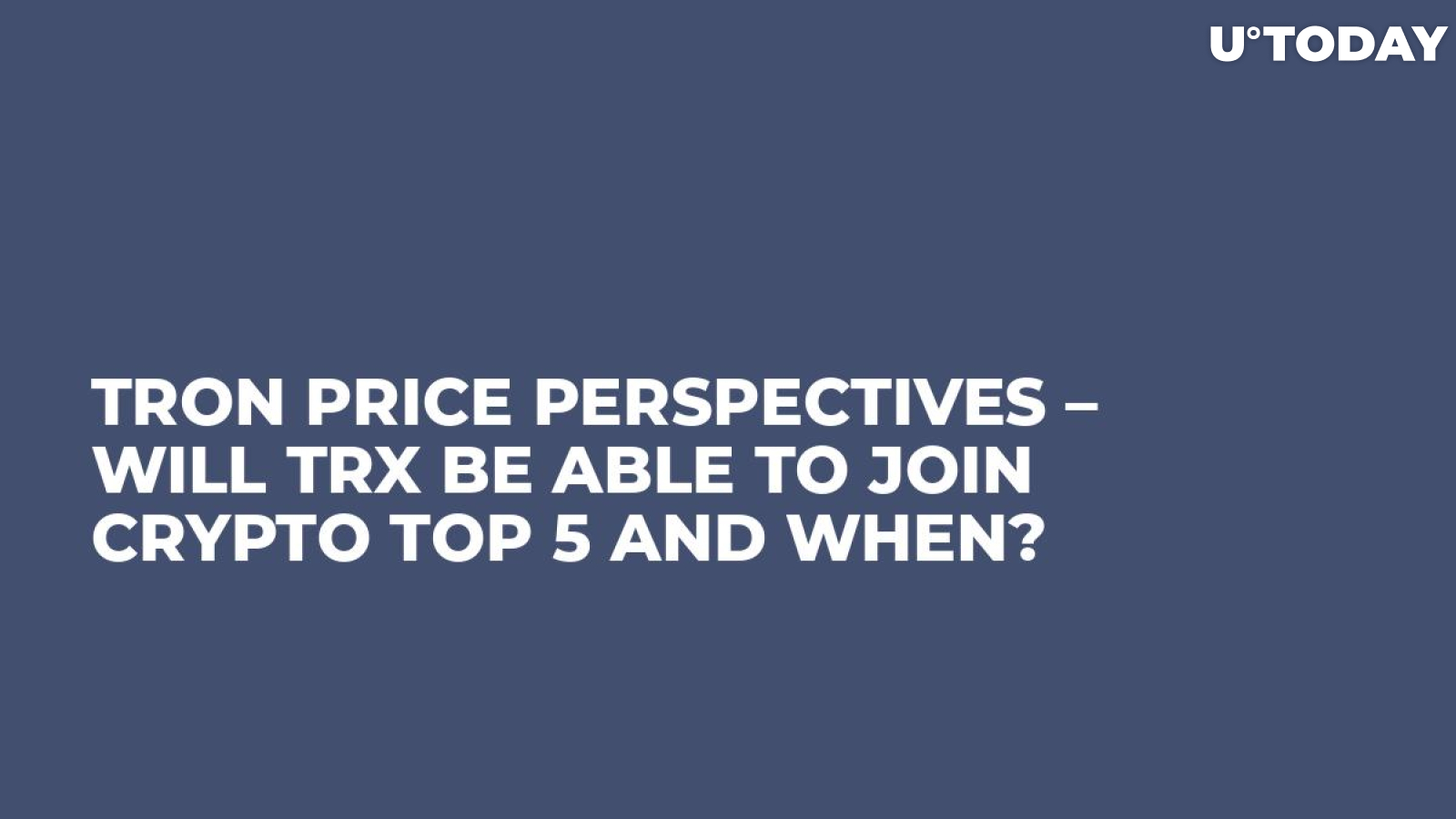 Cover image via U.Today
Over the last few months, Tron has managed to gain a lot of traction and new followers. The token has been steadily climbing the ranks and has risen several spots in CoinMarketCap list of top cryptocurrencies. It is currently sitting comfortably in the number 8 spot with a market capitalization of $1,715,501,987 and trading at 0.025 against the US Dollar. The question is if, and when, Tron may enter the top five!
The Tron project was initially launched in September 2017 by the Singapore-based non-profit organization Tron Foundation. The Foundation is led by CEO Justin Sun, since inception, it has been dedicated to building infrastructure for a truly decentralized internet. The network is offering high-availability and high-throughput support for decentralized apps which is something others (cough, cough, Ethereum) have been struggling to achieve.

A rather big part of Tron's marketing has been to emphasize the fact that TRX (their native crypto asset) can sustain 2,000 TPS (transactions per second), while Ethereum is capable of only 25 TPS and Bitcoin can only handle 3 to 6 TPS.
What I think more important is that the Tron Foundation has acquired BitTorrent Inc. in July 2018. It has already successfully launched BitTorrent (BTT) token on Binance Launchpad at the end of January 2019. Since then, Binance has introduced new trading pairs for BTT (BTT/BNB, BTT/USDT and BTT/BTC) and will host an Airdrop Program in which TRX holders will receive BTT tokens. The event is scheduled for Feb. 11, 2019 and should be a big draw in terms of new Tron holders.
Considering all these developments Tron's team is clearly proactive, delivering a steady stream of news and making headlines almost every week. Constantly being on people's minds is one of the best ways to gain followers/investors which in turn will increase buying pressure. If they are able to deliver on their promise their market cap will continue to rise. It's not out of the question to see Tron (TRX) reach top 5 as soon as summer 2019.
TRX/USD – Technical Analysis
Tron lost ground against the US Dollar for the better part of 2018 but, unlike other digital coins, it has shown signs of bullish pressure. The token hit its low and bottomed out in late-November when it hit $0.0109.
Since November 2018 the pair has been constantly climbing and even managed to pierce resistance at 0.0280, albeit without breaking it convincingly. However, after the initial false break, price returned to that level and has been repetitively bumping against it which makes me think a break of resistance could come in the near future.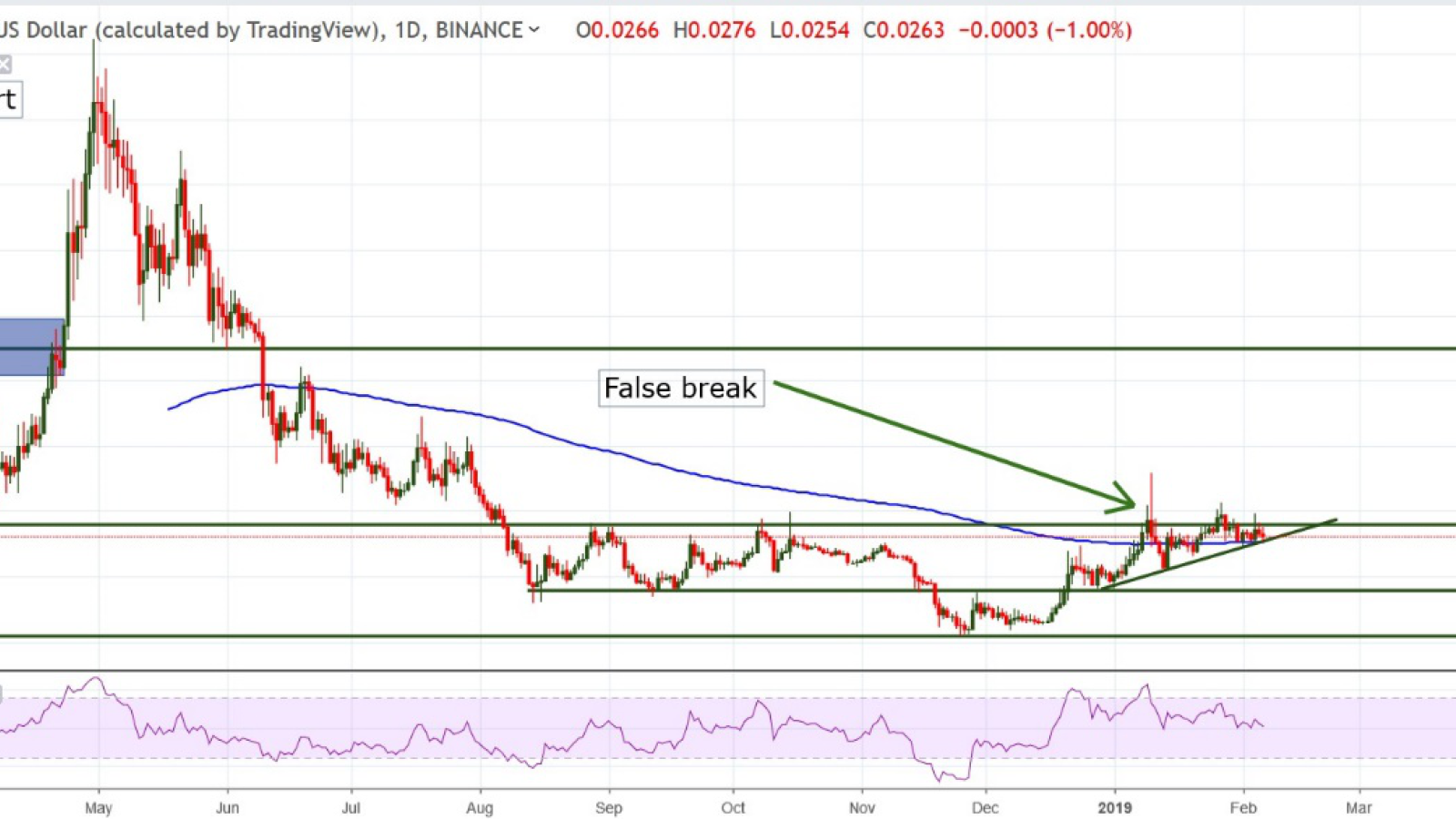 The 200-day Exponential Moving Average is flat, which in the current situation, means that a trend change is possible and does not indicate necessarily a ranging market. Also, the pair is supported by a bullish trend line that could help push price higher. The Relative Strength Index is trading in the middle of its range which means there is room to move higher.
Daily Chart Support: bullish trend line and 0.0180
Daily Chart Resistance: 0.0280
Most likely scenario: break of immediate resistance followed by the printing of a new high; uptrend development continues
Alternate scenario: retracement lower based on (mini)uptrend exhaustion and RSI position; a new attempt to break current resistance should soon follow