What is Kraken?
Kraken is one of the oldest cryptocurrency exchanges that was founded back in 2011 by its current CEO Jesse Powell. This US-based exchange has come a long way from an unambitious start-up to a global exchange with the highest Euro volume. San Francisco is the current Kraken exchange location.

It is worth mentioning that Jesse Powell was inspired to create Kraken currency exchange after what he had seen at Mt. Gox's offices. Mt. Gox, a now-dead Japanese exchange, was responsible for almost 70% of all Bitcoin transactions back in 2014, but it didn't stand the test of time and was closed after about $350 million were stolen due to a huge cyber attacks. Powell saw that the exchange was poorly managed and realized that it was on the cusp of collapse, so he decided to create his own alternative.

Kraken Bitcoin exchange is available in the US (except for New York because of BitLicense regulations), Canada, numerous European countries and Japan. However, the company has recently announced about its plans to quit the Japanese market due to a lackluster demand. After adding the Japanese Yen to the list of its available fiat currencies in 2014, the exchange hasn't managed to meet its financial goals. As of July 5th, the daily BTC/JPY trading volume reached $18,242 which is only 0.02% of Kraken's total volume (for comparison, it was 0.9% back in April). The company doesn't rule of the possibility of returning to the Land of the Rising Sun again, but Kraken exchange is not working with Japanese customers at that moment.

Kraken Review
There are 18 cryptocurrencies that include Bitcoin (BTC), Litecoin (LTC) and Ripple (XRP). Apart from the aforementioned coins, Kraken also features trading pairs with five fiat currencies.
That's a major advantage since the majority of other exchanges do not support fiat money and require you to buy Bitcoin beforehand.

While doing a Kraken exchange review, it is important to mention that it has five account levels (which are also called 'tiers'). There is a direct correlation between the account level and the daily trading limit: the higher your tier, the bigger amount of money you are able to withdraw. Also, pay attention to the fact that increasing your account tier also lowers the trading fees which will be discussed a bit later.

The ID verification is required in order to get to the third level (you are to send them the scans of your ID and hold a hand-written text in front of you). There are also some emergency situations when a certain user may be asked to confirm his identity.

Is Kraken exchange safe? In the good ol' days, the majority of exchanges were anonymous, but as the crypto market grew bigger, they have to comply with anti-money laundering (AML) regulations. Now is it a mundane policy, so do not be shooed away by Krakens' demands. This exchange is reputable enough to trust it with your personal details.

How to Use Kraken?
Fill out the sign-up form and confirm your e-mail address.


The drop-down list in the top left corner of the main page displays the list of available trading pairs (all in all, there are 41 trading pairs).


Click on the 'Chart' section at the very top of the page to see the graphs which vividly depict the recent price fluctuation in terms of the chosen trading pair.


Click on the 'Funding' where you can deposit or withdraw money.

Go to the 'Security' page in order to enhance protection with 2FA and API keys. The neighboring tab helps you to adjust any account settings.
If you go to 'Get Verified' sections, you can see the information about your account status and withdrawal limits (daily and monthly).

| | | |
| --- | --- | --- |
| Tier | Daily Withdrawal Limits | Requirements |
| 0 | $0 | E-mail |
| 1 | $2,500 | Phone number, a full name |
| 2 | $5,000 | Address |
| 3 | $50,000 | ID, utility bill |
| 4 | $100,000 | All of the above + a support request |
How to Buy on Kraken?
Before purchasing any crypto, you obviously have to deposit money to your newly created account with the help of the abovementioned 'Deposit' section. When it comes to payment methods, the only available option is a wire transfer.
ACH for Americans and Canadians;

SEPA for Euroepan customers.

SWIFT for international payments.
That means that credit/debit cards and PayPal are not accepted on this exchange. If you are looking for a variety of payment methods, consider such exchanges as Coinbase.
Those who do not want to engage in margin trading, can place a simple order. Simply specify the amount of Bitcoin that you would like to purchase and press a large green button to place your order.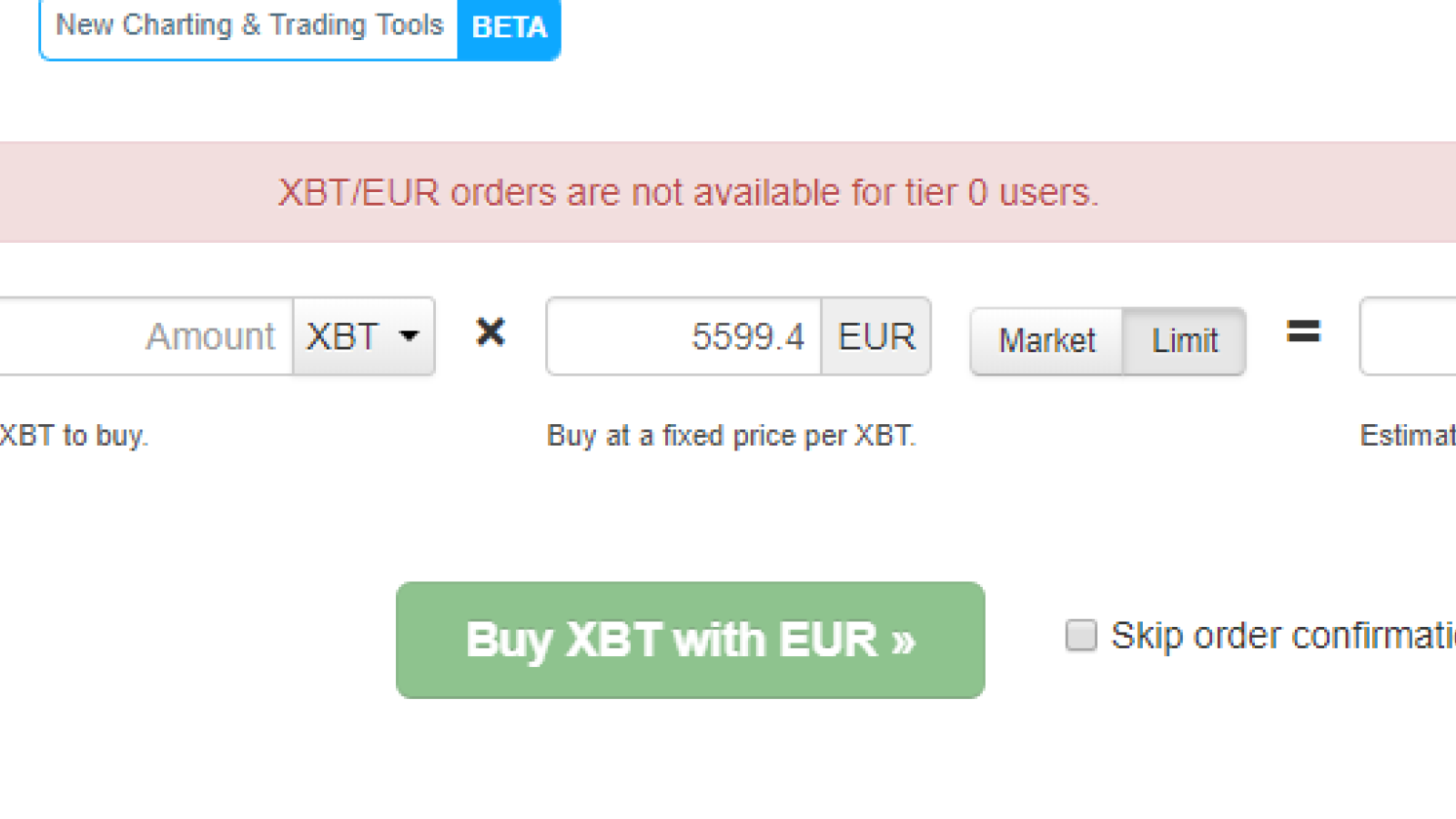 How to Trade on Kraken?
Kraken exchange launched margin trading in 2015 that allows you to trade with 5x leverage. Go over to the 'New Order'. You have to choose either 'Intermediate' or 'Advanced' mode in order to see the leverage buttons which are situated on the right.

Now have a look at the 'Leverage' section (for example, by choosing 3x leverage you will be able to triple your buying power). Then you can choose a limit order or a market order (in the first case you wait until the market reaches the requested price). At the bottom of the page, you will be able to see your pending order. If the market moves in your direction and you get profit, you call close out the current order by creating an opposing order for the same amount of money. Basically, it means that you have to sell crypto that you have recently bought by choosing the right leverage. Once you've done that, the profit will be added to your balance.

NB! You can open multiple positions that will be closed out in the same order.
Is Kraken Safe?
Kraken exchange reviews are mostly positive, so is Kraken a good exchange when it comes to security? While being on the market for more than 7 years, Kraken has never been experienced to a single security breach. In January 2018, Kraken was down for a couple of days, but that was due to maintenance. Almost all of its assets are securely kept in a cold storage eliminating the possibility of a hack. Users' accounts are protected with two-factor authentication (TFA).

In 2016, some Kraken traders claimed that their accounts had been compromised by hackers and their funds had been stolen, but later it turned out that all these users had failed to enable two-factor authentication. In this situation, the users clearly suffered because of their own negligence. At the same time, it would be a nice solution for Kraken to make TFA mandatory.

Kraken's transparency doesn't draw an ounce of criticism in any Kraken exchange review. Back in 2014, the company successfully underwent a "proof of reserves" audit which was aimed at checking the total amount of BTC held by the company. On top of that, Kraken became the first exchange that appeared on Bloomberg's ticker which only adds more credibility.

So, is Kraken a safe exchange? Yes, definitely. With Kraken coin exchange, the only security drawback is probably is that the exchange holds your private key to your cryptocurrency address. A private key confirms that you are the owner of the currency.
Kraken Fees
Kraken cryptocurrency exchange offers extremely competitive fees which vary from 0% to 0.36%. The particular amount of the fee is not fixed – it depends on your trading pair, account level and the desirable payment method. For example, European customers only have to pay €0.09 if they want to withdraw money via a wire transfer which is extremely cheap which is ridiculously cheap. ACH transfer will set you back $5 per transaction. Pay attentions to the fact that both makers and takers are charged with Kraken exchange fees.