Where to store your NEM XEM cryptocurrency? Let's overview top NEM wallets that ensure the safety of your assets and private keys, and provide you with an easy and fast access.
NEM (New Economy Movement) is an innovative Blockchain platform for developers who want to create applications using ready tools and instruments. Its native token, XEM, is one of the top 20 world cryptocurrencies and has recently received a lot of attention from cryptocurrency specialists. If you want to make an investment and purchase XEM tokens, it's high time to find the best digital NEM wallet– we've prepared some guidelines for you, as well as the list of best NEM wallet options.
How to select the best crypto wallet for NEM?
When on the lookout for a wallet to store cryptocurrency, you need to take the following aspects into consideration:
Compatibility. First and foremost, you need to make sure that the chosen wallet supports XEM or any other currency you're going to store. Secondly, make sure that your OS and device can run this wallet app.

Security. The best wallet to store NEM is the one that keeps your assets safe and secure. Hacking is always a risk when you own a crypto wallet, so read reviews about its reputation, find out where there are such features as holding your own private keys and two-factor authentication.

Customer support. Will you be able to get help as soon as possible in case of technical issues? Check the wallet's reputation and read reviews.

Backup features. If the wallet has decent backup features, you'll be able to recover the funds in case of access loss.

Development and updates. Find out who are the team standing behind the wallet, and whether they update the wallet regularly– it's crucial for security.
NEM NanoWallet
This is the best wallet for NEM from the point of accessibility and functionality: Nano Wallet is compatible with many platforms (Windows, Mac, Linux) and allows managing XEM account and mosaics. Besides, you can send messages to any address or namespace. The platform features instant exchanges powered by Changelly– a convenient option for everyday use.
The wallet is easy in use: you can have on-chain multi-signature and multi-user accounts, and since December 2017, it supports TREZOR integration for securing your tokens. While Nano Wallet is the best NEM wallet for Windows, it's not convenient for mobile devices.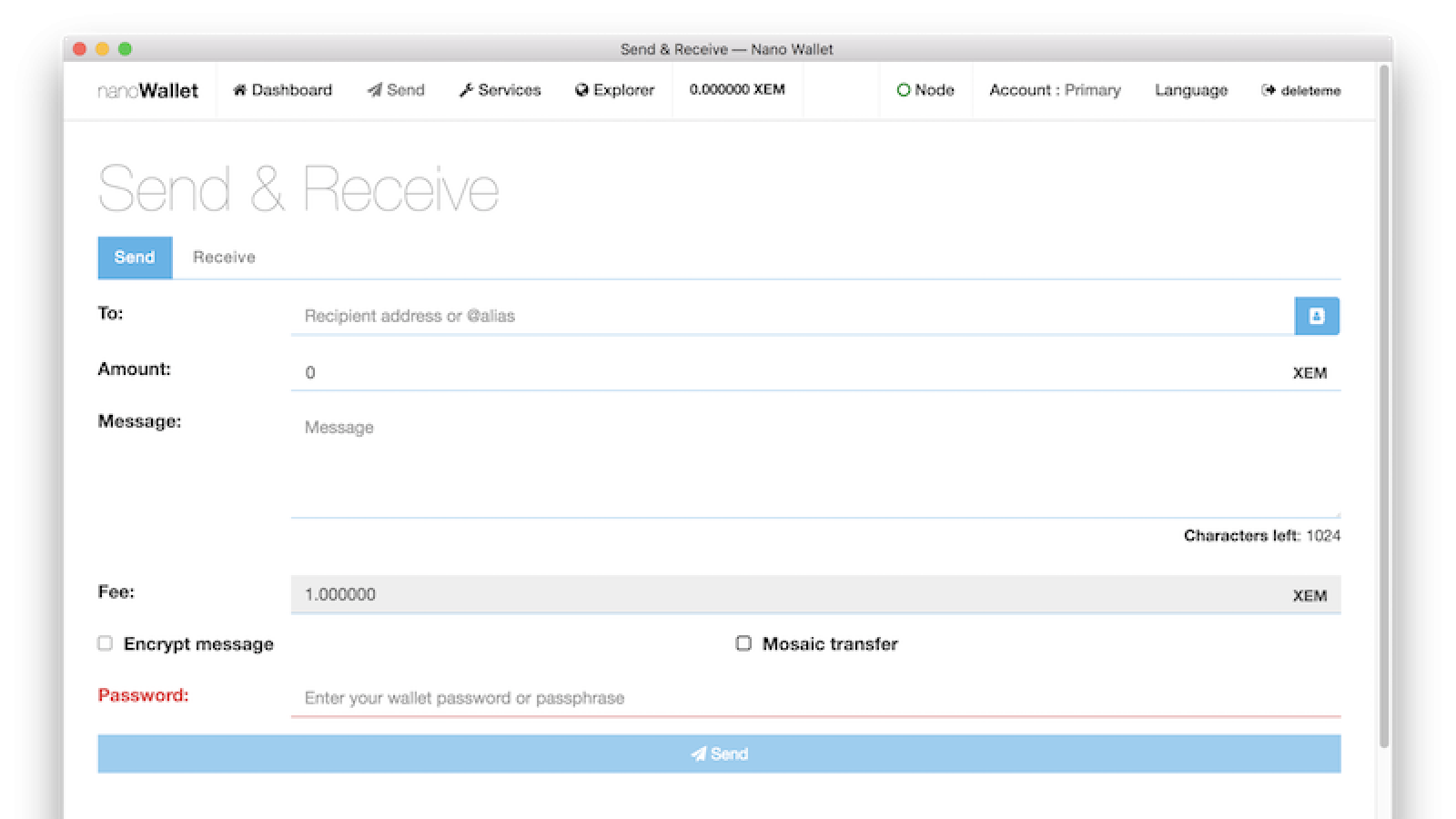 NEM mobile wallet
When it comes to the best NEM wallet Android and iOS devices support NEM Mobile Wallet software– it features a simpler interface and navigation. The application is free and perfect for managing your NEM accounts. Security options are up to the mark: the app supports multi-signature functionality, which means you can store and encrypt your private keys and other crucial data right on your device. The speed of transactions is fast, though some users reported facing problems and bugs.
NCC (NEM Community Client)
You're a lucky owner of 10,000 XEM and want to start harvesting? NCC is the very best NEM wallet for those who need advanced features, such as harvesting and delegated harvesting. This app is compatible with Windows, Mac and Linux, but before installing it, make sure that your computer isn't contaminated with viruses, and you use a strong password.
Freewallet
Need the best Bitcoin wallet on Android with Ethereum, NEM and other currencies supported? Opt for Freewallet: it offers a smart intuitive interface and mobile-first experience. It has the following advantages:
The assets are stored in offline vaults– unbeatable security against attacks is guaranteed.

If you accidentally lose your device, you can have the account frozen from any other Android or iOS gadget.

Two-step authentication is possible: you can enable additional security code, or activate verification via email, or mobile phone number.
What else makes it the best wallet for NEM XEM? The exchange service is free– with smart transactions, it doesn't matter which currency you have. Just set up the currencies you need, or send between Blockchains without exchange services.
TREZOR
Ready to pay for the security of your virtual currency? Then TREZOR is the best NEM coin wallet that provides you with total management of your private keys– they simply won't leave your device. How? Because TREZOR is the physical best wallet for NEM– for some $80, you get a small gadget that fits in your pocket and stores all your passwords, emails, and accounts. TREZOR can be connected to Mac, Windows and Linux PC.
What should I use?
Let's summarize and figure out what's the best XEM NEM wallet for you.
| | |
| --- | --- |
| NEM Wallet | What is it recommended for? |
| NEM NANO wallet | A nice solution for users who mostly use PC and need a versatile wallet with decent customer support and total management of private keys. |
| NEM Mobile Wallet | Those who mostly use iOS or Android devices will find this app useful and convenient. |
| NCC | XEM holders who want to start harvesting and store large sums of tokens. |
| Freewallet | Mobile users who need a versatile and safe solution. |
| TREZOR | Holders of multiple wallets and account who need the ultimate security of their private keys. |
The Internet is full of various free and paid wallets– select the one with a heavy focus on convenience and security, and you won't face problems managing your NEM coins.