Major companies Grayscale and MicroStrategy have been leading the expansion of Wall Street into Bitcoin this year; now the CEO of the U.K.-based CoinCorner exchange again tweeted that a liquidity crisis for Bitcoin could be near.
Grayscale, MicroStrategy helm Bitcoin adoption by Wall Street
As per data shared by senior Messari research analyst Ryan Watkins, the business software giant MicroStrategy now holds 40,824 Bitcoins in its storage.
This BTC amount is worth a staggering $797 million and the company has made a profit of $322 million, having put $475 million in the flagship cryptocurrency.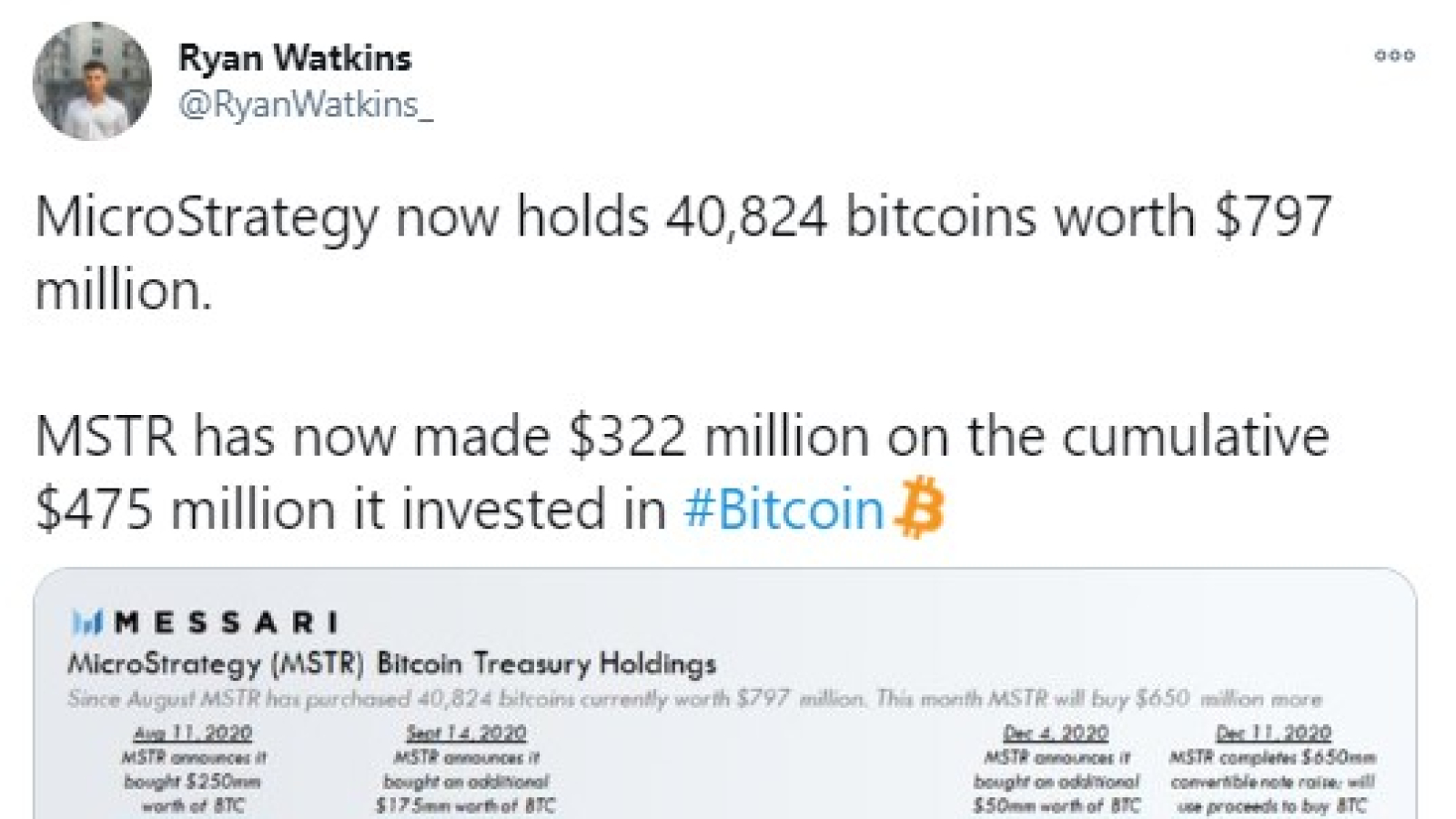 This allocation of funds into the world's biggest digital asset was inspired by the company's CEO Michael Saylor, who is a Bitcoin holder himself and recently turned into another "Bitcoin Jesus."
This title used to belong to Roger Ver until he chose to "defect" from the Bitcoin camp and join Bitcoin Cash supporters.
Recently, MicroStrategy completed raising shareholders' funds to acquire another lump of Bitcoin. The company has raised an eye-popping $650 million (targeting a hundred million less initially) from investors.
Watkins also tweeted:
The above doesn't even include MSTR's just completed $650mm convertible note raise whose proceeds will be used to buy BTC. This will take MSTR's total BTC holdings well over $1 billion.
Many have started trolling MicroStrategy, saying that it is about to turn into a Bitcoin exchange-traded fund (ETF).
Grayscale gains 115,236 Bitcoin in Q4
The CEO of the U.K.-based crypto exchange, Danny Scott, believes that a Bitcoin liquidity crisis could be drawing closer.
In his tweet, he pointed out that Grayscale Investments has laid its hands on 115,236 BTC in Q4 this year, which is equal to $2.2 billion.
Not long ago, Scott also drew the community's attention to the fact that $700 million worth of Bitcoin had been withdrawn from crypto exchanges as users, including financial institutions, are stacking BTC long term in cold storage vaults.
Bitcoin market cap is again above $360 billion
At press time, the Bitcoin market cap totals $361,612,549,102. Previously, BTC reached a similar milestone on December 3: $360,933,936,017.
Before that—on Nov. 30—Bitcoin reached a new all-time high near $20,000. On that day, the market cap amounted to $364,229,729,426.
However, on Dec. 3 after the rise, the value of this metric suddenly plunged to $347,111,351,136 and managed to recover only on Dec. 15.