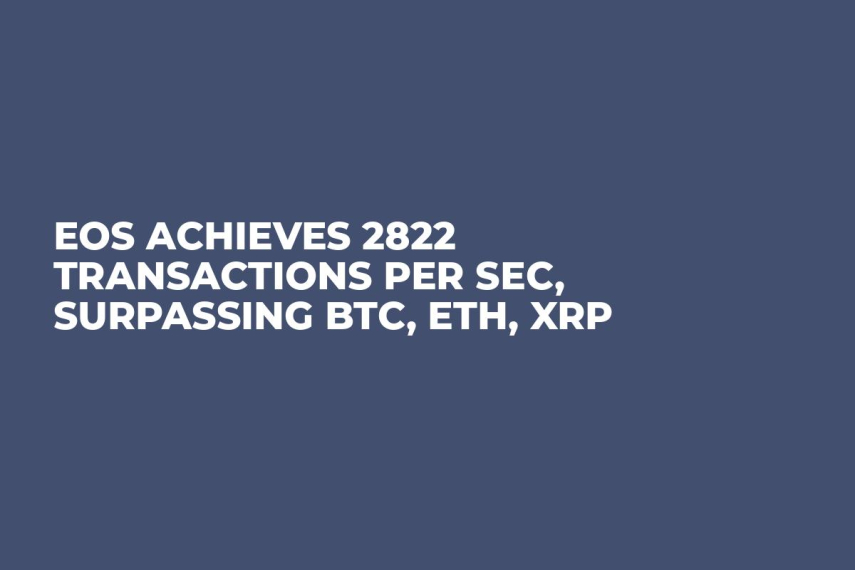 Cover image via U.Today
Just recently the EOS Blockchain has broken a record of 2,000 TPS, reaching over 2,800 and now it is about to achieve a new all-time high. 3,000 operations per second level is about to be taken soon, some believe.
A new record
The EOS platform gained the speed of 2,000 TPS only a couple of days ago. Since then, the volume of operations has kept growing at a high pace. Taking into account that this coin claims to prioritize transaction scalability, they have managed to achieve a good result.
EOS is also trying to implement human-readable addresses to make the protocol even easier to use than before and allow free transactions. This would let customers use decentralized apps (dApps) without tokens but with RAM playing the major part.
Faster than BTC
If we compare the current scalability of EOS with the speed of BTC and ETH, then these two currencies are way behind. BTC is capable of just seven transactions per second and ETH– 15. XRP can do way more, 1,500 TPS, but it still cannot compare with EOS and its 2,822 TPS. Some Reddit users are jumping to conclusions that EOS may reach an even higher number in the short term.
As for the mainstream payment system, here comes Visa with its near 2,000 operations per one second. Although its team claims that they can do 24,000 TPS, Visa, being fully centralized, can certainly extend this number significantly.
The same can be said about EOS, when some accuse the platform of lacking decentralization, it has managed to achieve a much greater scalability than fully decentralized coins.