All cryptocurrencies in the top 20 have posted gains for the last 24 hours and the market cap increased more than $10 billion in a day, according to CoinMarketCap. The market is green once again after a long period of gloomy red, and it seems like this is more than a correction in a downtrend. Can this become a full-scale reversal?
While all main coins have been posting gains, EOS tops them all, showing a 22.83% increase for the last 24 hours and more than 30% over the last 7 days. Because of the climb, it overtook Stellar (XLM) to become the 4th biggest cryptocurrency by market cap.
Now there is no clear reason behind the general rally or for the EOS surge; we could be dealing with a short squeeze or maybe "smart money" is buying the big crypto dip. Keep in mind that from a macro perspective, we are still in a bear market, although the current price action is bullish.
Chart Analysis – EOS/USD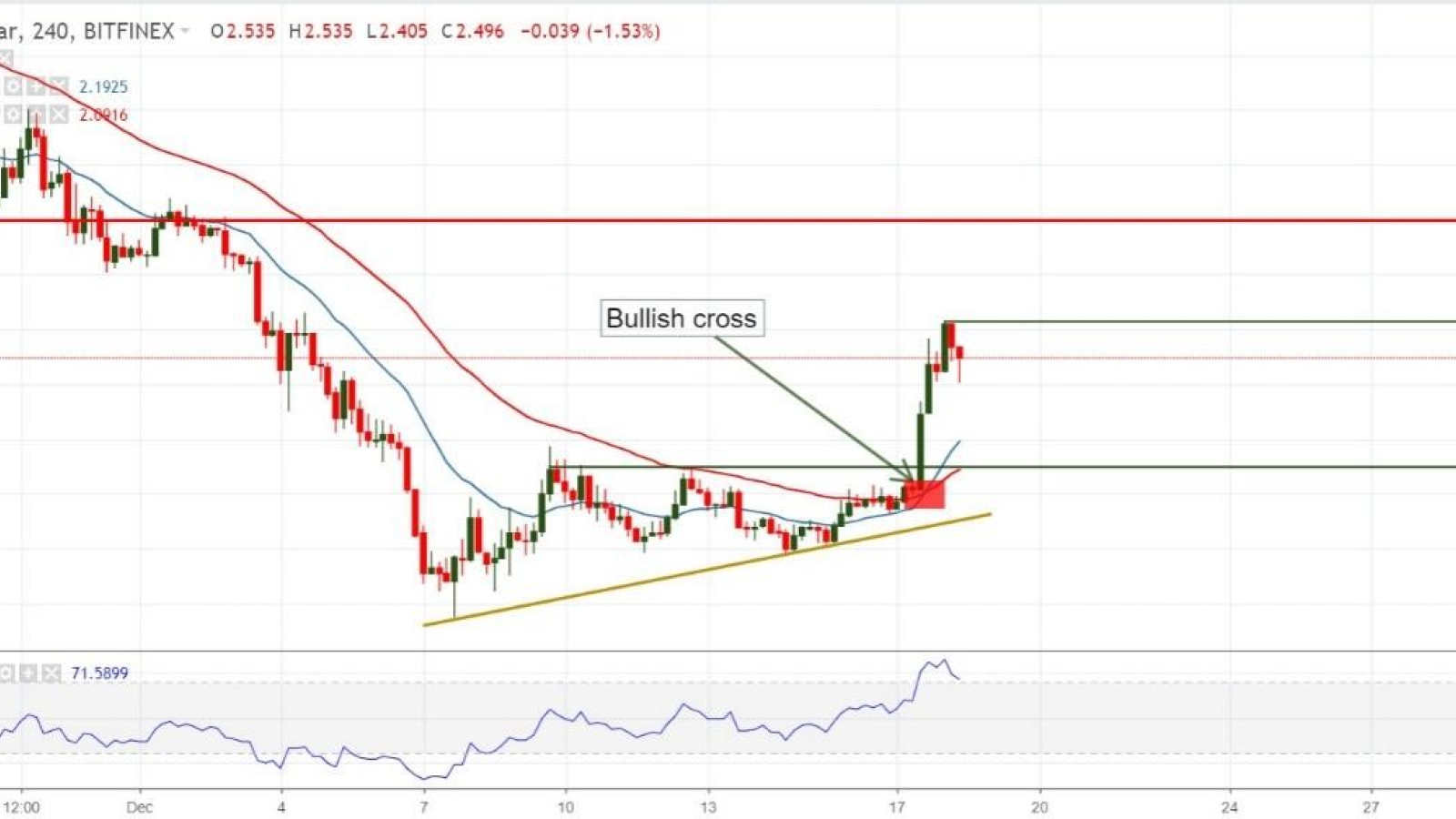 EOS reached a high at $2.63, jumping from $1.95 in a matter of hours. The key breakout occurred when EOS/USD shattered the resistance at 2.10, which attracted more buyers, thus driving the pair even higher.
While all of this is certainly bullish behaviour, be warned that after a strong climb usually a retracement lower follows. Adding to this probability is the overbought condition of the Relative Strength Index on a four-hour chart but on the other hand, the 2 Exponential Moving Averages (20 and 50) have crossed bullishly for the first time in a very long while, thus increasing the possibility of an extended move up.
All of this describes a classic scenario: a breakout followed by a strong move up (which already occurred), followed by a correction (retracement lower) and another push higher. The last two elements of this possible scenario have yet to develop.
Support zone: 20 EMA and 2.5 (psychological level, currently tested)
Resistance zone: 2.63
Most likely scenario: shallow retracement followed by a break of 2.63 en route to 3.00
Alternative scenario: stagnation or deeper retracement