One of the leading Asian crypto spot and derivatives platforms, BitYard, comes up with an extended array of utilities. So, what's new in BitYard, and which services are most useful for newbies and professionals?
Crypto trading platform for Web3 era: Introducing BitYard
Launched in November 2019, cryptocurrency exchange BitYard is headquartered in Singapore, a top-tier global blockchain hub. From the very first days of its business operations, it guarantees a seamless high-speed trading experience for traders of various categories. BitYard's team is focused on building powerful products with intuitive UX/UI and low fees.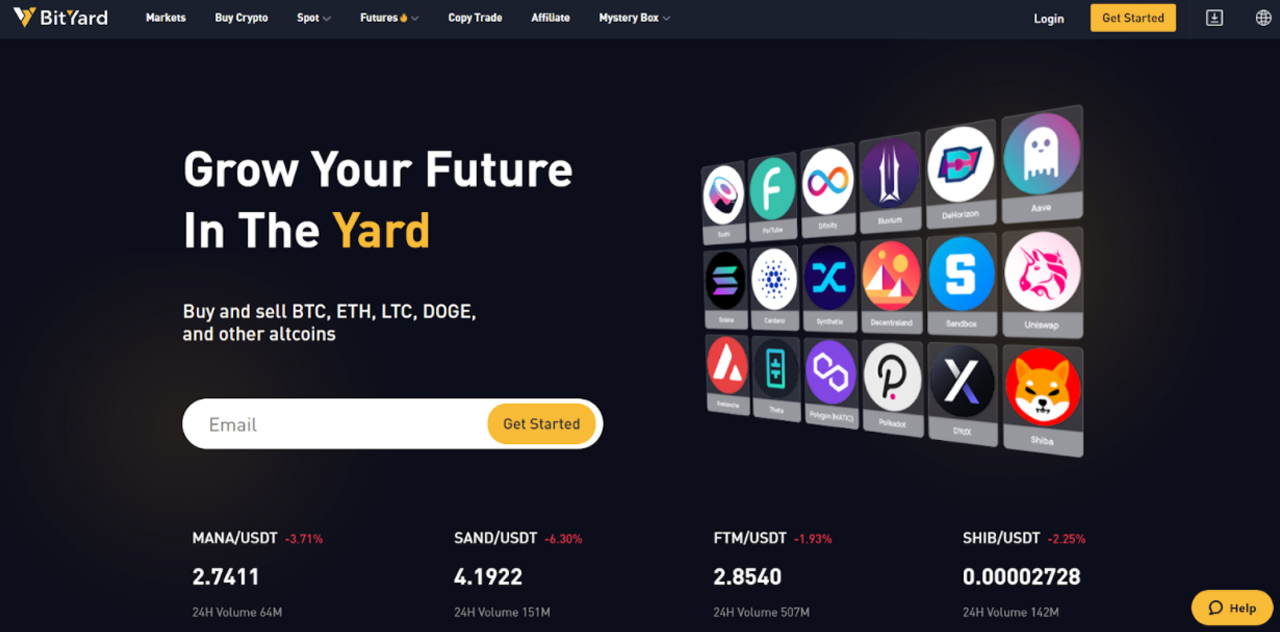 As of Q1, 2022, BitYard delivers the services of cryptocurrencies spot and derivatives trading, multiple sorts of contracts on crypto pairs (Lite Futures, Inverse Perpetuals and so on), one-click conversion for major assets, a "Buy Crypto" function for newcomers, a copy trading module, fiat deposits and more.
Starting from 2021, BitYard added gamified passive income initiatives "Daily Mining" and "Mystery Box." Many of its current users joined BitYard through its lucrative multi-level affiliate program.
BitYard is available in the form of a web interface and smartphone applications (for iOS- and Android-based gadgets). BitYard's customer support is available in various languages (English, Vietnamese, Indonesian, Filipino) on Telegram or by email 24/7.
Is BitYard legit and safe?
While the cryptocurrencies segment is flooded with scams of all types and new Ponzis are popping up here and there, BitYard has always been focused on 100% regulatory compliance, reliability and credibility.
After years of collaborating with the world's strictest regulators, BitYard obtained a number of crypto licenses issued in different countries. In 2019, it was granted an MSB (Money Services Business) Cryptocurrency Trading License by the U.S. Treasury Department's Financial Crimes Enforcement Network (FinCEN).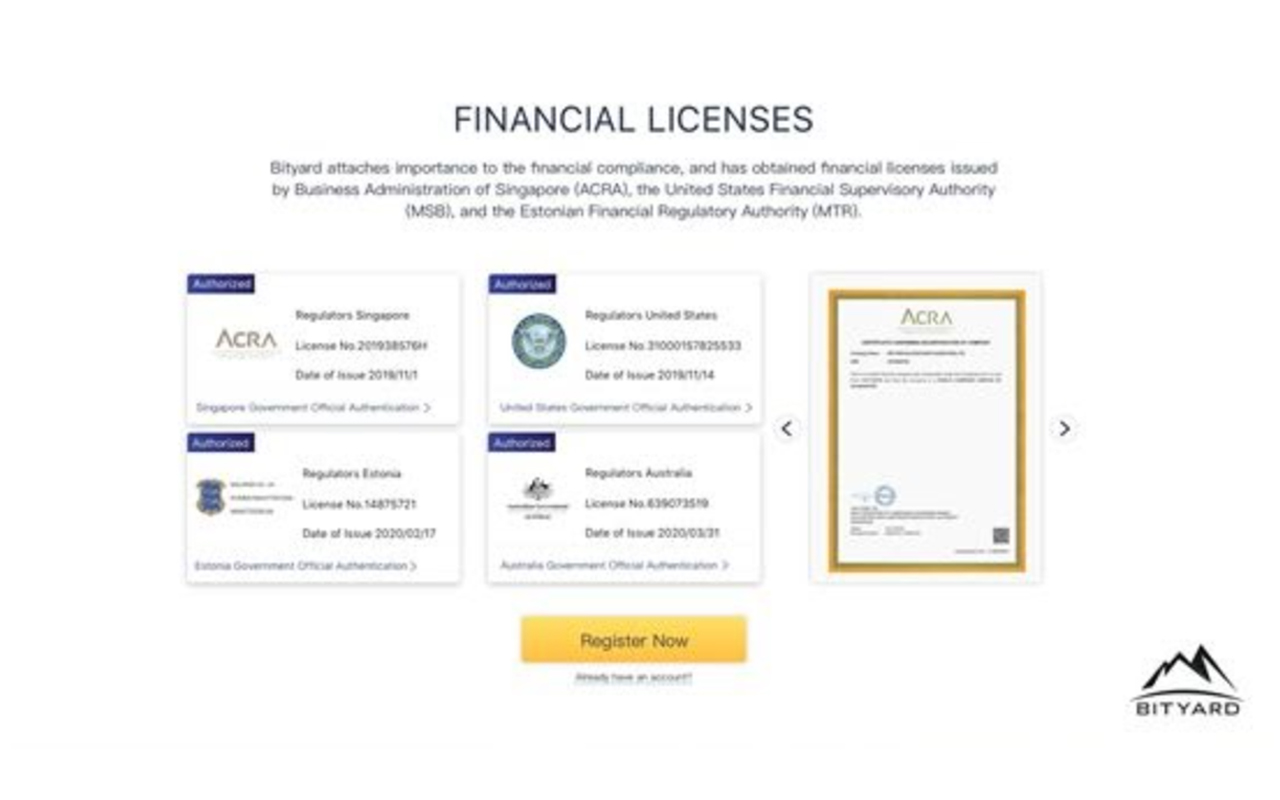 As per the license, BitYard is authorized to act as a money transmitter and dealer in foreign exchange in all U.S. states and foreign territories.
In December 2020, BitYard received two crypto financial licenses issued by the Estonia Financial Supervision Authority (MTR). In the last two years, Estonia has significantly tightened the screws, so obtaining its licenses should be treated as a sign of a high level of KYC/AML procedures implemented by BitYard.
As a member of the EU, Estonia adheres to the Fifth Anti-Money Laundering Directive (AMLD5); therefore, BitYard is subject to the most sophisticated regulatory framework.
Besides that, BitYard is licensed by the Business Administration of Singapore (ACRA) and the Australian Transaction Reporting and Analysis Center (AUSTRAC). This combination of licenses looks great even for top-tier exchanges like Binance or Coinbase.
BitYard in 2021: Year of amazing partnerships
In 2021, BitYard made headlines with a cascade of crucial partnership announcements. First of all, it scored two partnerships with leading crypto-to-fiat payment services providers, Paxful and BANXA. With a BANXA partnership, BitYard started offering seamless fiat deposits for its crypto services; it evolved into the platform of choice for many no-coiners.
In December 2021, BitYard entered into a long-term collaboration with Revain, a blockchain-based platform focusing on reviews. BitYard's profile was opened to commentators on the platform with RVN-denominated rewards for the most valuable reviews.
Last but not least, BitYard integrated price feeds powered by Chainlink (LINK), a leading decentralized oracles vendor. Eighty of Chainlink's endpoints allow accurate pricing for all trading pairs with Bitcoin and altcoins available on the platform.
BitYard Highlights: One-stop trading platform
BitYard is one of the rare platforms that combines cutting-edge spot and derivatives trading exchanges. As such, traders with various levels of expertise in crypto and blockchain are able to find suitable options.
Spot market
Spot trading (the exchange of cryptocurrency assets between each other with no leverage) is the basic-level instrument on BitYard. Dozens of assets in five categories (DeFi, "old-timers," Proof-of-Stake coins, assets of the BSC ecosystem and early-stage cryptos) are available in pairs with USDT, USDC, BUSD, EUR and GBP.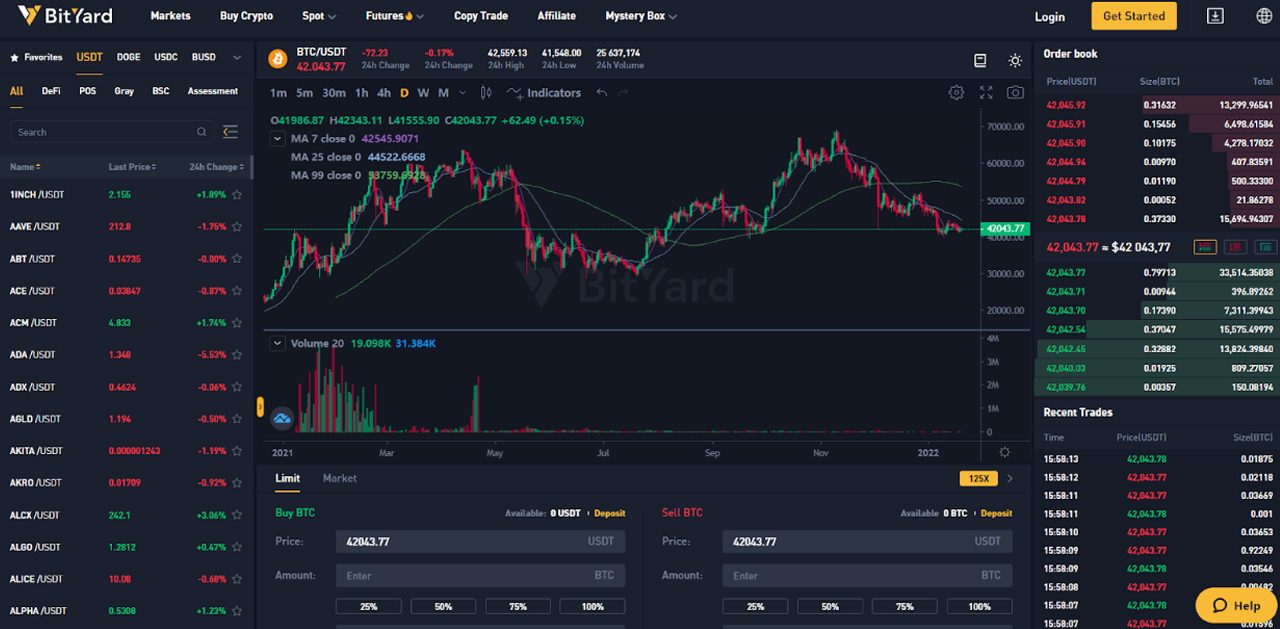 Also, most trading cryptos, like Bitcoin, Ethereum and Litecoin can be converted to each other in one click; traders do not need to publish orders or submit them.
Perpetual futures
Unlike classic perpetual futures contracts, inverse futures use cryptocurrencies as their base assets. For crypto, inverse perpetual futures were introduced by BitMEX in 2016. On BitYard, four types of inverse perpetual futures are available.
Futures traders can benefit from crypto price fluctuations in USDT pairs with Bitcoin (BTC), Ethereum (ETH), Polkadot (DOT) and XRP.
Once the perpetual futures position closes successfully, the trader is rewarded not in USDT but in the chosen cryptocurrency.
Lite futures
Lite futures are settled in U.S. Dollar Tether (USDT), so this module may be more suitable for newcomers to futures. BitYard offers 49 cryptocurrency contracts in this segment, including those for all crypto behemoths, like Bitcoin, Ethereum, Bitcoin Cash, Litecoin, DeFi "blue chips" Curve, Yearn Finance, 1inch, PoS coins Polkadot, Tezos and so on.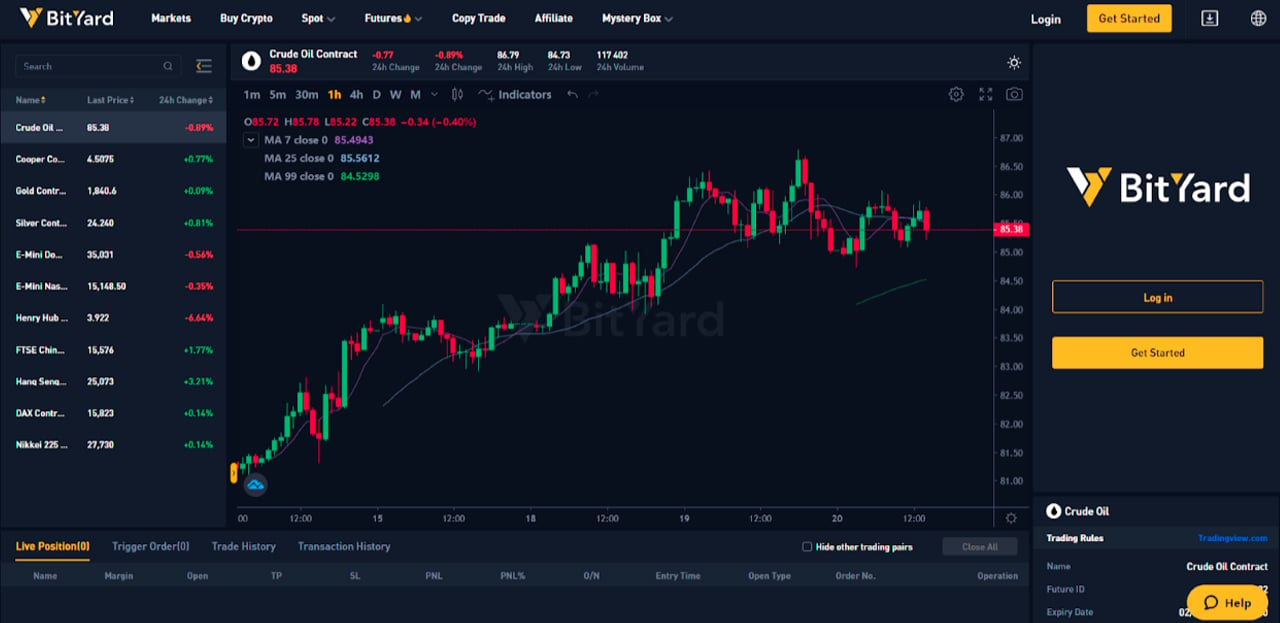 Besides USDT-settled lite futures on crypto, traders can experiment with commodities and indexes. In this section, futures on crude oil, copper, gold, silver, as well as on the FTSE, Hang Seng, Dow, Nasdaq, Daq and Nikkei 225 indexes, are available.
In the forex section, traders can benefit from price swings of all the world's major reserve currencies, including the U.S. Dollar, Australian Dollar, Japanese Yen, New Zealand, Euro and GB Pound.
Copy trading
The copy trading module is the easiest way to dive deep into "social trading" - giving your market expertise a boost and benefiting even with zero skills in trading and crypto.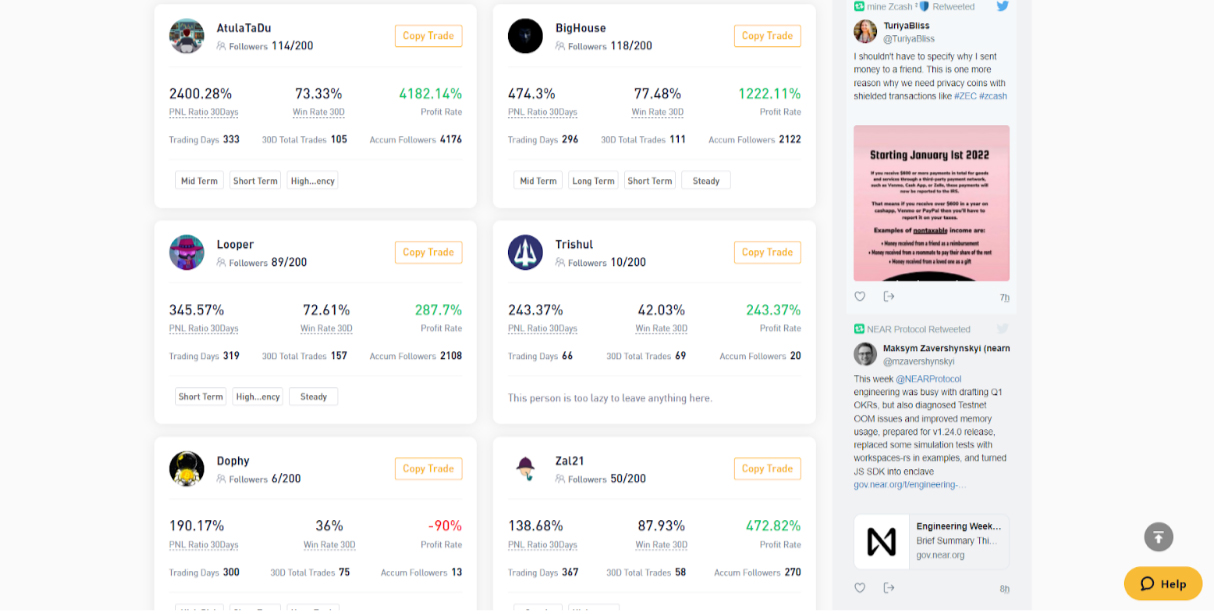 In BitYard's "Copy Trade" module, traders can subscribe to various professionals ranked by style of trading (low/high frequency of trades, low/high risks, short-term/mid-term deals and so on), aggregated PNL and net number of followers.
For every listed professional trader, actual trading statistics are demonstrated 24/7.
Fiat deposits
In 2021, BitYard implemented a number of options to deposit fiat to the crypto trading ecosystem. With BANXA and Paxful integrations, cryptocurrency can be bought directly with debit and credit cards.
Bank accounts (SEPA) are also open for fiat deposits from BitYard. All major world fiat currencies are accepted on BitYard: traders from different regions can enjoy trading with their local currencies.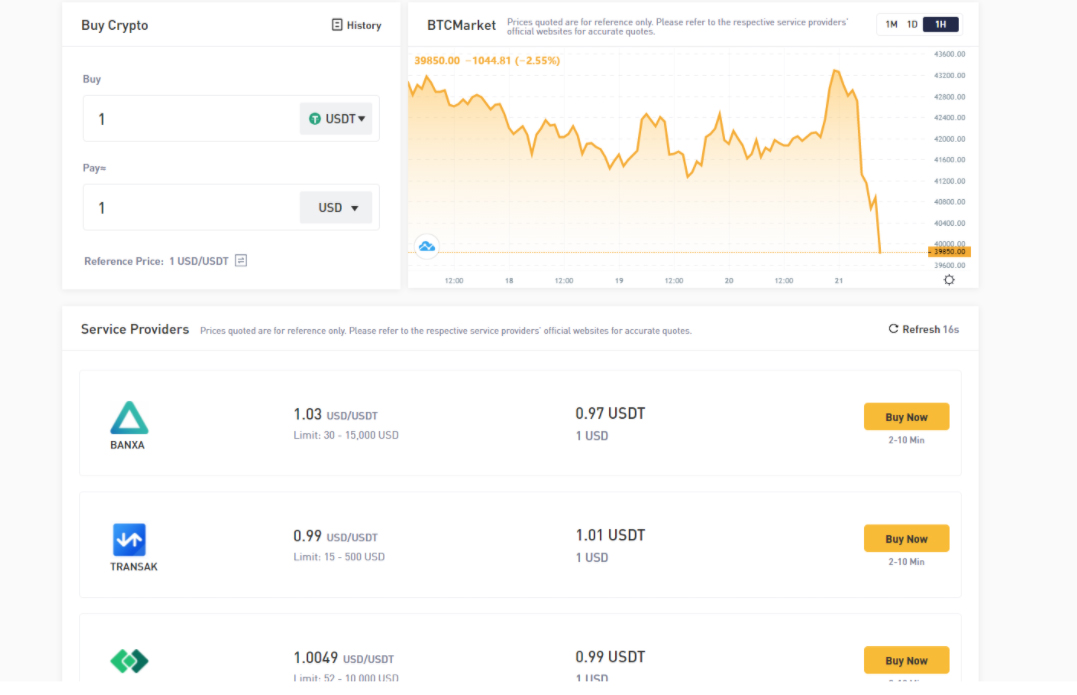 Affiliate program
In one click, BitYard users can generate a referral link to invite new traders to BitYard and earn a share of their commissions. Up to 40% of referral commissions is distributed between referral program activists.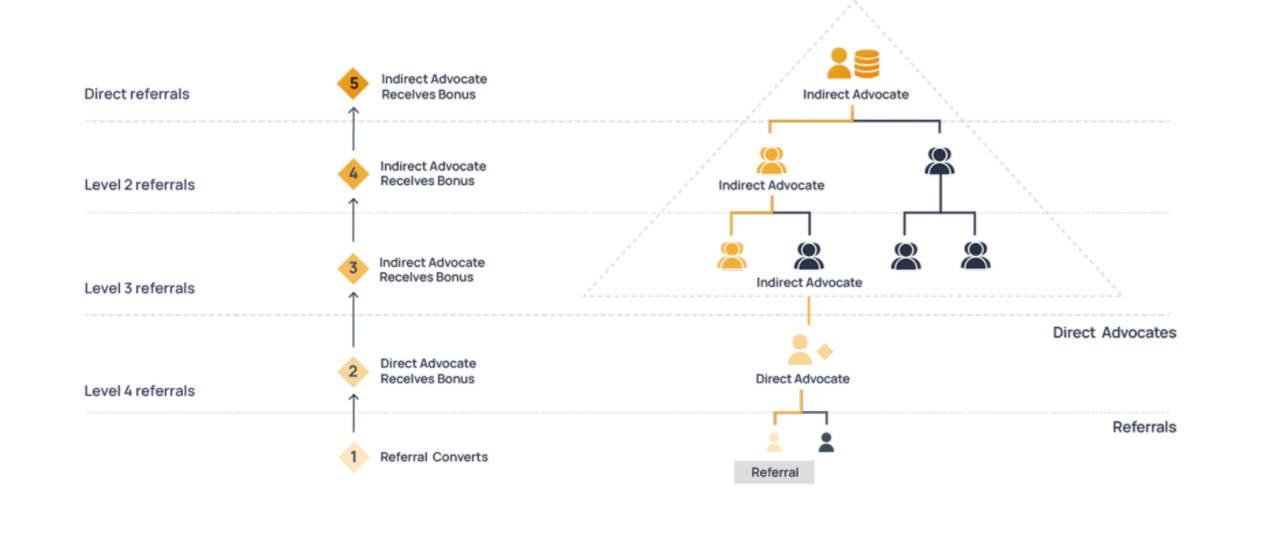 As BitYard's affiliate program is multi-level, referrals can earn benefits from both their direct and indirect advocates.
Also, the most dedicated referrals can join the eContract program to start their careers in Web3 and crypto.
Fee structure
In the "Spot" segment, traders are charged a 0.1% fee (from both maker and taker). One-click conversion operations are charged with 0.1-0.15% fees.
BitYard's CFDs pay fees for opening and closing positions that can be calculated by the formula Margin*Leverage*0.05%. Derivatives traders pay 50% lower fees.
Conclusion
BitYard is a new-gen all-in-one ecosystem that provides crypto holders with amazing UX/UI and trading performance.
With its spot and derivatives segment, FX, commodities and indexes modules, copy trading dashboard and so on, BitYard becomes a "go-to" platform for all types of traders.
Since 2021, it has implemented fiat currency support through BANXA and Paxful instruments.