Monday, Jan. 7, 2019, Bitfinex servers went down and the website displayed the message "Scheduled Downtime – Back Soon". According to the cryptocurrency exchange, the maintenance was planned, and part of an attempt to upgrade "from the AWS cloud to a self-designed infrastructure optimized to high volume trading".
However, some voices in trollboxes around the web were quick to speculate that Bitfinex is down for other, more obscure reasons. For now, there's no evidence that Bitfinex is experiencing any sort of problems and we expect them to be online soon. Although Bitfinex is one of the largest exchanges, the price of Bitcoin hasn't been affected in a negative manner by the downtime, and it's even testing the key $4,000 mark.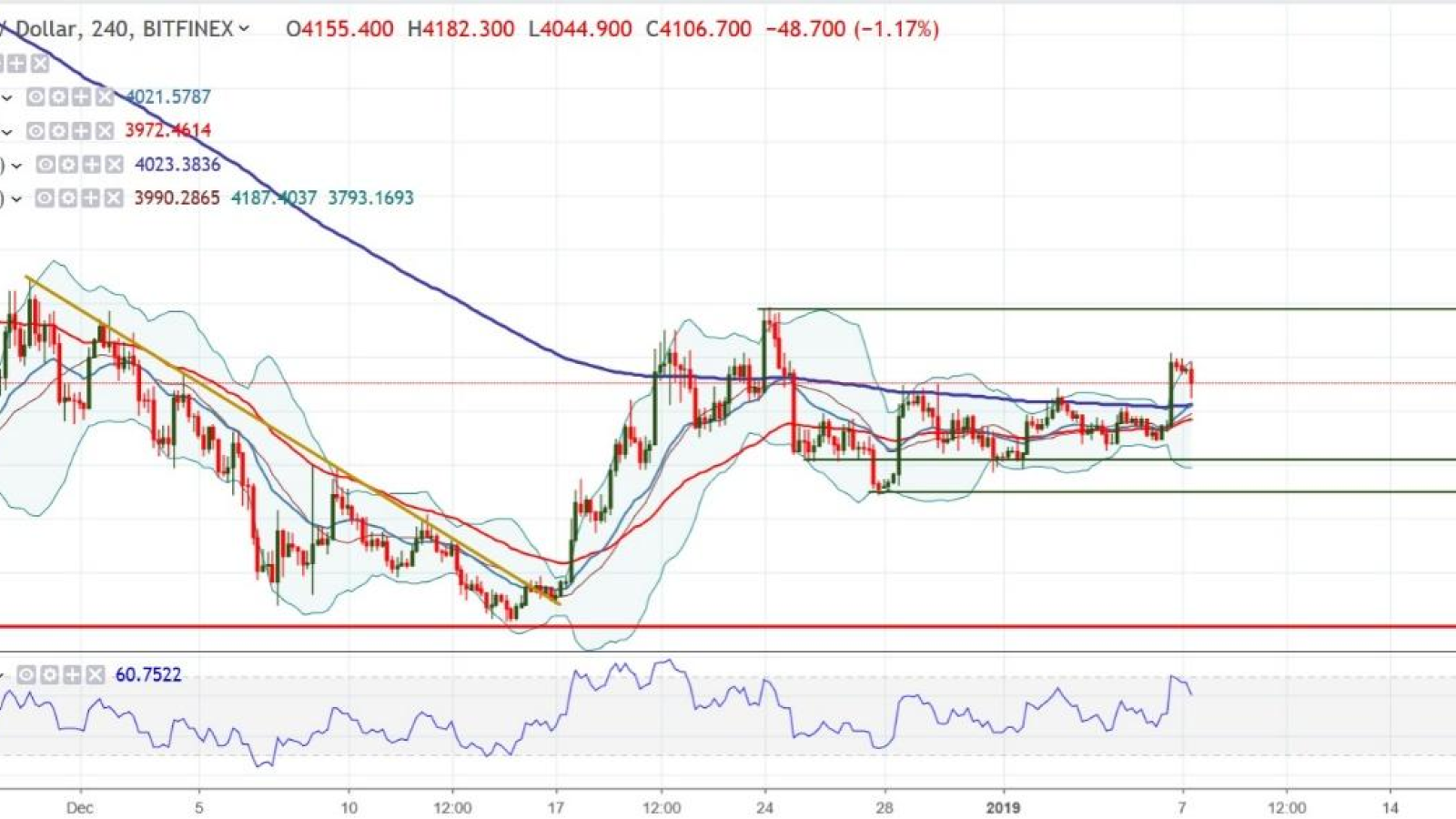 Currently trading around $4,030 (aggregate price, CoinMarketCap), Bitcoin has posted gains of more than 4% for the last 24 hours and almost 6% over the last 7 days. Most of the gains came yesterday, in a surge that lasted just a few minutes and took price above the 200 Exponential Moving Average on a 4-hour chart.
The quick move up could be attributed to low liquidity generated by the beginning of the new year or to whales moving large amounts of Bitcoin but either way, a key technical element was broken (200 EMA) and this will likely facilitate additional moves to the upside. Keep in mind that the RSI has already touched 70 (overbought) and is turning down, which means that we may see a pullback.
Support zone: 200 EMA (4-hour chart), 3820, 3700 (depending on your exchange, these numbers could be different, but the charts look almost identical)
Resistance zone: all round numbers above current levels (i.e. 4100, 4200, 4300, etc.)
Most likely scenario: drop into 200 EMA followed by a move into 4100
Alternate scenario: sideways movement; no follow up to the weekend surge