On Friday morning, November 23rd, the major virtual asset, Bitcoin, reached yet another low, going down deeper. At the moment of writing this, BTC is trading at $4,286 (a tiny rise from earlier red values), overall losing 6.20 percent overnight.
Top-100 coins are in deep red
All assets that are the members of the 'top-20' list are also being suppressed by sellers. As per CoinMarketCap, they have all lost from 6 to around 15 percent. The biggest losers so far are Bitcoin Cash (-14.20 percent, 4th position on the list) and Binance Coin (-10.31 percent, 14th position on the list).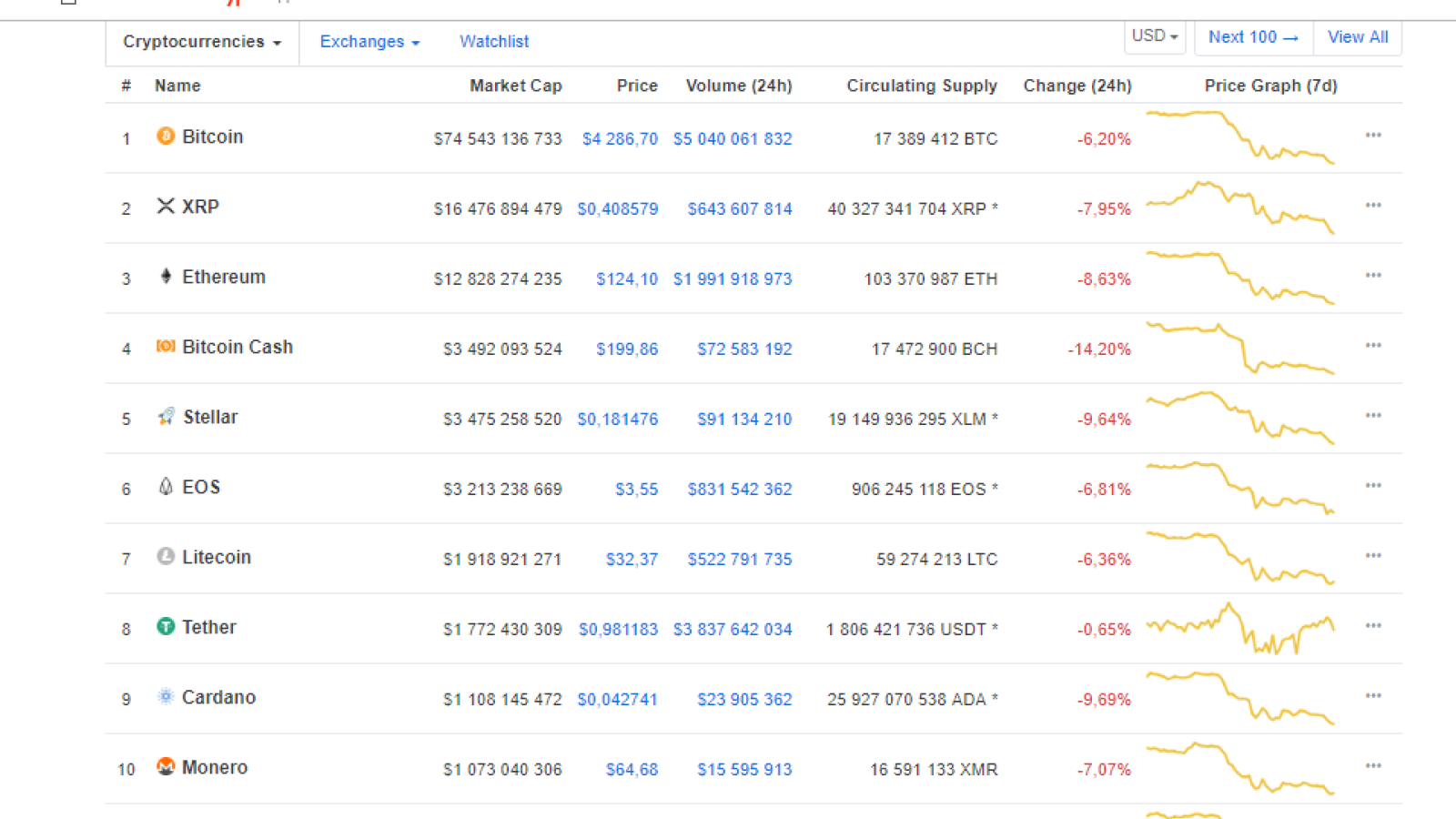 BCH is currently trading at $199.86. BNB is going for $5,55. Even NEM, which showed a small gain last night, is now 9.23 percent down. The victorious TRX, which according to a recent statement by Justin Sun has managed to escape the bearish impact has dropped 8.51 percent, is now trading at $0.0134.
Actually, the fingers on one hand + 1 on the other are enough to count the assets that are currently in green in the top-100 coins: TrueUSD (+0.07 percent), Aurora (+18.45 percent), Paxos Standard Token (+0.13 percent), Augur (+10.27 percent), Dai (+0.10 percent), and Theta Token (+2.47 percent).
BCH hard fork and the mysterious 'Bitcoin cartel'
The crypto community has been nervously watching the current events and the price of their dear-to-heart coins going lower and lower. Subject matter experts believe that the reason for the continuous market drop is the controversial Bitcoin Cash fork that took place at the end of last week.
Since then, the so-called 'hash war' has been ongoing; BTC.com and Bitcoin.com megapools began supporting BCHABC in order to stop this war, and Bitcoin Cash SV faced a block reorganization attack.In addition, many crypto exchanges are still keeping both coins of BCH frozen, and both chains have ceased transactions or minimized them.
The other part of experts and ordinary traders have a more curious theory. They reckon that the longstanding decline of Bitcoin and the rest of the market is due to Bitcoin Cartel actions, which have been suppressing BTC price since the launch of BTC futures on CME back in December 2017.
Hamsters get going
This cartel allegedly starts selling from time to time, causing a slump in the BTC rate. However, this time, the price of the coin went under the support level of $5,000, which many used to consider the bottom for BTC. But now that this mark is well above it, so-called hamsters have started selling for fear of losing it all, thus provoking a deeper market fall.
However, analysts believe that such trends are short-term. Besides, Bitcoin is still open to institutional investors, who feel quite optimistic about it. Experts assume that next time the cartel could begin to push the price down is when BTC returns to the $6,000 high.