*** Please note the analysis below is not investment advice. The views and opinions expressed here are solely those of the author and do not necessarily reflect the views of U.Today. Every investment and trading move involves risk, you should conduct your own research when making a decision.
Bitcoin shows a bullish momentum
Yesterday, we said that we have seven failed attempts to break below the $6,250 level and after we post it, the eighth attempt was successful but with a very low volume and the close wasn't in our mentioned "red box." The buyers were alert because each bigger selling attempt was pushed quickly back upwards. So, this action drew us a smaller triangle and we made a breakout upwards from it with a nice volume inside the candles.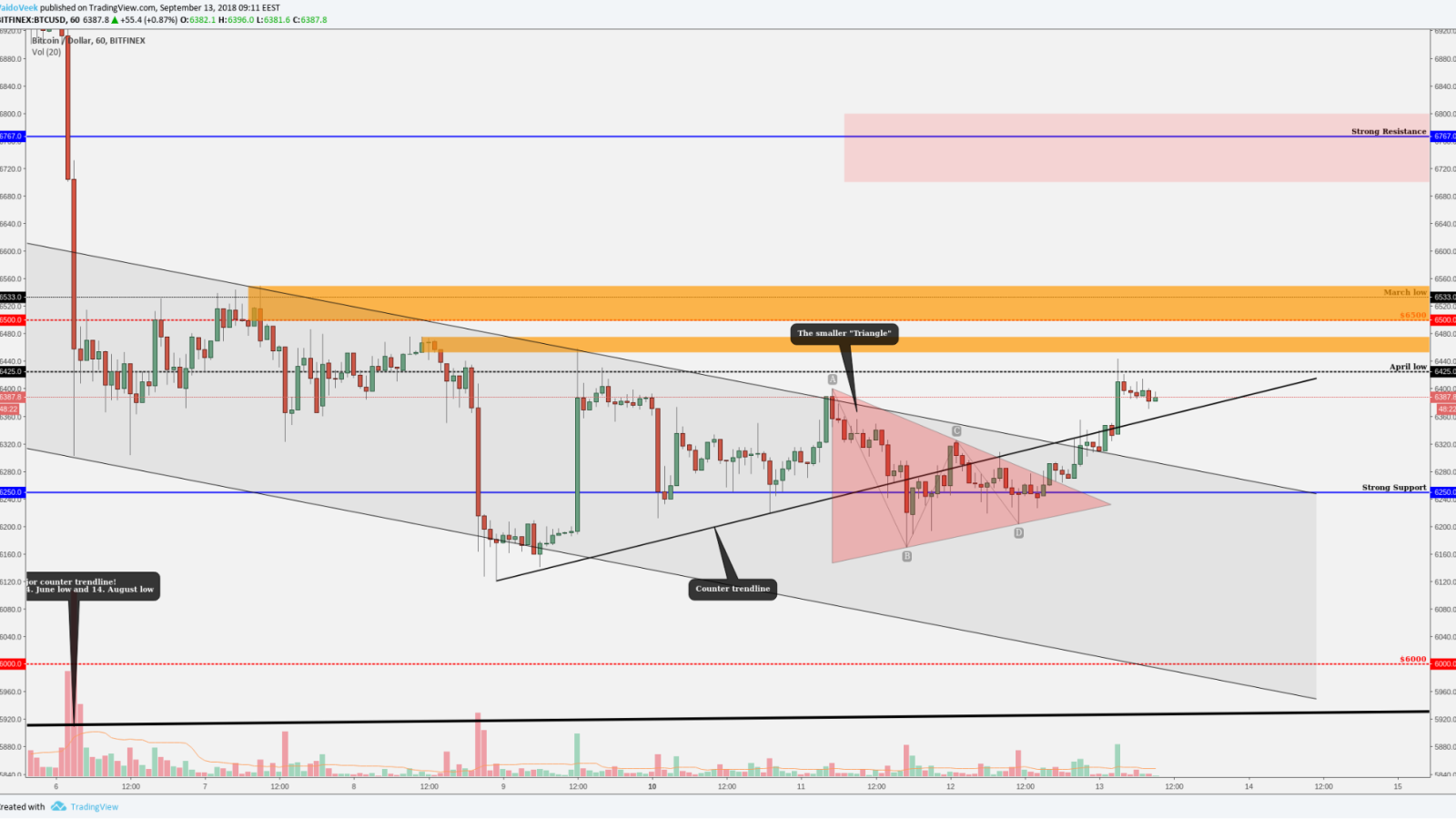 Currently, we are back above the counter trendline (pulled from Sept. 8) but below the April low and below the round number $6,500. These orange price zones are strong resistances and at the moment we got a bounce from the April low and from the lower orange resistance area. The small throwback will guide us to the counter trendline and there we have to watch what the price action wants to tell and show us but currently, looks like the price shows some bullish strength and momentum and we may go higher than $6,500 but the candle which guides us through these levels have to be full of volume.
Monero (XMR/USD) starts to fight against the heavy resistance
Almost all the altcoins got a bounce from yesterday's 'run' and so as Monero. It bounced upwards from previous support level at $97. It made a massive bullish "engulfing" candle which guides us above the round number $100 and the profit from the bottom was +11 percent.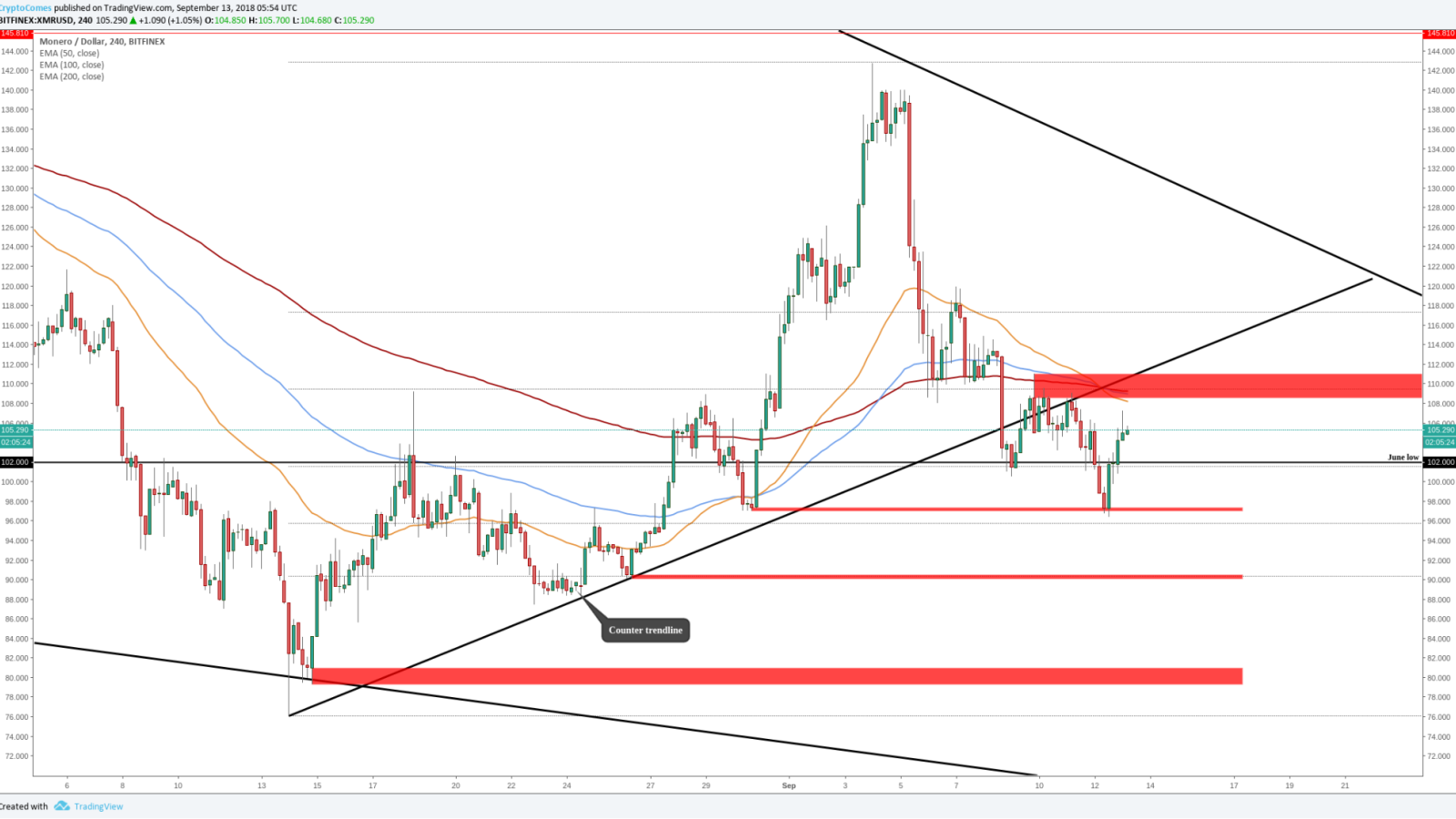 But looks like we have a heavy resistance above us. This red area has been historically a support and has been historically a resistance and now, again it starts to work as a resistance. In this area, around the $110, are all important EMA's on the four-hour chart and also we could find a counter trendline which passing through this area and makes a cross. This will all indicate that the key level is around $110.
Break above the mentioned level will guide us back above the counter trendline, back above the EMA's and we make a new short-term higher high. Those criteria are all bullish and if it could do this then definitely we are in the bullish zone again.
NEO (NEO/USD) got a bounce from the trendline and possible target
Yesterday, when Bitcoin' started to show some strength and volume upwards the whole market showed some positive signs and so did NEO.
NEO got a bounce from the minor trendline which started from Sept. 6 and now the third bounce guides us upwards back around the $18 level.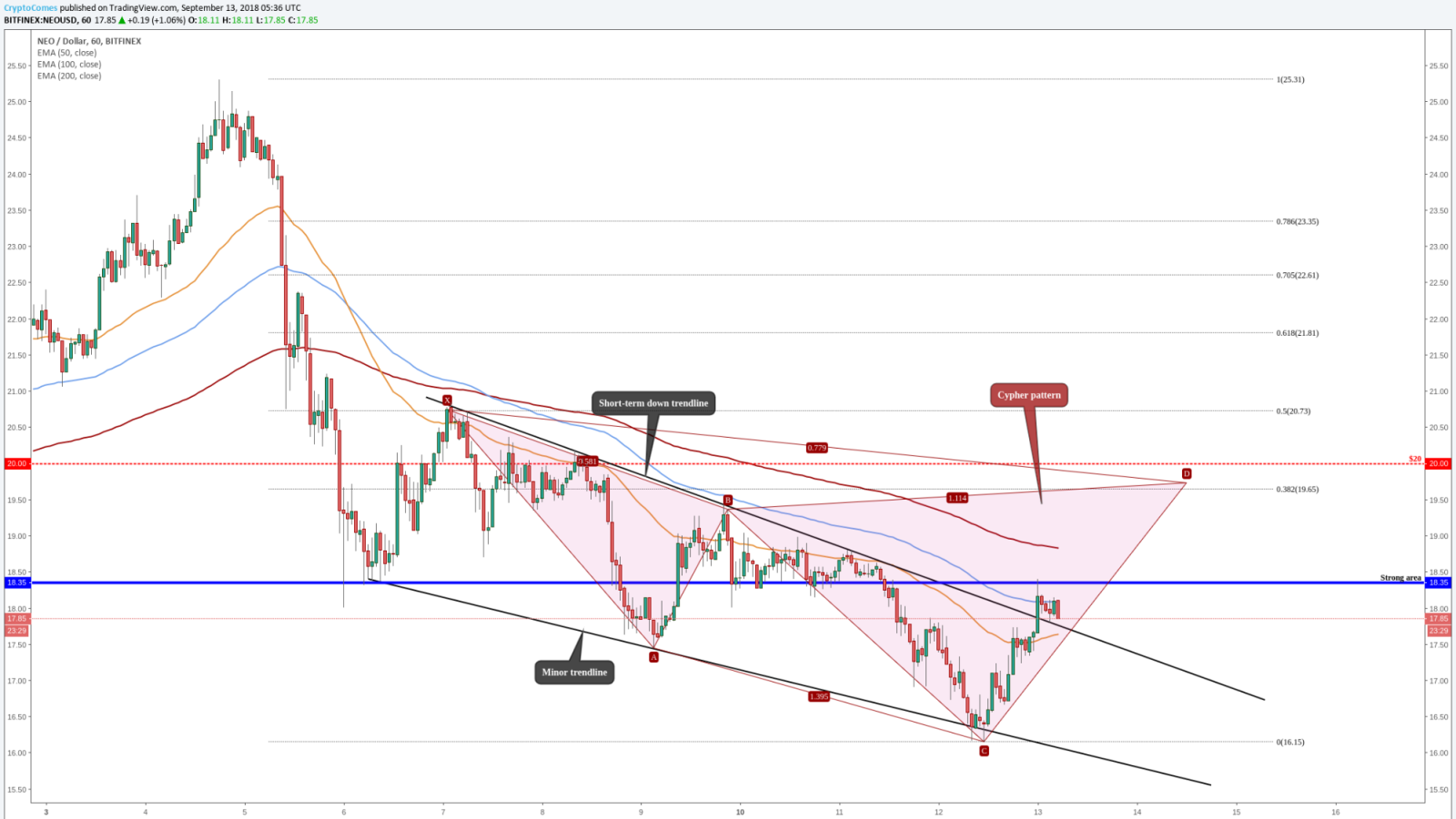 Currently, we have a breakout from the short-term downtrend trendline which was pulled from Sept. 7. We have a breakout and also the retest + bounce, which will indicate that it is technically a good breakout trade. NEO finds resistance from the strong area (blue line), this area is worked historically very strong and break above could mean another leg upwards.
Where should be your first target?
The first target has to be just a little bit below the round number area at $20. In this area, we have Fibonacci retracement level 38 percent (pulled from Sept. 7 to Sept. 12) and also we have a harmonic chart pattern called a "Cypher." The cypher pattern shows us that the target area has to be below the $20. Yes, you can take some of Your profits out from the $20 but remember: always be less greedy than the others.
If the market loses bullish momentum (considering that bearish last week candle close- bearish "engulfing" candlestick pattern, which indicates that the week could be negative for BTC), then if NEO breaks below the short-term down trendline it will be a sign that we can't go higher. In this scenario, we are back on the down channel going back to the lower levels.
Hopefully, those levels and this analysis helped you out a little bit to confirm your own analysis.