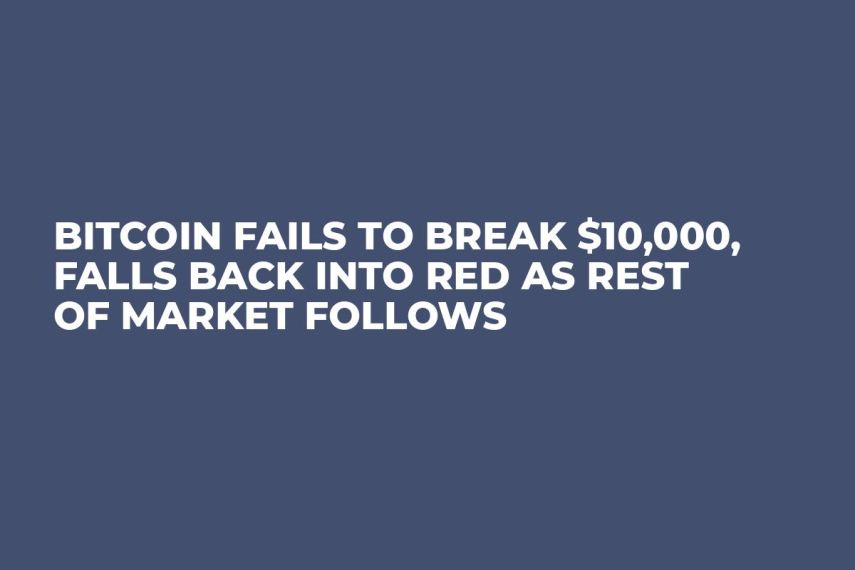 Cover image via U.Today
Bitcoin's steady push towards $10,000 was thawed on Sunday when the original cryptocurrency was unable to break the major milestone, reaching a high of $9,914 on Sunday. It has now begun the week down at $9,361, losing out 3.6 percent over the past 24 hours.
Bitcoin's consolidation and lack of support in breaching the $10,000 marks has sent the rest of the market into the red as the week has begun with most coins down between three and eight percent.
Making it to $10,000
Bitcoin price has been slowly growing since it his lows of near $6,200 over a month ago. Since them, the gains for the major digital currency have amounted to almost thirty percent in a steady and less volatile rise than has been seen previously at this juncture in its price bracket.
This latest mini-correction is to be expected however as the $10,000 milestone is an all-important mental one. It will take a big push to get over that mark as many would have been taking profits just before reaching $10,000.
Bitcoin bulls will have to spend some time and apply some effort to get it past there, but once that happens, the price could rush towards $10,400, according to the graph analysis and then to the next psychological handle $11,000.
On the downside, the first line of support comes at $9,000- this is a psychological level coupled with upside short-term trendline. Then comes $8,900. A sustainable move below this level will bring $8,000 in focus.
The rest of the market
As is to be expected, Bitcoin price has dragged the majority of the market with it as the price of all but 15 coins are in the red. What is more telling is that none of them have suffered major drops, the biggest being Monacoin and Fusion which are down 10 percent for the past 24 hours.
On the other side of things though, Bitcoin Dark is again having a good period as the small forked currency continues in a volatile trend of late.
Bitcoin Dark is up a massive 40 percent for the past 24 hours having spiked and dropped over 100 percent both ways this week alone. The volatile ride for Bitcoin Dark seems to be ongoing, as does the gains for Golem which after its spike earlier this week is still gainly slowly.