Binance Coin (BNB) is the cryptocurrency of the Binance platform and it has a stellar performance in 2019 so far. As of March 9, 2019, Binance Coin (BNB) has a price of $14,72, and has a 1-year performance of +74.2%. What is more interesting is that Binance Coin has a year-to-date performance of +138.39% in 2019. It has moved from the low-price range of $6 to the high price level of $15. In this article we will mention some Binance Coin price prediction ranges and we will also make a forecast about Binance Coin price in March 2019.

Binance Coin Key Statistics
• As of March 8, 2019, current price is $14.2998
• Market Cap: 2.01 Billion, Circulating Supply is 141.18 Million
• Volume: 205.16 Million
• 52 Week- Low52 Week High: $4.5675 - $17.133
• Market rank number 7 on CoinMarketCap in top 100 cryptocurrencies based on their market capitalization.
Binance Coin price prediction March 2019 by online sources
WalletInvestor appears to be overall very optimistic about Binance Coin in the long-term future. It has a Binance Coin price prediction for March 2019 with no specific value, but rather it forecasts that by mid-March 2019 Binance Coin should have a price slightly above $14.
DigitalCoin has a very optimistic Binance Coin price prediction for March 2019, with a target price of $26.19, an upside returns of +77% compared to the current price of about $14.72.
CoinPredictor has also a vey optimistic Binance Coin price prediction for March 2019. It has a predicted price of $41.48 for the next 4-weeks and a return of +123% for this time period.
CoinFan is forecasting for March 2019 a minimum price of $20.38819968 and a maximum price of $27.58403486. Another very bullish Binance Coin price prediction.
Binance Coin price prediction March 2019 technical analysis
The daily and weekly charts for Binance Coin (BNB) are indicative of a very strong uptrend. But what lies ahead for Binance Coin price? Our unbiased Binance Coin price prediction for March 2019 follows. But very often at times when traders or investors are very confident about the continuation of a price trend, a trend reversal may occur.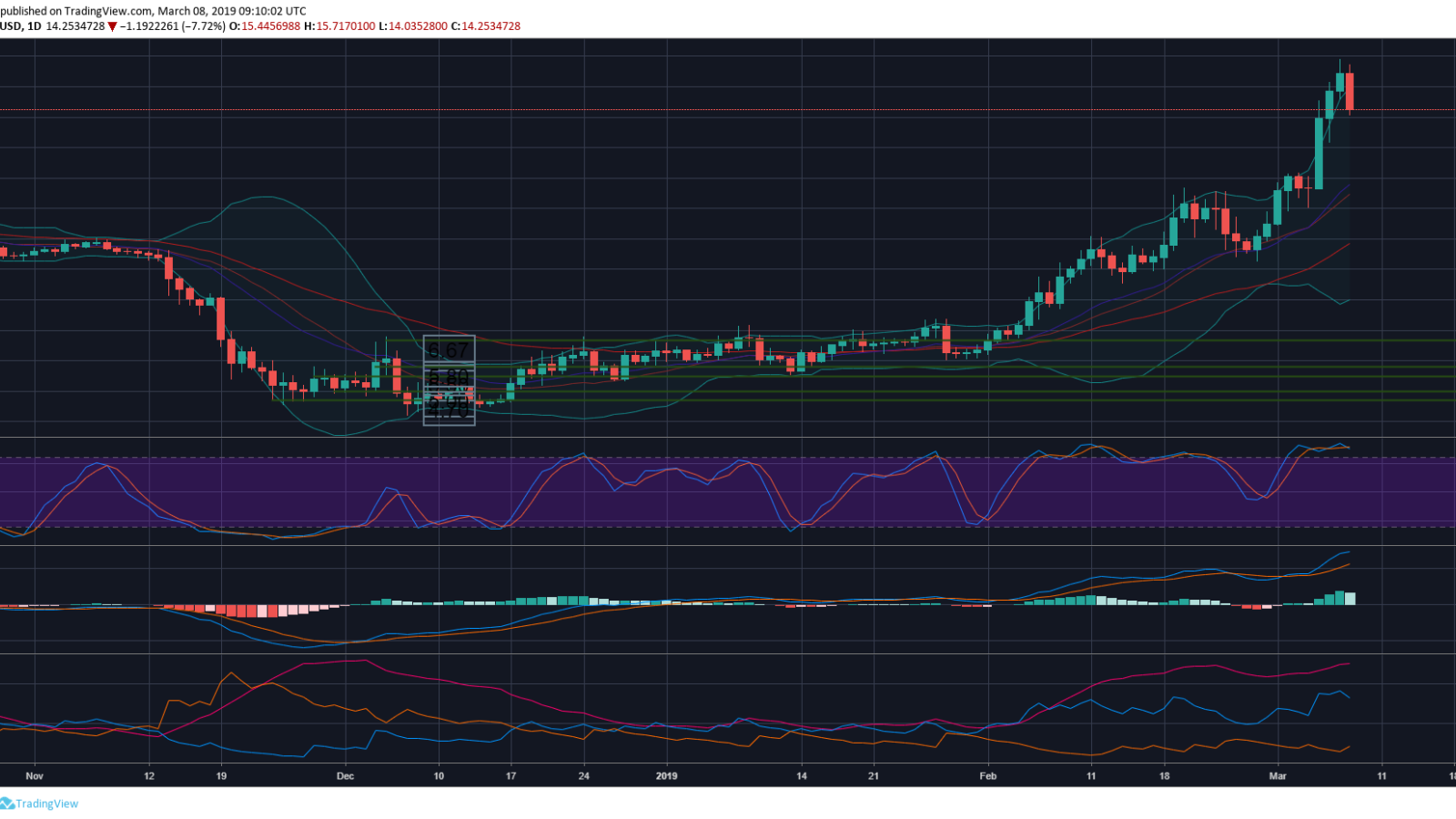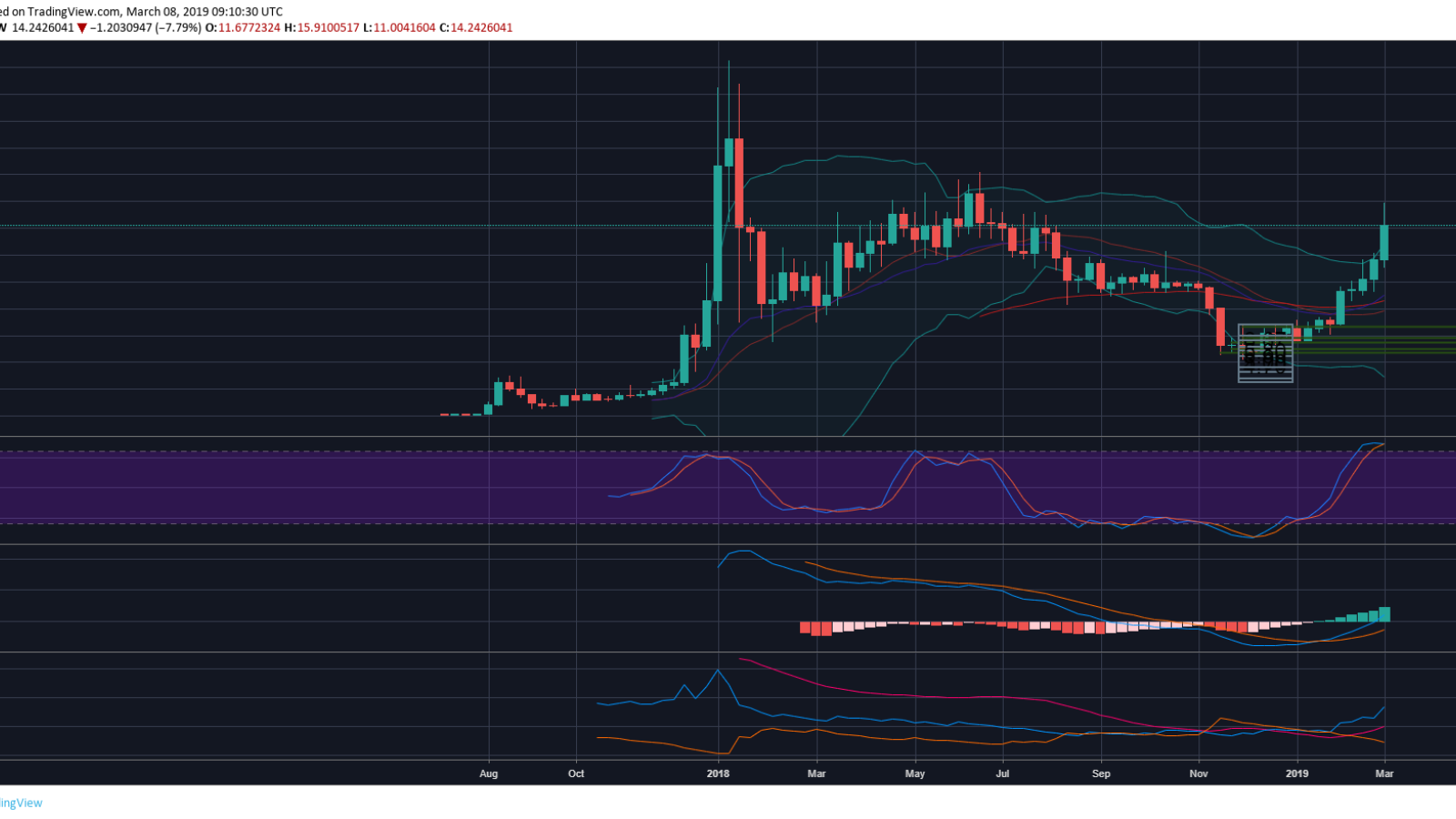 Binance Coin price prediction optimistic scenario
Binance Coin has performed very well in 2019 so far. It is hard not to have an optimistic Binance Coin price prediction opinion for now. We are concerned that Binance Coin has not made any significant price correction as of Jan. 28, 2019 and the price level of about $6. It moved lower from the price of $11.70 on February 20, 2019 to the lower price of $9.27 on Feb. 27, 2019, but ever since it has moved to much higher price levels. This is not so normal and at some point, a price correction should occur.
The current trend, an uptrend is very strong, as the value of ADX/DMI indicator is at 50.02 for the ADX line. Both 20-day and 50- day exponential moving averages are rising, and the MACD indicator is also rising on the daily chart. If the current uptrend continues in March, then switching to weekly chart some target price levels to monitor are $18.30 and $24.70. The resistance level of $16 may soon be retested.
Binance Coin price prediction pessimistic scenario
As of March 8, 2019, a big red candle is forming with a high price of $15.70 and a low price of $14.07. This is an early signal that a price correction may form soon, as it is a reversal candle a bearish engulfing candle. However, the day is not over yet, and this candle should be examined on Saturday, March 9, 2019. What is also alarming is the fact that on the daily chart the stochastics indicator (14,3,3) is in overbought conditions, over the 80 level and seems to be forming a bearish crossover.
The daily Bollinger bands are very far away, indicating there is a lot of volatility for Binance Coin, and a mean reversion trend may bring the two daily Bollinger bands closer. This simply means that there are increased odds for Binance Coin to move at lower price levels. A potential price target to the downside is $11.70, a resistance level which coincides with the 20-day exponential moving average.
The weekly chart shows that the stochastics indicator is also at extreme overbought conditions.
Binance Coin price forecast conclusion for March 2019
We favor the bullish scenario but with extreme caution. A price correction seems very probable to lower levels.