Aeron, the innovative blockchain-based aviation safety project, extends its reach to EOS ecosystem and allows for Ethereum ERC20 and EOS token swap in both directions. That will boost liquidity of the token and help Aeron strengthen its position on the market. Let's find out how it works, and define the advantages that platform users will reap.
A few words about Aeron
Aeron project was created by experienced pilots and aviation experts to improve the aviation safety and provide comprehensive tools for flight schools and private aircraft owners and operators. Aeron features ARN ERC20-compliant token that can be simply integrated into users' wallets and traded via exchanges and direct transfers. The fixed token supply is 20,000,000 ARN.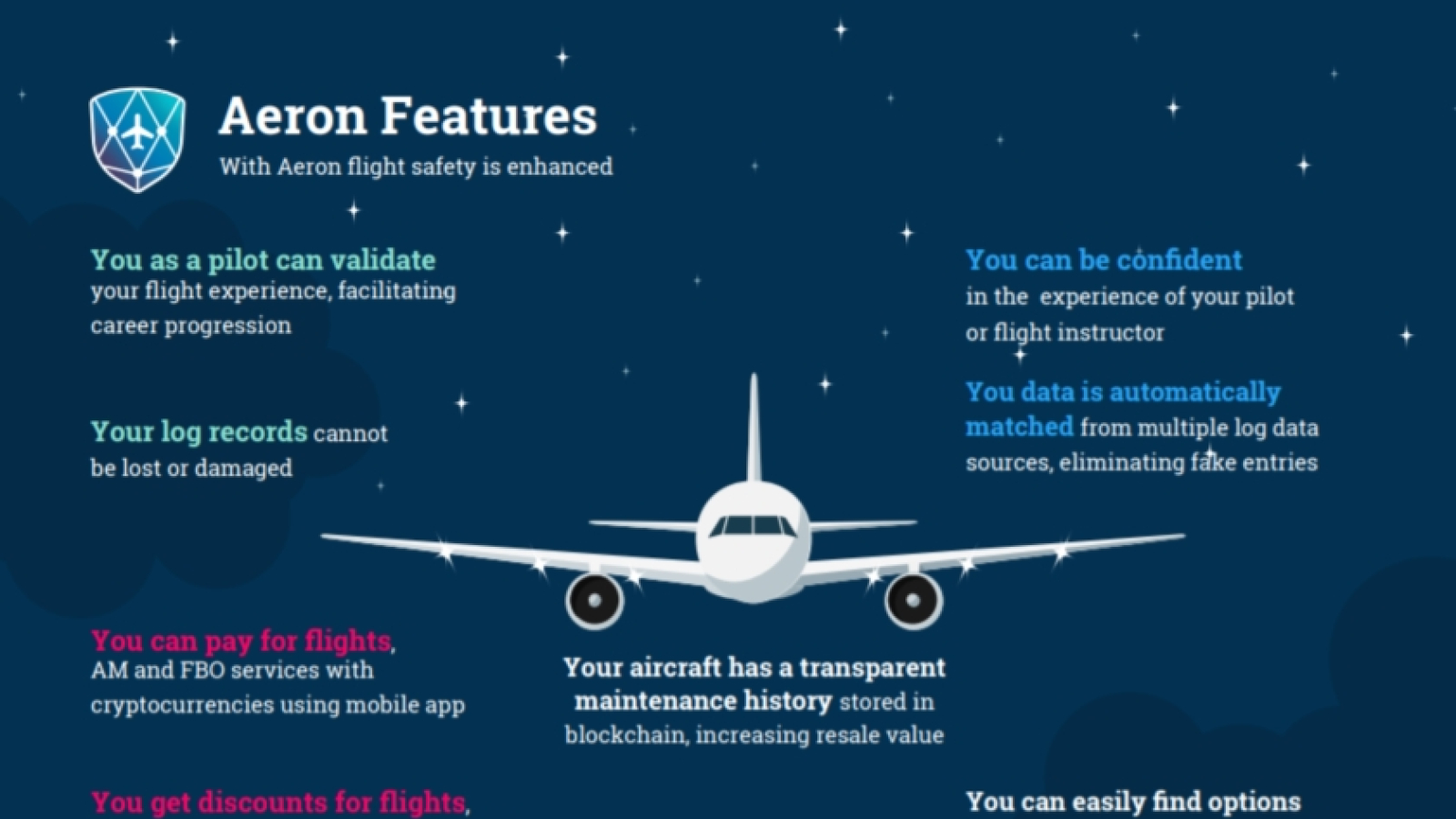 At the moment, ARN ERC20 token is present on the major cryptocurrency exchanges: Binance, KuCoin, HitBTC and many others. Introduction of ARN into EOS ecosystem offers even more liquidity to the holders with access to the new EOS decentralized exchanges, which feature instant execution and even more convenience for users to manage their assets.
Possibilities and perspectives
With ARN token launch on the EOS blockchain, free cross-blockchain token swap is available for all Aeron token holders. From the first day, ARN EOS token is listed in all significant EOS decentralized exchanges, and MEET.ONE, the most popular EOS wallet, supports this token natively as well.
Cross-blockchain token swap is performed at 1:1 ratio: once an ERC20 token is locked, the EOS equivalent is released, and vice versa. Therefore the new ARN EOS token value is totally backed by the legacy ARN ERC20 tokens on Ethereum blockchain.
Can users keep both types of tokens? Yes, ARN EOS and ARN ERC20 tokens may be kept on different wallets and exchanged at any time. Some wallets support EOS and ERC20 tokens simultaneously. The swap isn't obligatory, so token holders are free to use this option depending on their needs. According to Aeron, the exchange option will be available 24/7 and permanently – no time limits apply.
There are two key advantages:
Swap is totally free, no matter in which direction it's made.

No token burning is involved, and tokens can be swapped back freely.
Instant ARN ERC20/EOS swap opens new possibilities for ARN token holders making the asset more liquid and convenient in handling, opening up EOS ecosystem famous for its instant transactions and low fees. There's no need to surf the net in search of suitable swap options: secure token swap is performed on the Aeron website. ARN EOS token can be further traded on Newdex, Chaince, WhaleEx, Findex, BTEX and other new EOS exchanges.
With the introduction of new EOS stable coins (EETH, EBTC, EUSD), additional ARN trading pairs will become available to facilitate value exchange and storage in EOS ecosystem.
How to perform a token swap?
In order to swap ARN ERC20 for EOS and vice versa, a user should have an EOS account. It can be registered in MEET.ONE, Paytomat Wallet or other EOS wallets (please, note that it's a paid option that costs about $2, but sometimes sponsored by the wallet developer).
The ARN token swap is instant and the rate is fixed at 1:1, so ARN token holders won't have to waste time placing sell/buy orders. They will enjoy a fast swap without fees.
Once EOS account is created, and tokens are swapped, a user can proceed to EOS decentralized exchanges. To register on EOS exchanges, a user will need Scatter software for the authentication process. Installation of Scatter won't take much time, and it is compatible with all platforms. Alternatively, a QR code can be scanned to authenticate with an exchange directly from the compatible EOS wallet.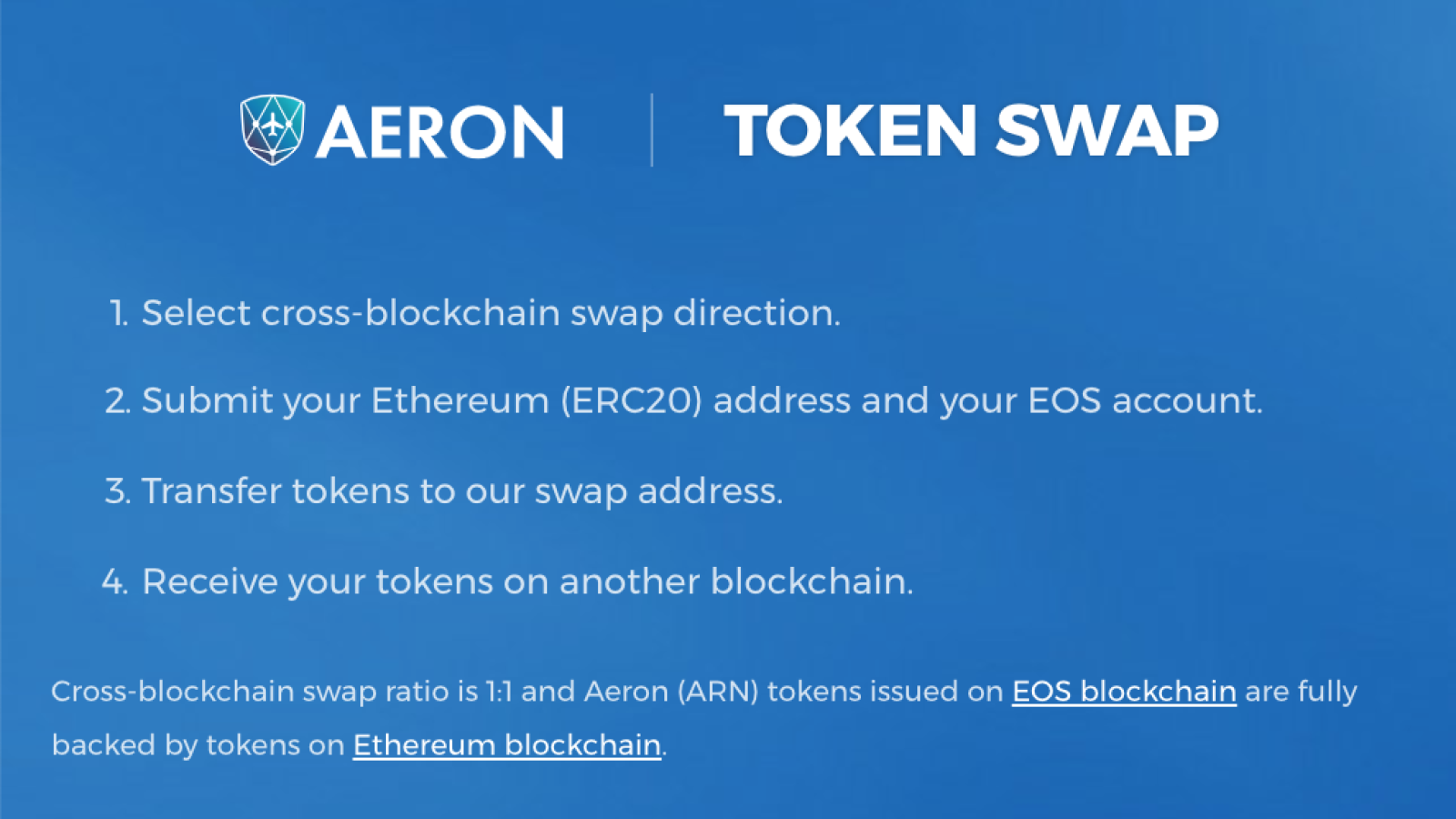 Bottom Line
At the moment, Aeron platform and the pilot shop powered by Aeron support legacy ARN ERC20 token, and EOS token integration will be done gradually through 2019. EOS salient features, such as low latency, free transactions, and scalability, can serve to improve Aeron token adoption and strengthen the business model. Meanwhile, ARN EOS token can be used by Aeron supporters to get familiar with EOS environment and its peculiarities. As example, EOS blockchain can process up to 4,000 transactions every second, making EOS exchanges the fastest decentralized exchanges in the world.
With the first ever bi-directional ERC20/EOS token swap enabled by Aeron, it may be expected that other blockchain projects will follow this method to expand their community and let the supporters enter the vibrant EOS ecosystem with their favourite tokens.