Founded in September 2017 by Singapore non-profit organization Tron Foundation is led by CEO Justin Sun. Tron's goal is to build a full-scale blockchain platform for a free and global digital content ecosystem and makes use of their cryptocurrency Tronix.
Tron's network functions like other content networks in the sense that creators produce content and users purchase it but with a substantial difference, the middleman is eliminated. Take the popular gaming platform Steam for example; the game creators sell their products through Steam, which is owned by a centralized company that takes a share of the full price and pays the rest to the game creators.
The way traditional gaming sales platforms are set up usually results in a higher price paid by the consumer or a lower pay received by the game/content creators, or both, a win for the middleman in all cases. With Tron the consumer pays the creator directly which results in a lower price for the consumer and better profits for the creators.
On July 24th, 2018, Tron acquired BitTorrent Inc., which is one of the largest peer-to-peer file sharing client protocols. BitTorrent products are used by 170 million people every month and its protocols are responsible for 40% of daily Internet traffic. This is a major bullish catalyst for Tron's prices.
TRX/USD Technical Outlook – The Big Picture
Since Nov.r 25, 2018, when it reached a low at 0.0109 against the US Dollar, Tron (TRX) has been on a sustained climb, which took it 131.5% higher. Tron is currently trading at $0.026 which puts TRX ahead of its peers, making it one of the best performing cryptocurrencies of late 2018, early 2019.
We can safely say the pair is in an uptrend since the November low but we must also note that there are some risks. What appeared as a strong and successful break of the key resistance at 0.0282 resulted in a breakdown of prices and a move back inside a horizontal channel. This channel will play a major role for direction and price action during the next few months.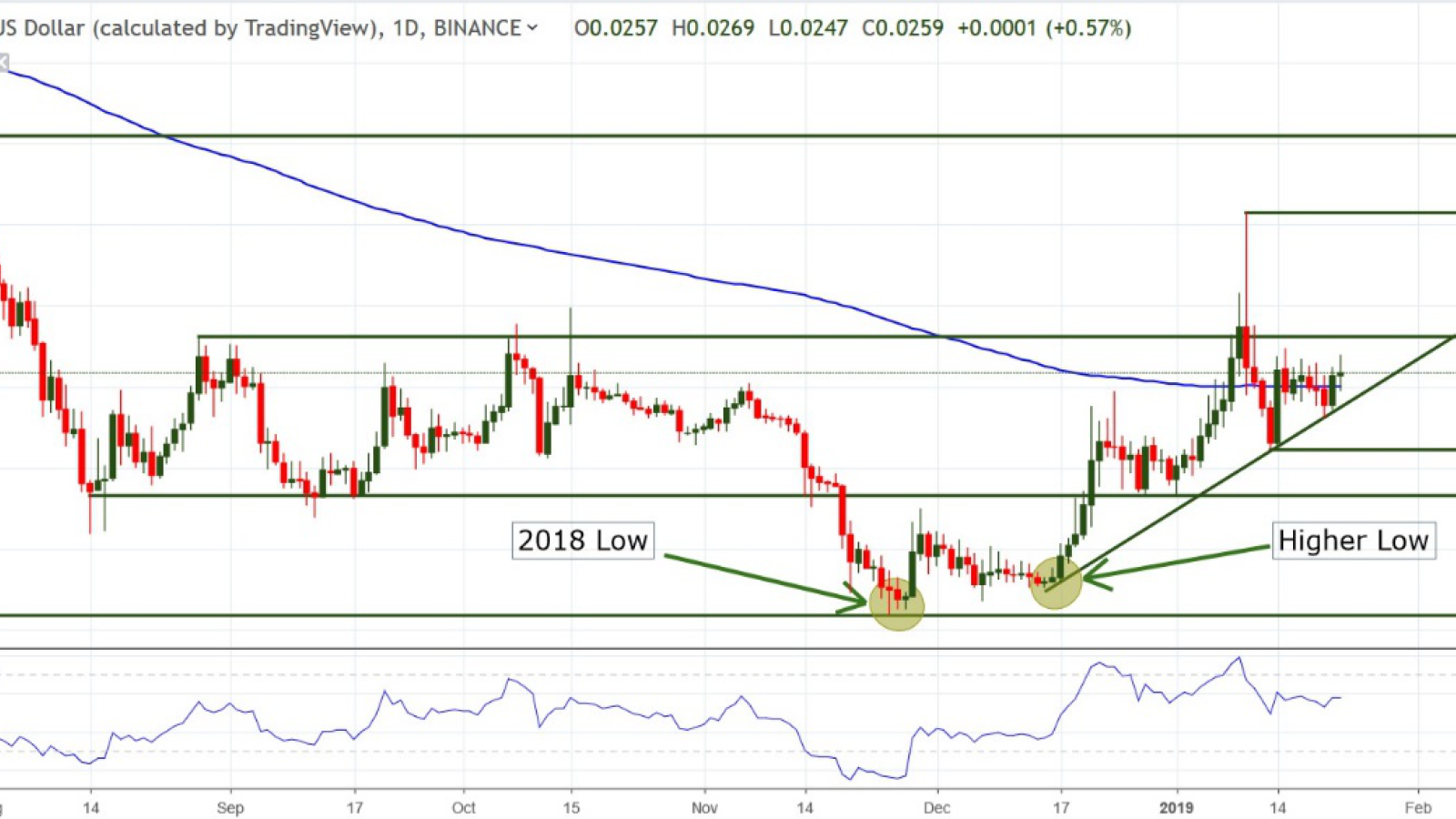 Currently, and as long as the bullish trend line (seen on the Daily chart above) remains intact, we are dealing with a normal retracement (pullback) in a developing uptrend. We are now waiting for a sustained break of the upper channel limit (0.0282). This will increase the chances of a move to the top at 0.0358 and possibly higher into the 0.0400 range.
Although we are talking about a developing uptrend, it must be noted that from a longer-term perspective on the weekly charts, the pair is range-bound. From this perspective, it is without a clear direction and possibly with a bearish bias so caution should be exercised when trading. Last but not least, on the Weekly chart below you can notice that 0.0280 is a key level that initially acted as support and now it has become resistance. Price reacted to it almost since Tron's inception, so it's safe to assume that a true break of this level could trigger huge buying interest and the pair into 0.0550 area.
Daily Chart Support: bullish trend line and 0.0211 followed by 0.0183
Daily Chart Resistance: 0.0282
Weekly Chart Support: 0.0109 (2018 low)
Weekly Chart Resistance: 0.0280 followed by 0.0550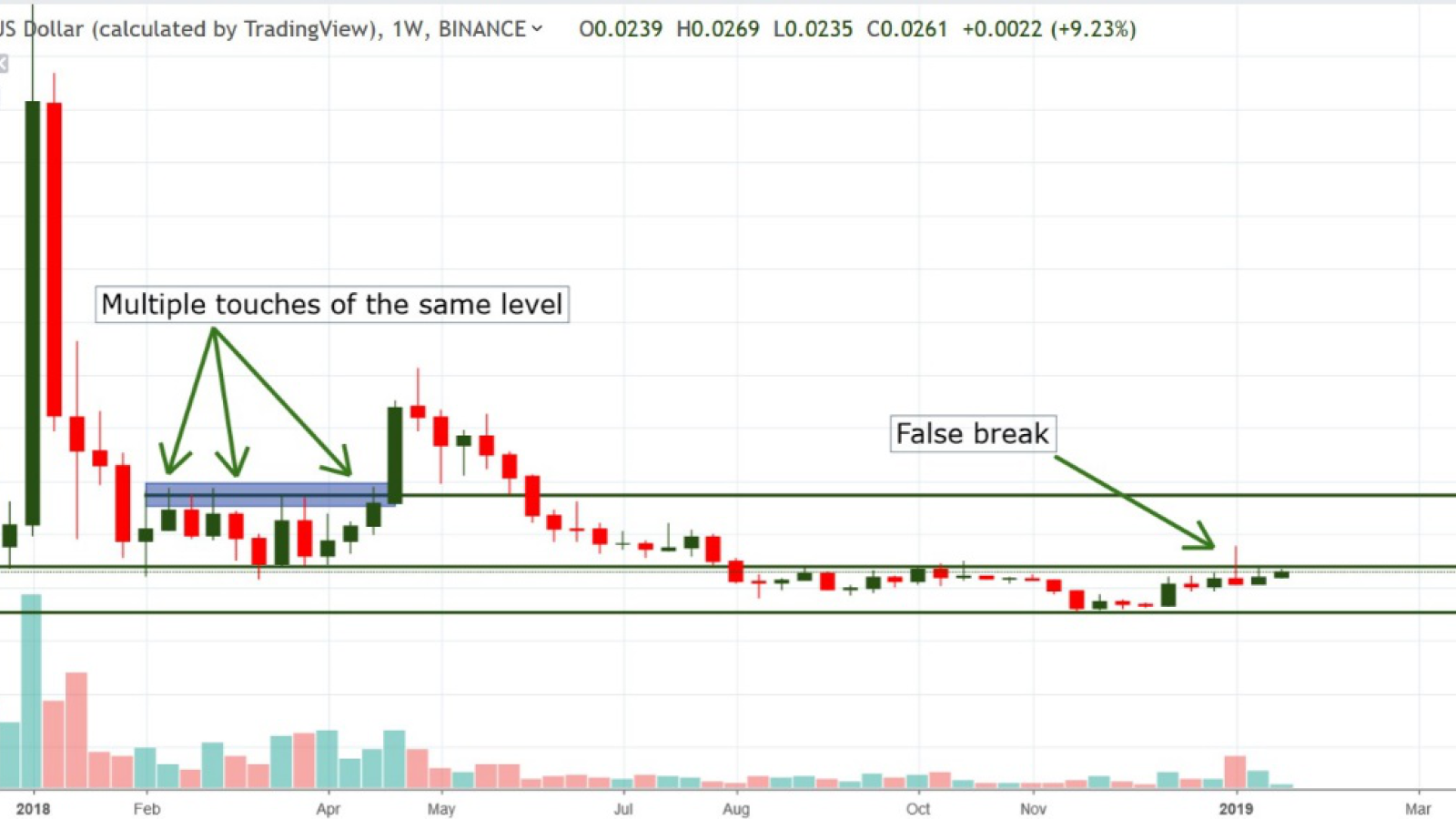 Most likely scenario: break of immediate resistance followed by a move into 0.0550 over the weeks/months to come; for this scenario to come true, 0.0280 must turn into support
Alternate scenario: the pair remains inside the channel for a few more weeks and pressure build up for a strong breakout