Recently, U.Today reported that the crypto heavyweight Ripple had set up an office in Washington, D.C., close to the US regulators.
Now, the company hires a former executive of Bank of America to do the talking with the SEC for them.
Meanwhile, Brad Garlinghouse says the MoneyGram CEO calls him asking to launch On-Demand Liquidity in more markets.
Former BoA and Blockchain wallet executive joins Ripple
Ben Melnicki has announced his new position on his official Twitter page. As per LinkedIn, his CV includes Global Regulatory Council at Blockchain crypto wallet provider, Chief Compliance Officer at Noble Bank International, Swap Dealer Compliance Director at Bank of America and other high ranking positions dealing with regulatory issues.
The page says that he has been working for Ripple full-time for a month already.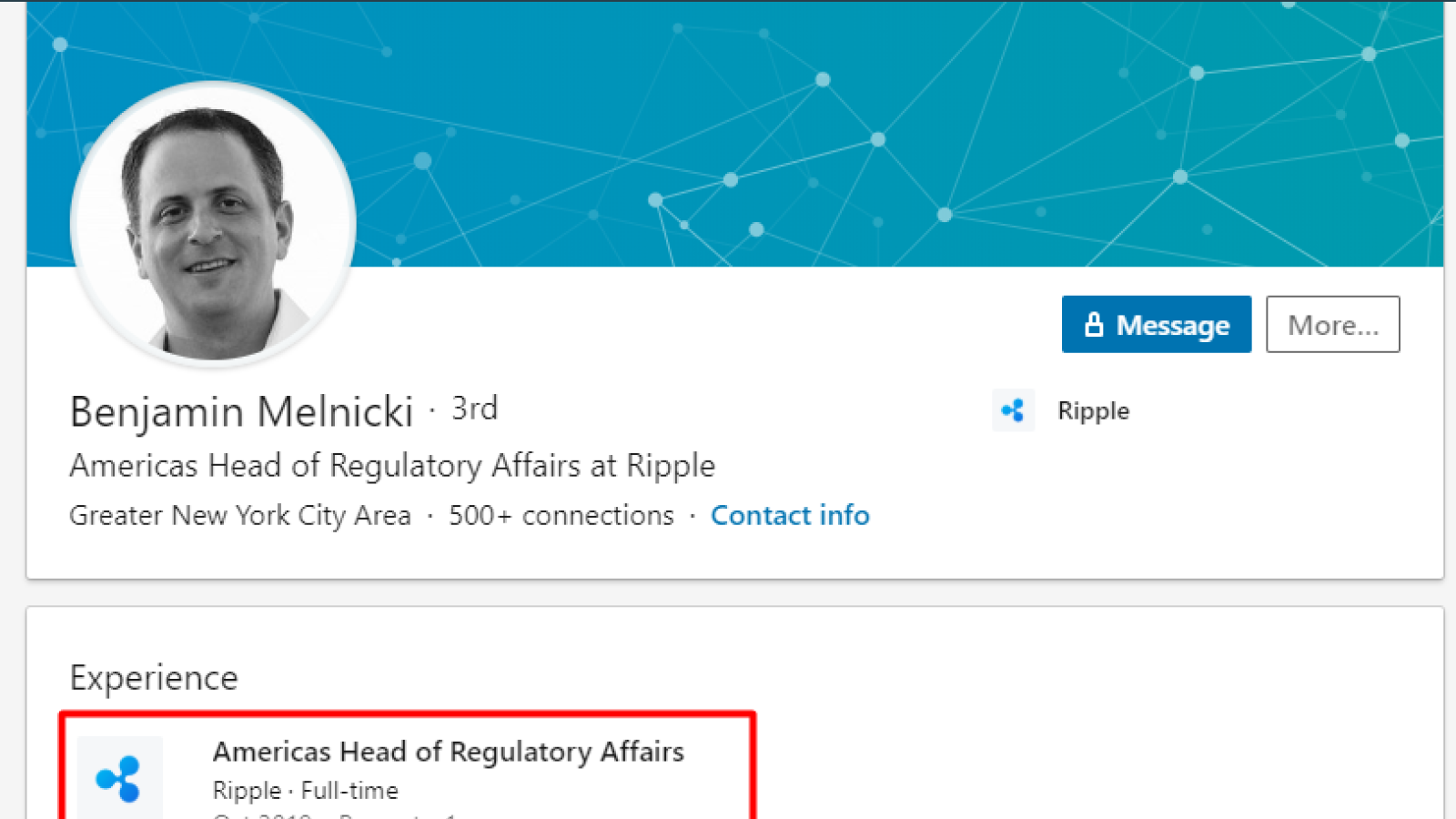 In the comment thread under his tweet, the Ripple community gave the man a warm welcome.
Excited to join @Ripple as Americas Head of Regulatory Affairs! Look forward to working with policy makers and regulators to make an impact on the industry.

— Ben Melnicki (@benmelnicki) October 28, 2019
MoneyGram wants Ripple to launch ODL in more markets
During the Fintech Week 2019 that took place recently, the Ripple CEO stated that he received a call from the head of MoneyGram. Their CEO was upset with 'Ripple not moving fast enough' and asked if they could launch On-Demand Liquidity in more markets.
"I got a call from MoneyGram CEO and he's upset with us (Ripple) that we're not moving fast enough... he wants to launch #ODL (#xRapid) in more corridors more quickly" ~ Brad Garlinghouse https://t.co/XMoODYJfPZ

— XRPiano (@PianoXr) October 23, 2019
Recently, U.Today reported that Ripple had invested in the largest Latin America's Mexican-based crypto exchange Bitso to implement the On-Demand Liquidity product, formerly known as xRapid.
Do you think the new Americas Head of Regulatory Affairs will accelerate Ripple's dialogue with regulators and increase XRP exposure? Feel free to leave your opinion in the comments section!