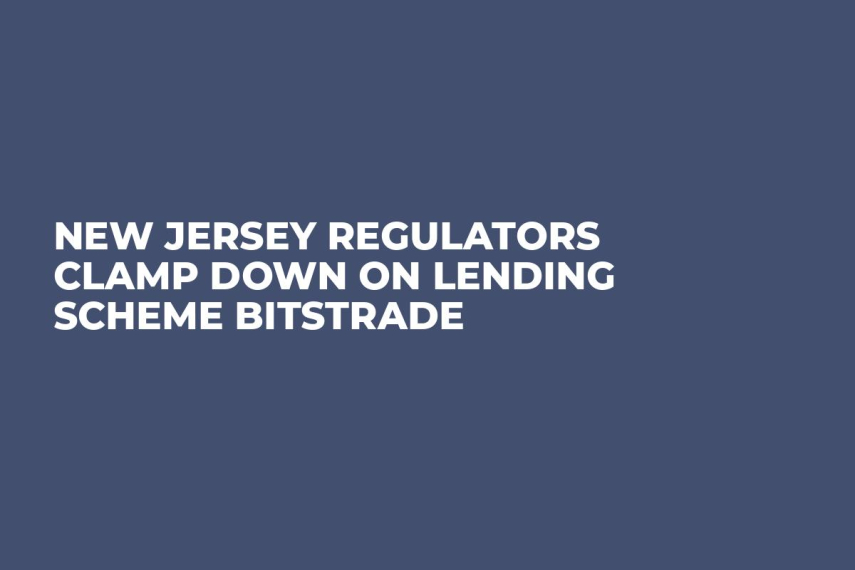 Cover image via U.Today
Cryptocurrency Investment Platform Bitstrade has come under the scrutiny of Local US regulators in the state of New Jersey. The Regulators have issued a cease and desist order to the business which they have described as "fraudulent."
The regulators explained in a further press release that the company had failed to obtain a license to offer securities in the State of New Jersey and that it was "violating the law" by not disclosing key information about its operations.
Bitstrades uses the BSS token to offer lending and rewards. But the selling of the token by unlicensed individuals is seen as a securities fraud.
In the statement, it read:
"The Bureau found that Bitstrade is violating the State's Uniform Securities Law by offering investors an unregistered security in the form of an investment pool that purportedly guarantees up to 10 percent returns which accrue daily on investor funds. Bitstrade is not registered to sell securities in New Jersey."
Warning signs
Within the release, the regulators make special focus on a number of instances where key information is being withheld. This withholding of information waves many red flags for investors in the company.
The order makes specific reference to "failing to disclose key material facts to prospective investors, including the names of its executive officers, the address of its principal office, information about Bitstrade's financial condition, the risks of the Bitstrade Investment, and how Bitstrade invests investors' money, the Bureau found."
String of regulatory intervention
ICOs and other cryptocurrency platforms have come under increased regulatory heat in recent times. The announcement by the CFTC and the SEC in Senate a week ago provided a positive outlook for Bitcoin and others but urged caution for investors considering ICOs.
Furthermore, local authorities in Texas shut down self-proclaimed "cryptocurrency bank" AriseBank a few weeks back.