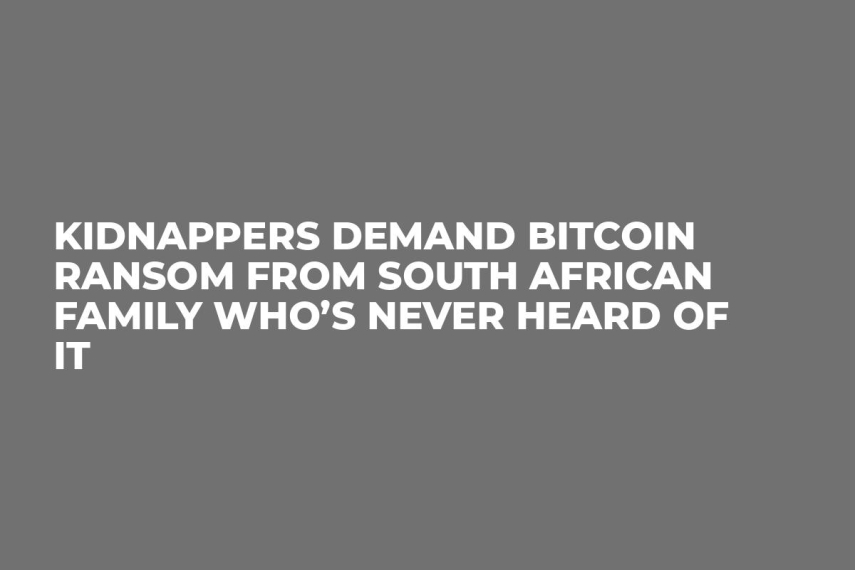 Cover image via U.Today
Police in a rural province in the North of South Africa are on the hunt for kidnappers who snatched a 13-year-old boy in Emalahleni, formerly known as Witbank. The kidnappers have left a note behind saying they will return the boy if a ransom is paid, in Bitcoin.
It represents a darker side of adoption of Bitcoin as kidnappers and other nefarious agents realize that the digital currency has many advantages for those who are looking to remain anonymous and not be traced.
However, the family has never even heard of Bitcoin, so perhaps the wave of adoption is not that big in rural South Africa.
Snatched for 15 BTC
The demand of the kidnapper's is 15 BTC, or just about $125,000, which in the local currency converts to just over R1.5 mln. The family from which the boy was kidnapped firstly admits to not even knowing what Bitcoin is, and from their standing, will very likely not be able to afford such a ransom.
"While playing, a gold Toyota Corolla with three occupants stopped next to them. One of the men, who was dressed in black, with a green jacket, grabbed the victim into the vehicle before driving off with him. Katlego's friends ran to his mom and told her about the ordeal. She, in turn, reported the incident to the police," Police spokesperson, Brigadier Leonard Hlathi said.
Bad for the brand
Bitcoin has been working to shed its negative branding, where it has even called a tool for the dark web as well as a favorite of money launderers and drug dealers. These kinds of incidents will not help the reputation of Bitcoin, especially for those who are new to the Bitcoin space.
The spread of Bitcoin is being taken across the globe as mainstream media gets more involved, from the Simpsons to Marvel, and in this instances, it is being portrayed in a positive light.
However, this kidnapping case is a reminder that there are those out there who see Bitcoin as a tool for illegal and nefarious actions. These types of people are also taking Bitcoin off the net, which is another worrying trend. Many Bitcoin thieves are now starting to approach people in person and demand their Bitcoin fortunes off them.