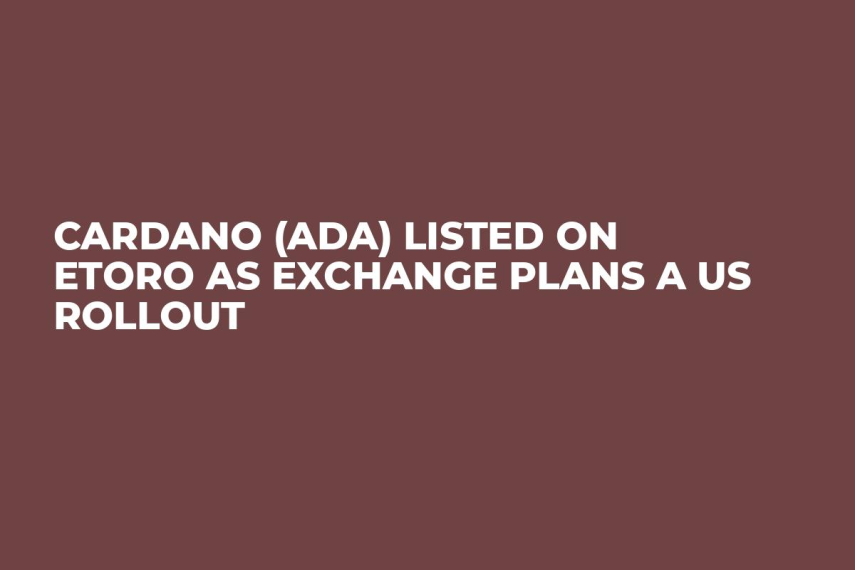 Cover image via U.Today
The platform is already offering a wide range of crypto assets, selecting the ones that hold sufficient liquidity. Besides, soon eToro intends to launch a wallet option, so users can keep their currencies right there.
ADA market state
Recently this coin has lost most of its recent highs and went down from $1 to $0.15. However, this is still a respectable price if you remember ADA trading just at $0.03 for a long time right after the ICO was over.
eToro's plans
The crypto community expects the platform to roll out its services for US traders as soon as it works out the formalities with the regulators. This would raise the prices of the crypto assets currently placed on the exchange, including ADA, which has been trading at $0.15 with a recent peak at $0.37.
ADA and Binance
Cardano is also part of the Binance assets, where it is mainly paired with Tether (USDT) and that amounts to over 40 percent of ADA transactions. When these two coins were put together, the ADA market rate went up. However, the price remains lower than its past highs both against the dollar and BTC.
For ADA adding to eToro means that it could turn into one of the assets that will not be impacted by BTC that much any longer. This, in turn, would mean that in the future Cardano could be going up even in the BTC market dominated by sellers.
Big exchanges adding small coins
This ADA event seems to be in line with the current trend of large platforms listing small coins which are beyond the 10 top cryptocurrencies' list. Among other recently listed ones are Siacoin, ICON, NEM and IOTA. Of course, there is also TRON which is doing its best to be listed on as many exchanges as possible.
Whether the listing will make ADA price jump is unknown yet.