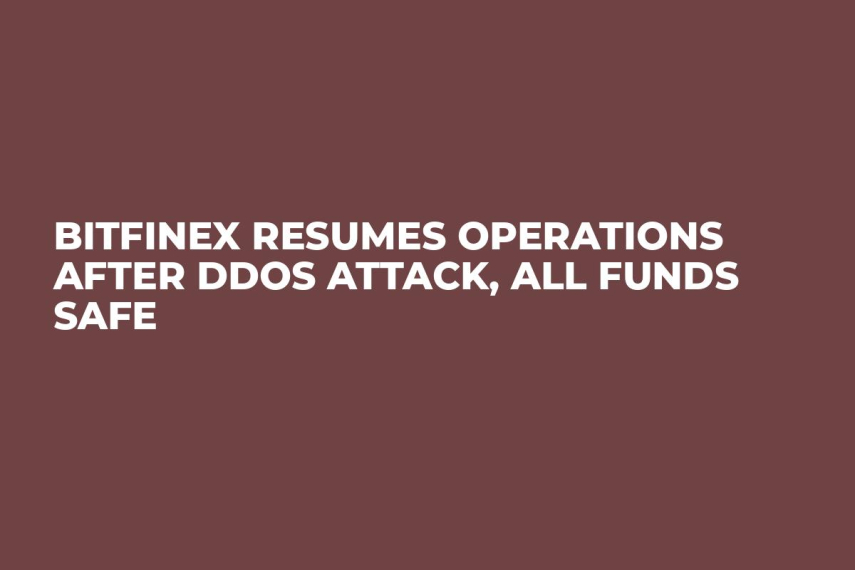 Cover image via U.Today
The exchange got investors and traders frightened yesterday, June 5, when the platform went offline all of a sudden to undergo unexpected maintenance. The website was unavailable for a while, which was a hard time for those keeping their assets in Bitfinex.
The exchange reps made some calming comments for their customers on Twitter, saying that there is a sudden problem which is currently being solved and assuring that all funds are safe.
This event, however, did not make the prices drop, crypto rates went up in the green area, bringing BTC to the $7,622.69 level.
DDOS
However, after the problem was solved, the platform found itself under an extreme load and went offline, once again making traders shiver.
Later on the company rep tweeted that this time it was a DDOS attack (denial-of-service) on the exchange and the previous outage had happened due to the issues with one of their providers. Hackers hit Bitfinex with the denial-of-service attack just when the exchange was restarting and got it overloaded easily.
Bitfinex is currently under extreme load. We are investigating the issue and will keep you all up to date as we learn more.

— Bitfinex (@bitfinex) June 5, 2018
Previous hacks
This event had everybody worried due to the hack two years ago when Bitfinex lost a substantial amount of its customers' funds– 120,000 Bitcoin disappeared from investors' wallets.
Besides, yesterday traders were concerned because of the significant amount of Tether trading on Bitfinex. In case of the exchange closing down these coins could have turned worthless.
Bitfinex and Tether
As everybody remembers, links have been found between the management of the trading platform and that of the company which emits Tether coins. Due to this fact, in January 2018 the exchange got a subpoena from the US Commodities Futures Trading Commission.
At the moment the trading volume of Tether in Bitfinex exceeds that of BTC by 17 percent and it uses the largest Tether wallet compared to all other platforms.
Currently, crypto exchanges face high risks in the whole ecosystem– apart from attacks against their crypto wallets, as in was with Coincheck, trading platforms now have to oppose double-spending attacks as well. Besides, they have to comply with newly introduced regulatory measures in Japan and some other Asian countries.