Bitcoin had an amazing price action in November of 2017, as its price went from $5,300 in early November of 2017 to almost $12,000 by end of November 2017, and one month later during December 2017, the price reached its all-time high around $20,000.
This November is different, though, as its price has plummeted to the recent level of $3,800 from around $18,000 in January 2018, having lost about 78% of its value. So, from sunset to sunrise, in this article we will analyze the main factors that caused this huge decline on a yield-to-date basis.
Bitcoin's Monthly and Weekly Charts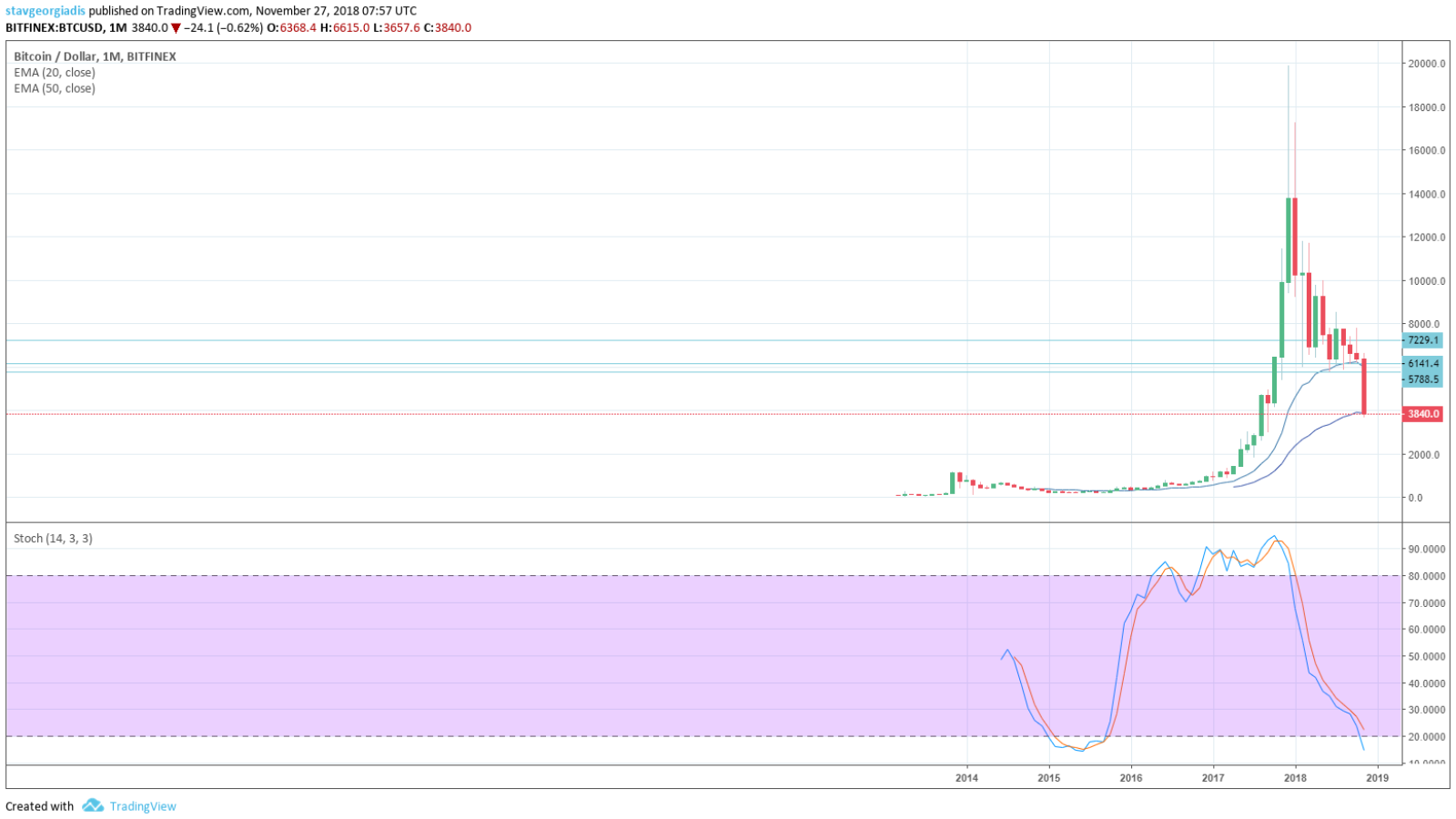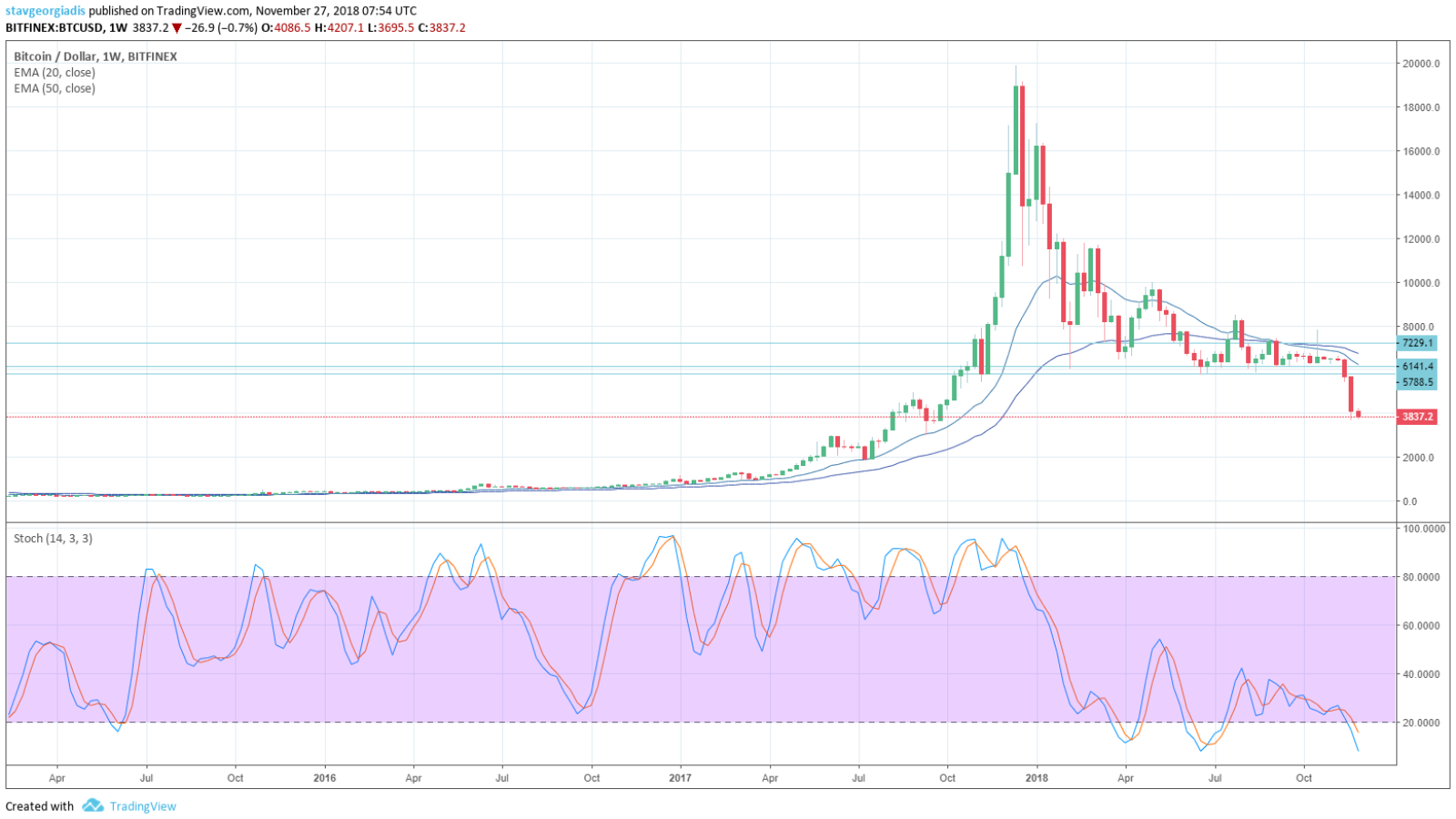 Top Factors Influencing Bitcoin's Price and Value
There is not an easy way to calculate the intrinsic value.
Taxation and regulatory challenges.
Artificial, very large demand for energy, environmental issues.
Economic effects and slow transactions.
Long-term security concerns of its hashing algorithm and huge transaction fees.
Security concerns against theft.
Not an easy way for financial transactions to people who are technologically-savvy
Requires knowledge about computer security
It is slow and not very practical in daily retail transactions
Lack of protection against fraudsters, scalability problems
What are the business prospects of Bitcoin now?
This collapse of Bitcoin's price within one year reflects the change in the perception of investors, traders, and business acumen about the true prospects of the cryptocurrency. Its main competitive advantage includes being the first decentralized online digital currency and no need for a central bank. An alternative to traditional fiat currencies has failed to persuade the global investing and financial community so far, and this is solely based on its price reflecting the supply and demand levels.
The main concept that Bitcoin would be a revolution or an evolution in the global financial system has yet to materialize, and it is now very uncertain whether this scenario will ever occur.
Lack of regulation creates a very risky business and financial environment
The lack of regulation and very volatile trading price action makes Bitcoin not a suitable form of investment for many types of investors or investment funds. "Due to the lack of regulatory oversight, scams and market manipulation are commonplace."
Legislators have a lot of work to do to avoid any fraudulent situations in the future, and due diligence in an extensive form is a requirement in the cryptocurrency market for a sophisticated investor.
What is the key problem for Bitcoin?
All the mentioned factors are very important for the future of Bitcoin. But the transition from its sunset to its most recent sunrise is due to one major factor, related to business and economic reasons: Its lack of broad acceptance and ease of use in daily business and retail transactions.
The elementary economic law that explains at first the price of any financial asset is the law of supply and demand. As of January 2018, and up to now, history has shown that there is excessive supply and no demand for Bitcoin. Technical analysis reflects this fundamental principle. For Bitcoin to move to significant price levels, this imbalance between supply and demand must change. Otherwise, any rallies will be vulnerable to speculative trends and profit taking.