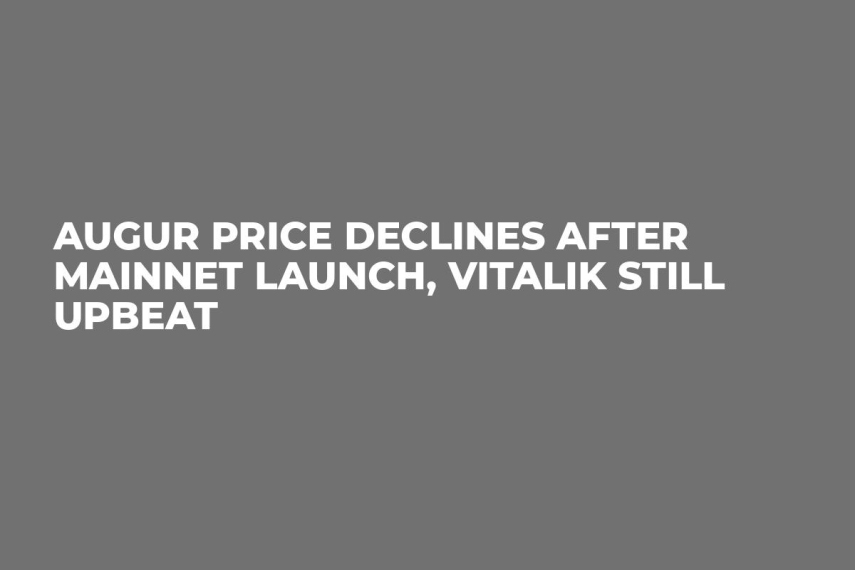 Cover image via U.Today
Tuesday Vitalik Buterin congratulated the Augur team on achieving this significant milestone.
So exciting to witness minute by minute how a project so promising as @AugurProject launches mainnet - congratulations on the big milestone! https://t.co/p0ZwCpdcl1

— golem (@golemproject) 9 июля 2018 г.
Market reaction
After the mainnet launch, Binance has announced that deposits and withdrawals in REP are resumed, which is good news for investors and traders. However, due to the overall red crypto market, it is hard to estimate traders' response.
Along with Bitcoin that drags everything down behind, when it falls, REP has also declined and trading at $31.53. That is roughly eight percent for the last 24 hours.
Project background
Back in 2015, when ICOs were not such a trend as there are now, Ethereum-based Augur managed to raise $5 mln.
Unlike TRON and EOS, Augur has launched its REP mainnet again on Ethereum but on a different smart contract. The old REP smart contract has been frozen for an indefinite period.
Augur uses an open source code, which can be found on GitHub. On this platform, customers can create and make various bets, such as, elections, sports, etc. Unlike other similar projects, bets on Augur are not controlled by anyone.
Post launch activities
The community has also created a special website for monitoring the current markets and bets on Augur.
As the final move, the project's team has announced a bounty program of around $200,000 for any developers who will be able to spot any crucial bugs.
The same was implemented by TRON and EOS as well before they launched their new mainnets.