The New York State Department of Financial Services (DFS) announced the approval for LibertyX to provide consumers Bitcoin through traditional ATMs. New Yorkers will be able to use debit cards to purchase Bitcoin after creating a LibertyX account through a mobile app. The daily limit is $3,000 worth of Bitcoin.
LibertyX was the first to launch a Bitcoin ATM in 2014 and has since facilitated thousands of local stores with BTC payment options. This new development, which allows the purchase of Bitcoin via normal, traditional ATMs, is a huge step towards mainstream adoption and opens the cryptocurrency door to everyday people – all they need is a debit card.
BTC/USD – Chart Analysis
There's been a new wave of selling over the weekend which took Bitcoin well below the $3,500 mark. This makes for an overall drop of 3.30% for the last 7 days (aggregate data, CoinMarketCap). Currently trading at $3,407 on Coinbase, BTC is rapidly approaching oversold levels as indicated by the Relative Strength Index.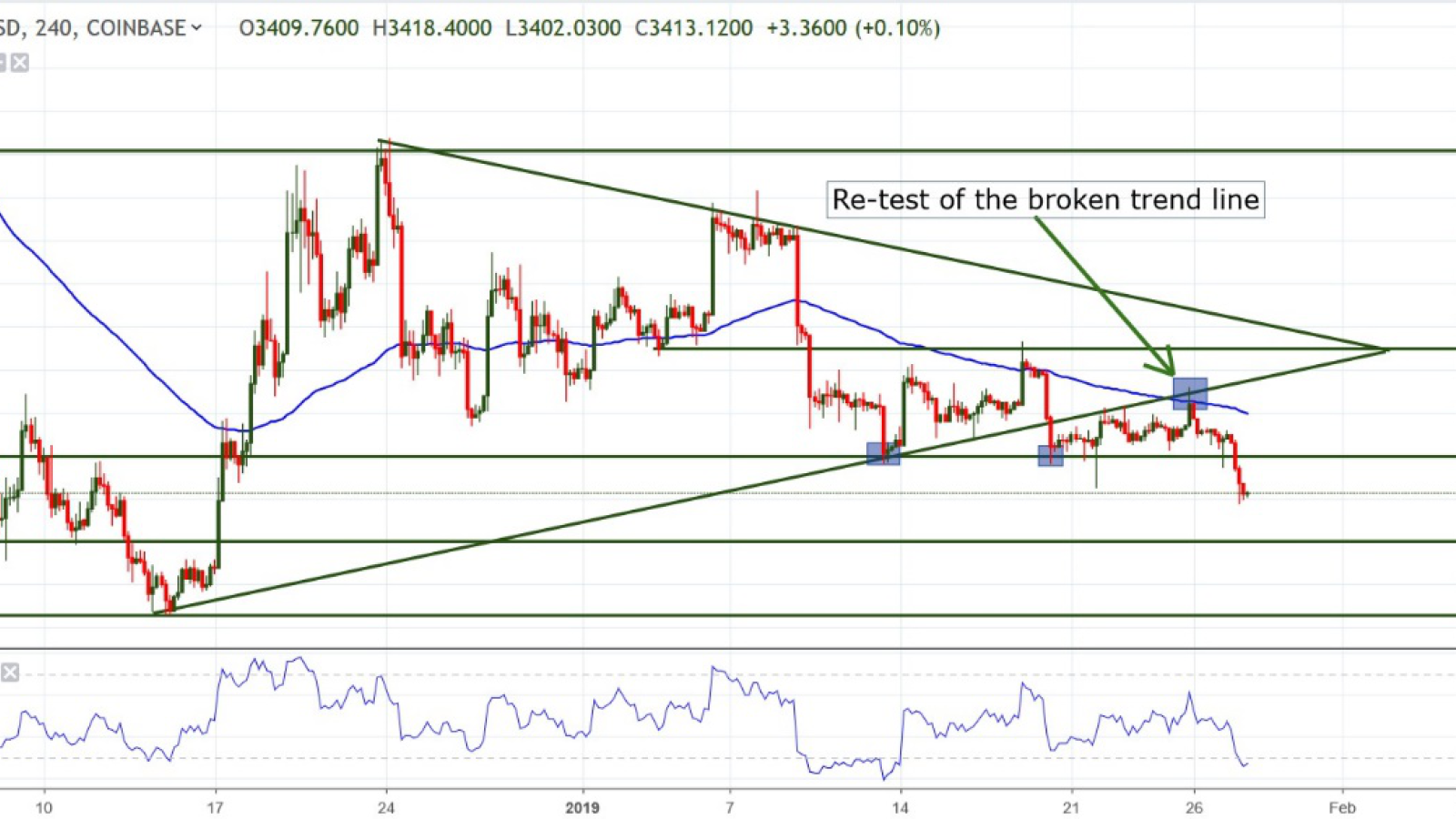 The pair's price action spells bearish pressure all over: price just broke the range it was confined in (3750 – 3500) after successfully re-testing a broken bullish trend line and turning it into resistance. The break of the range is a big blow to the recovery started in December 2018 and could spell doom for BTC bulls.
The only bullish sign is the fact that the RSI has just entered oversold territory but there is a warning. This fact alone is not a signal to buy. If we can see a confident climb above 3500 coupled with the RSI moving up from below its 30-level then, maybe, the pair will reach its 100 period EMA (4H charts) and possibly 3750 but this will probably take a relatively long while.
Support zone: 3300 (Coinbase chart above; you will likely see different prices on other exchanges, but the charts are very similar)
Resistance zone: 3500, 100 period EMA
Most likely scenario: drop into 3300 support, followed by a bounce up
Alternate scenario: return above 3500 based on oversold conditions